When I took this job over two decades ago audiences were much smaller. A group of fairies numbering between 8 and 12 members had a major impact on the lanes. There were also a lot fewer patrons dressing in costume then, and our costumes were enough to draw focus to the group and the individual performers. We were entertaining without having to initiate contact with the audience. Now with the addition of themed weekends and the ever-increasing number of patrons dressing in themed costumes, it has become hard to tell the difference between costumed patron and paid performer. In fact, a lot of their costumes are better than ours.
What is the difference between a costumed patron and a paid street character?
Here is the way I see it - if you are not actively initiating contact and engaging our patron, you are no more than a patron yourself. What am I paying you for, if our patrons are doing the same thing that you are? And what are they doing? They are interacting with their own group, and not actively seeking out patrons to engage and entertain them.
I ran an experiment this last season, I was in civilian clothes and I followed three paid members of the performance company for almost a mile. They contacted no one… No one. These were not first year performers. They walked three abreast down the lanes and only talked to each other. I would like to assume that the conversation was in character and dialect, but I know my answer.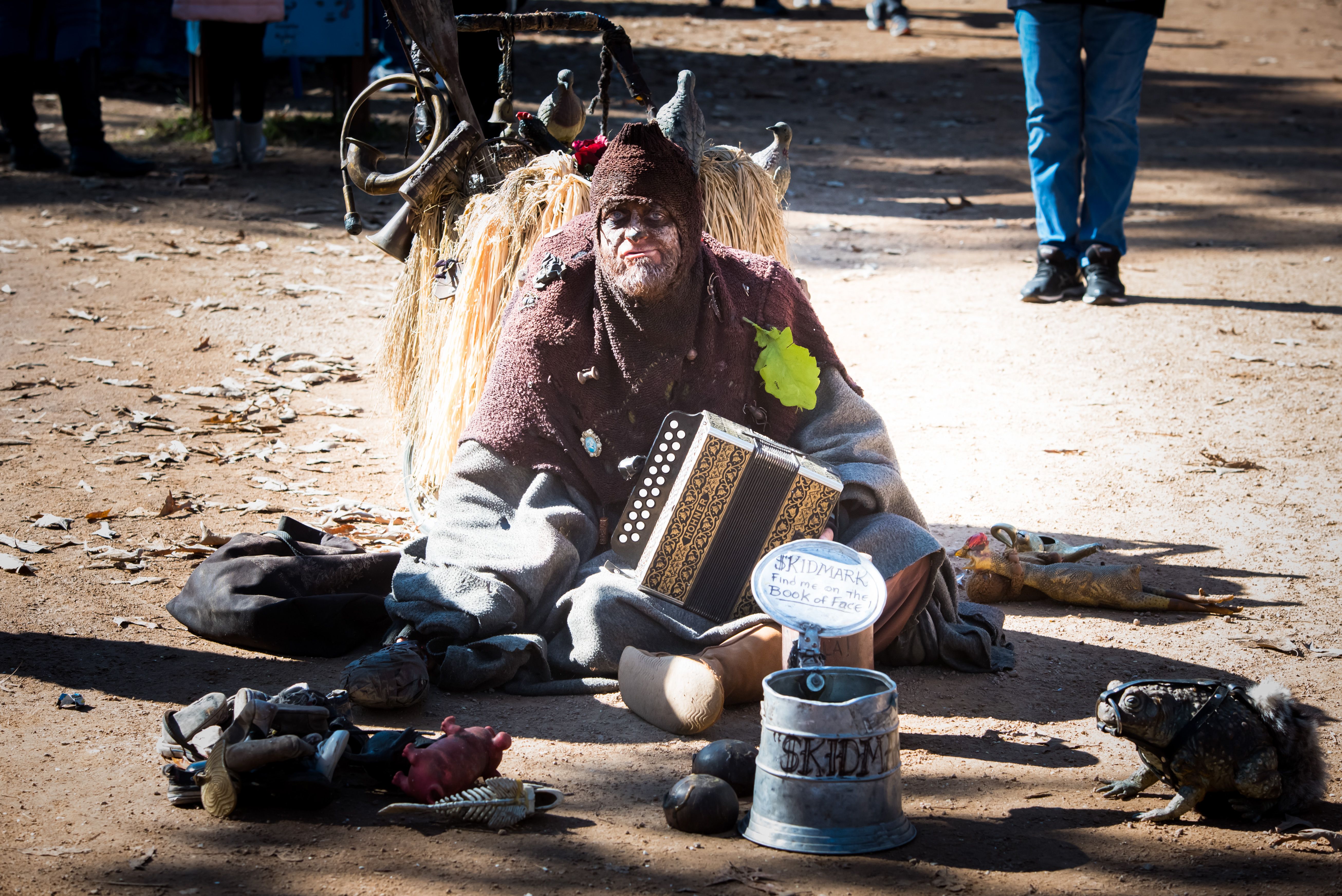 I look at the character Skidmark. He sits on the ground in a nasty costume, and he engages 95% of the people that pass him. Yes, he has great material, and is very talented, but this one performer is having more impact in the streets, than entire groups. Be aware that we do not want a bunch of Skidmark clones, but what I strive for, is a performance company that is as hungry to engage the audience as he is.
So, what is expected of a paid street character?
First, they must initiate contact with the audience. We have been teaching all the tools you need, once initiation has happened, and I test to see if my characters are prepared before opening day. Most are armed with plenty of material, what they lack is the desire to approach a "stranger" and initiate their material. I've said for years, that if you have one good "bit" you can work all day. This is possible because a new audience is always only a few feet down the path from you. One "bit" done hundreds of times each day. But for the bit to work - you must initiate contact with the patron.
To improve this problem, I have appointed a steering committee to address the issue. This committee is comprised of the best and most engaging street characters I employ. We will meet multiple times before rehearsals begin in August to try and find a remedy to the problem. I can't rely on quantity anymore; we must improve the quality.
I'll keep you posted how it goes.