Lift Up Thy Cares!!
| | |
| --- | --- |
| DATES | Weekends - October 7 - November 26 & Thanksgiving Friday, 2023 |
| HOURS | 9am - 8pm |
The King and Queen Welcome you to our fair village!
Since 1974, there has been a magical kingdom about an hour north of the Houston area, where guests can step through the gates and enter an enchanted world filled with kings and queens, knights and nobles, fairies and elves, pirates and peasants, and other fanciful delights.
About TRF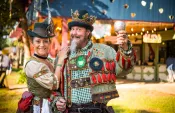 Oktoberfest
1001 Dreams
Pirate Adventure
All Hallows Eve
Heroes and Villains
Barbarian Invasion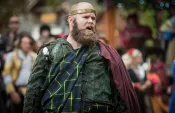 Highland Fling
Celtic Christmas
Themed Weekends
Oktoberfest
Journey back in time to old Bavaria as the King and Queen open the Festival season with a celebration of the best of the wurst (and the bier)! Show off your lederhosen in our daily costume contest or participant in our bratwurst eating contest!
October 7 (Saturday) and 8 (Sunday)
1001 Dreams
Faeries, elves and other fanciful creatures bring enchantment to the lanes of New Market Village. Show off your magical finery in the fantasy costume contest or test your endurance in the fiery dragon-wing eating contest.
October 14 (Saturday) and 15 (Sunday)
Pirate Adventure
Avast, Ye Hearties! Heave to and come ashore for the most piratical party on the seven seas. Show off your best buccaneer frock in the Best Dressed Pirate contest and try your luck at the Fish-N-Chips eating contest.
October 21 (Saturday) - 22 (Sunday)
All Hallows Eve
Ghoulies and ghosties arrive for some scary good when the Kingdom welcomes the Transylvanian court. Enter our Halloween costume contest or the Kettle Korn eating contest for a chance to win some "spook-tacular" prizes.
October 28 (Saturday), October 29 (Sunday)
Heroes and Villains
The mightiest heroes and heroines clash with the darkest of villains and vixens from history and legend. Show off your alter ego in the Heroes and Villains costume contest. If your superpower is eating, accept the challenge of winning the gyro eating contest.

November 5 (Saturday) - 6 (Sunday)
November 4 (Saturday) - 5 (Sunday)
Barbarian Invasion
Join the Great Horde and feast, drink, and plunder your way through the village during this barbaric rumpus. Are you the worst dressed barbarian around? Prove it by joining our costume contest!
November 11 (Saturday) and 12 (Sunday)
Highland Fling
Lads and lassies- the pipes are calling you to a celebration of the joys of Scotland. Witness the thrill of the Highland games, show of your Scotish finery in the Bonnie Knees contest, and see if you have the misneach(courage) to participate in the haggis eating contest.
November 18 (Saturday) - 19 (Sunday)
Celtic Christmas
Father Christmas, Mother Christmas, and all the Christmas elves welcome children of all ages to our final three-day celebration of the coming Yule-tide season. The Kingdom is transformed into a Christmas wonderland and holiday music fills the lanes. Find the perfect gifts for everyone on your list in our over 400 shoppes. There's also a holiday costume contest and the pumpkin pie eating contest to add to your Christmas cheer.

Father Christmas will be available for kids of all ages during the final three-day weekend. He will be up front near the festival entrance on Friday, Saturday and Sunday on Celtic Christmas weekend throughout the day. Visitors can choose to sit on Father Christmas' lap, or near him. Whichever makes you more comfortable.
November 24 (Friday) 25 (Saturday) and 26 (Sunday)
231
Acres of Camping Facilities
Entertainment
Enchanting Entertainment

Thrill to the charge of knights jousting on their mighty steeds. Fall under the spell of the faery court. Laugh and be amazed at the clowns, jugglers, acrobats, and magicians performing on stages throughout the village or watch with excitement as birds of prey soar through the air. Stay to dark and delight in the fire show and Royal Fireworks every festival evening!
The Texas Renaissance Festival is proud to host world renowned performers on the many stages located throughout the festival.
-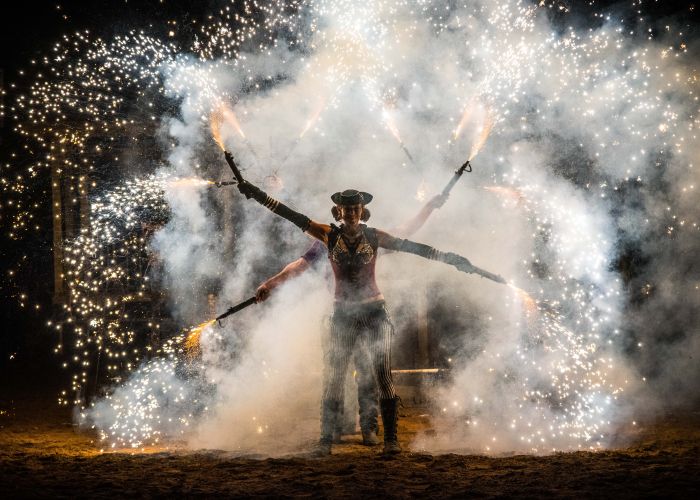 Fun for Kids & Families
The Texas Renaissance Festival is a magical place for family fun and entertainment. Try your skills at the archery, axe throwing or Jacob's ladder. Take a ride on the swings in the Enchanted Forest or take a spin on the DaVinci Flying Machines. After you've taken in the Fire Whip Show or the Great Rondini, get yourself a turkey leg and a lemonade while you walk around and browse the shoppes.



Lots of neat shops, awesome performances, and good food/drinks. I've been to a few renaissance festivals and I would say this was one of my favorites for sure.
-Nathan Wiles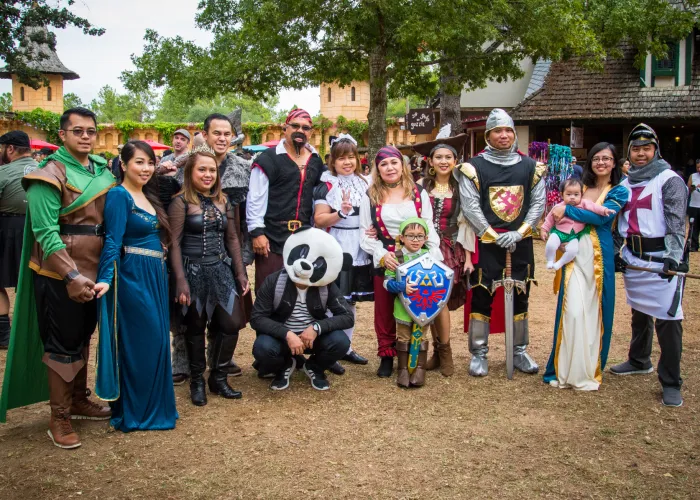 Friends
I love coming to the faire with friends, and making new friends. TRF is my second home and my faire family is amazing!
-Chip Ware, Houston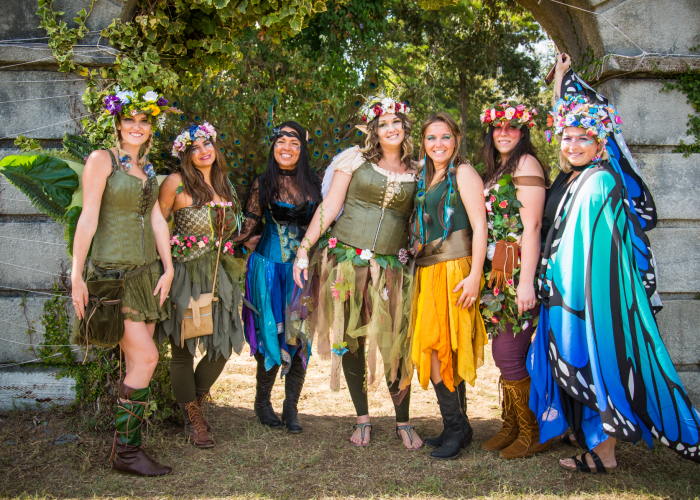 Groups
Experience an exciting group outing like no other. Groups will enjoy strolling the cobblestone paths of our authentically recreated 55-acre 16th century village, visiting more than 400 shoppes featuring unique arts and crafts as well as sampling foods from many cultures, playing games of skill and participating in a variety of human-powered rides. In addition, hundreds of costumed characters are there to entertain your party with over 200 performances daily. Each of our nine themed weekends brings a new adventure for your group, offering unique programs, activities, and more!

Groups of 15 or more adults can receive over 38% off the regular admission price.
This was the first event in nearly six years where I did not have to raise one finger to help. From the time we walked into the area Maw and Pa greeted us with the delicious food and hospitality. Out of the blue, the cast of characters from Alice in Wonderland and Peter Pan descended into our area to liven our group up which we felt was over the top and much appreciated by everyone.
-Toby Lee, HARC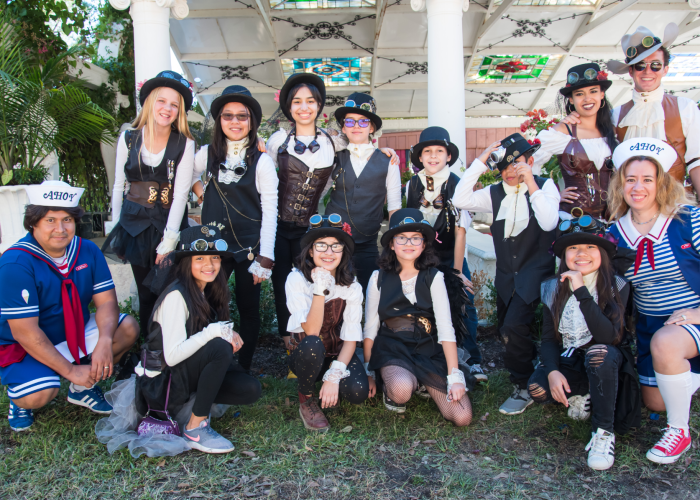 Fairy Tale Weddings
The King and Queen invite you to have your fairy tale wedding at the Texas Renaissance Festival.
Create the royal wedding of your dreams in 16th century-style within the walls of our charming English Village. Get swept away with one of our exclusive wedding packages designed to enhance the romance and magic of your wedding day!

The atmosphere was most enjoyable, when everything is put together I can't think of another service that out does the Texas renaissance festival weddings. It was a perfect day.
-Marcus Moreno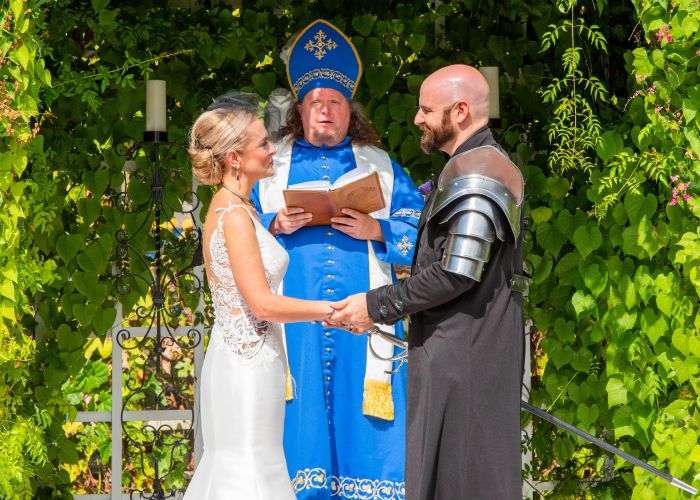 How to Experience TRF Like a Pro
I'm New to the Festival
I'd like to learn how to plan my trip
I Know All About the TRF Experience
Show me something new!