Hear Ye! Hear Ye!
A Texas Style Renaissance Podcast
Episode 1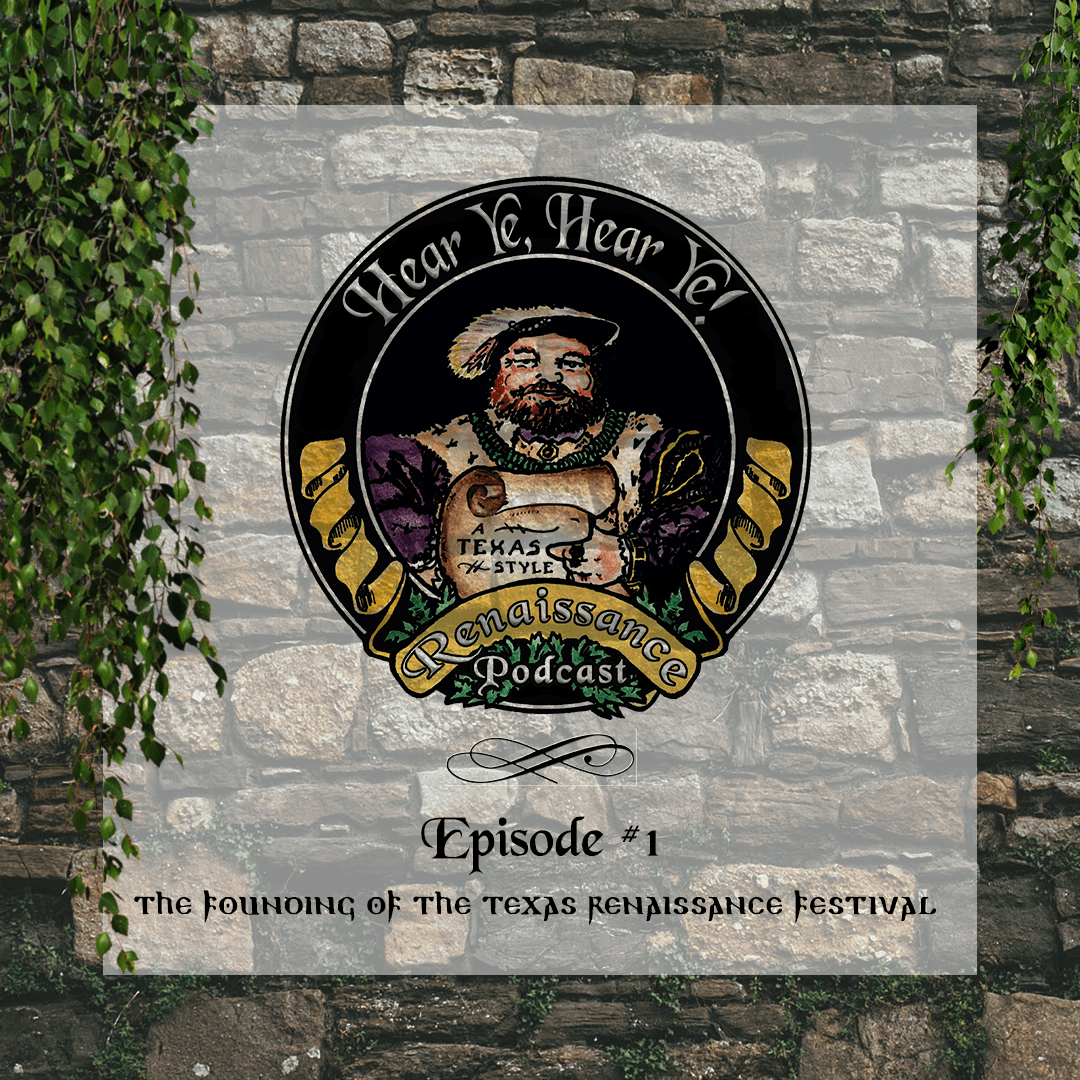 Lords and ladies, welcome to the first episode of Hear Ye, Hear Ye!, the only podcast where you can get an inside look at the Texas Renaissance Festival. On this first episode, we get the chance to convene with our first King, George Coulam, who founded the Texas Renaissance Festival with his brother David. King George takes this opportunity to grace us with many fine and fantastical tales about his adventures in life, business, and art. Huzzah! 
These tales incorporate topics such as:
Prioritizing his subjects
From expanding his construction projects to include sewer plans for flushing toilets to hiring professional actors to avoid injuries during jousting events, George's impact on the Texas Renaissance Festival has been incredibly positive and has always emphasized prioritizing patrons and keeping staff safe. Although it wasn't always an easy investment, King George has always cared about his loyal subjects and knows they deserve the amenities fit for royalty. 
"I guess if you don't put the festival first and you don't put the patrons first, then you don't need to be out here."
Starting a festival like this isn't easy, but neither were so many of the other notorious accomplishments that George has added to his biography throughout his life. Laying the foundation for the festival, building so many of its most famous sites, fulfilling so many different roles, and focusing on his own art, George has left a legacy that is determined to last. And, through it all, George has also overcome his tragic medical diagnosis of Alzeimers, defying the odds and living a long life despite pessimistic predictions from his doctors years ago. 
"The goal was to create a really awe-inspiring experience for the people that come in and see it."
Dedicating his life to his craft
George has always felt the calling to be an artist, and starting the festival was the perfect opportunity for him to explore and fund his art. Although the festival will always be a part of his life, George spends his time now creating churches and altars, as well as constructing his own arboretum that will serve as a museum to his community of Todd Mission after his life has ended. 
"What I wanted to do was I wanted to build a place that would give me enough money that I could do the art that I wanted to do." 
Episode 2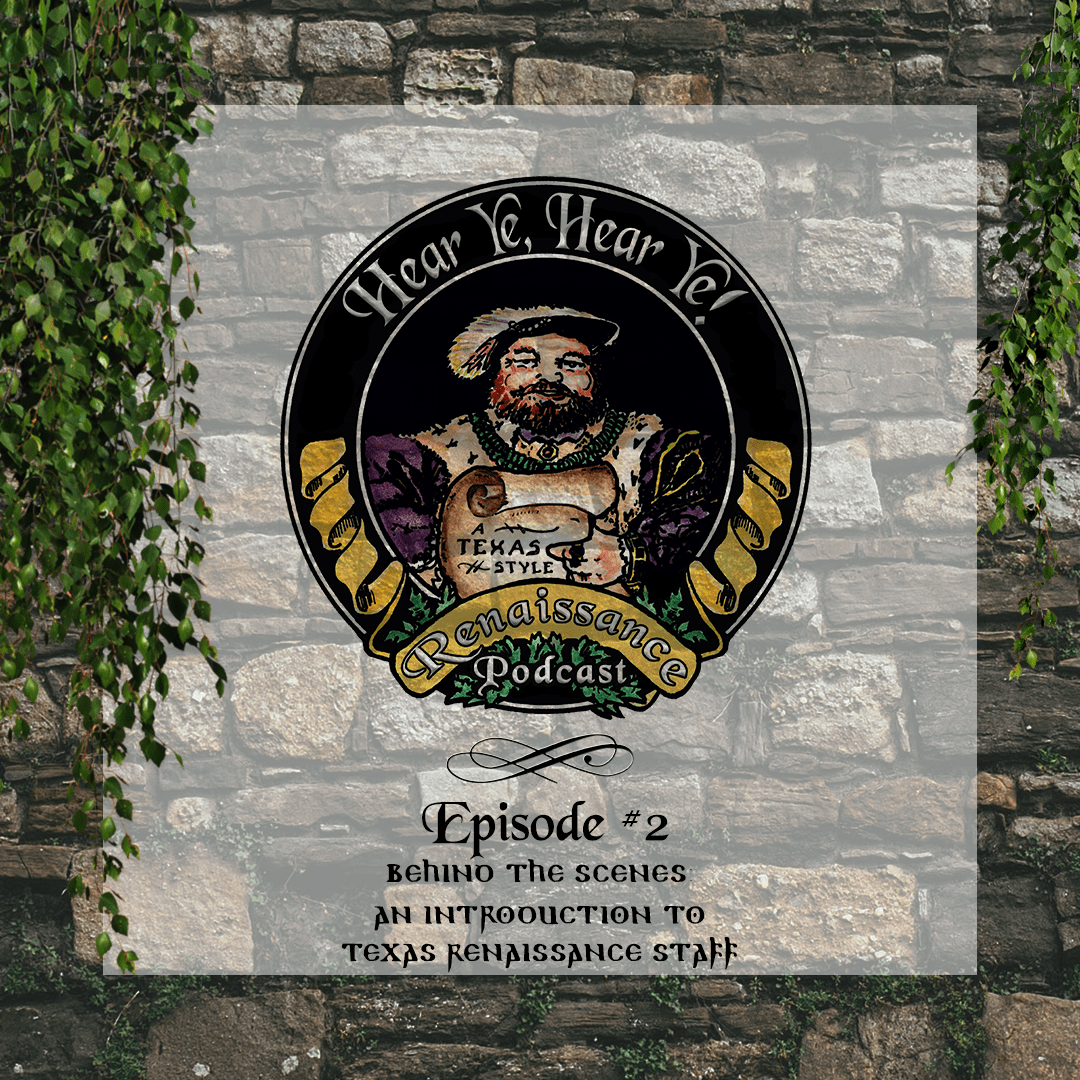 Lords and ladies, welcome to Hear Ye, Hear Ye!, the only podcast where you can get an inside look at the Texas Renaissance Festival. In our second episode, we say hello to many of the loyal subjects and intriguing Todd Mission locals that make the Texas Renaissance Festival run smoothly and achieve a new level of success every single year. In each interview snippet, we learn a little bit more about the roles that need to be played and the many moving parts that go into the biggest renaissance festival in the country. Huzzah!
These interviews include exciting tales that cover the following topics:
Many of the current employees of the Texas Renaissance Festival have been involved with the festival in some capacity for several years. For some, it may be decades, for others, it may just be a few passionate years. Either way, the passion in each of them shines through in all that they do. Through incorporating their own craftsman endeavors and career aspirations into the work that they do with the festival, the environment in Todd Mission is always bustling with something wonderful and new from the times of old.
"I still keep my hand in teaching because teaching is such a great passion of mine. Just the act of teaching itself is a joy." - Kim Bryant, School Days Coordinator, Lady of Education & Queen of Academics
As the festival grows, so do the programs available for our patrons to enjoy! From humble beginnings on just a few acres of land, our fine festival has turned into a massive event filled with fun for the entire family and hundreds of events and vendors to tickle any fancy. With more people than ever to cater to, we've been able to grow our staff to incorporate a wide variety of characters to fulfill all the roles we could ever need, from wedding planners to educators, campground workers to entertainment directors.
Just like with any job, the festival certainly provides its staff with obstacles to overcome and problems to solve. Thankfully, we're a tight-knit crew of loyal subjects ready to take up our swords and tackle any task to ensure that the festival is a safe, stupendous place for everyone. Each member of our staff has taken their own quest to get to where they are today, and they're able to use those experiences to turn fresh insights into positive changes.
"I find that what I enjoy most about being a director is making those choices. Because as a director, not only do I play one part, I actually end up playing all the parts in reality." - Jeffrey Lewis Baldwin, Entertainment Director, Lord of the Rebels
For more information on the Texas Renaissance Festival,
Episode 3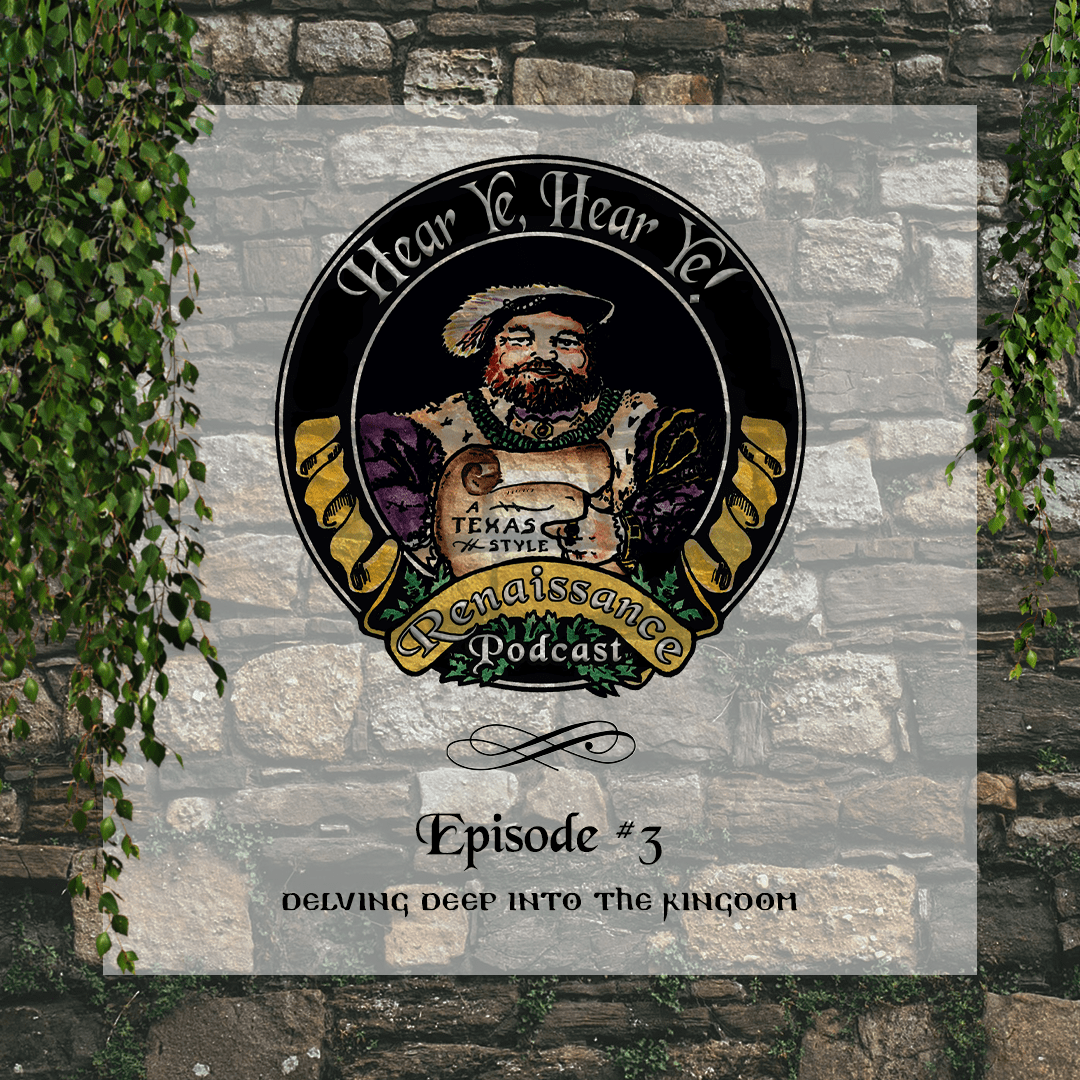 Episode 3

In our third episode, we touch base with the loyal subjects and Todd Mission townspeople that we met previously to continue to discuss the different roles we all must fill, both on and off-season. In each mini-interview, we continue on our journey to discovering what makes our renaissance festival so special. Huzzah!
These interviews include exciting tales that cover the following topics:
Although the current state of the pandemic has created challenges for the upcoming festival, we are all working together to take it in stride. With adapted safety measures and a new approach to auditions, even the off-season of the festival is getting a makeover so that everything runs as smoothly as it has ever run here in Todd Mission.
"As long as I can be creative at my job, I love my job. And fortunately, I get to be creative all the time."
Whether you're going to be setting up at the campground or marrying your betrothed at one of our coveted event areas, the renaissance festival runs best when plans are made in advance and personalized to each guest and patron. Although we pride ourselves on being able to think on our feet and create experiences on a whim, making plans with us in the months prior to the festival ensures a perfect moment that will live on in your memories for years to come.
With everything themed for an older time, it may be hard for everyone to understand just how much the Texas Renaissance Festival has to operate with forethought and professionalism. Each member of our cast and crew is specifically hired based on their skill level and consideration for what the festival represents and how we need to operate to make it genuinely enjoyable and educational for guests of all ages.
"At the end of the day, even though this is a beautiful 16th century village setting, it's still a business."
For more information on the Texas Renaissance Festival,