The King and Queen of the Texas Renaissance Festival are delighted to welcome new acts to the stages of the Kingdom. Each one has been carefully selected to entertain and amaze.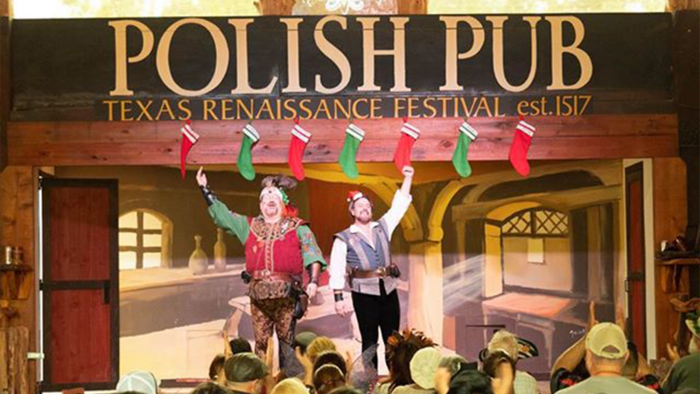 Polish Pub Stage
Mature Audience
2 Merry Men
10:30/12:30/2:30/4:30
These guys combine sea-shanties and pub songs into a great show that will have you laughing and singing along. Are you not up on your pub songs? Do you need a few more to sing the next time you are out and you are drunk enough that you need to sing, nay, that you have to sing? These guys will be your heroes. Their timing is perfect and they have great voices as well.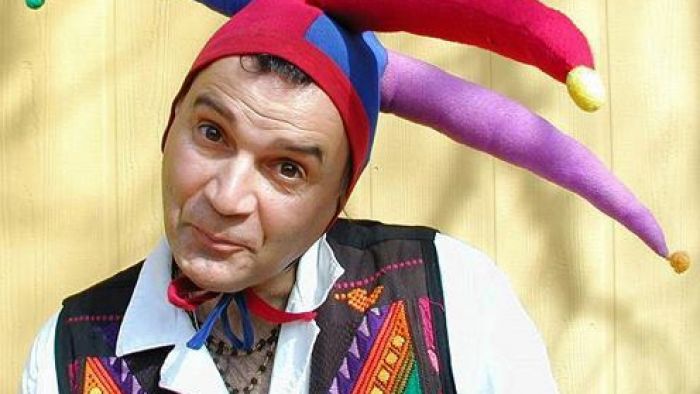 The Odeon
Arsene
9:30/11:30/1:30/3:30
This French performer's accolades are too numerous to list in full. He has performed for President and Mrs. George H. Bush, taught juggling to the Cirque du Soleil, won 1st Place at "Le Cirque de Demain," and appeared at such diverse locations as Disney World, Las Vegas, and Hawaii. Arsene has been performing worldwide since 1978, both live and on TV. You have never seen an act quite like this one. Arsene, il est magnifique!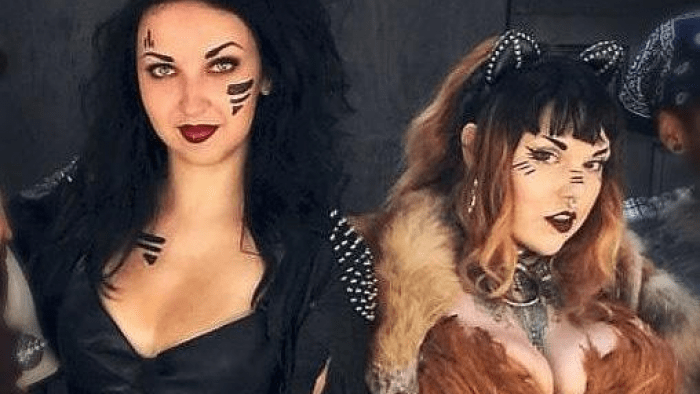 Barbarian Inn
Mature Audience
Barbarian Bombshells
11:00/1:00/3:00/5:00
A trio of buxom barbarian babes have invaded Canterbury to teach the women (and filthy manservants) of the land how to drink, fight, and have a bawdy good time outside of the rigid sexist rule of the British elite. Featuring battle songs, raunchy jokes, and a zany lesson in BARBARIAN BATTLE, this show is NOT for the faint of heart or for younger audience members. BARBARIANS RULE!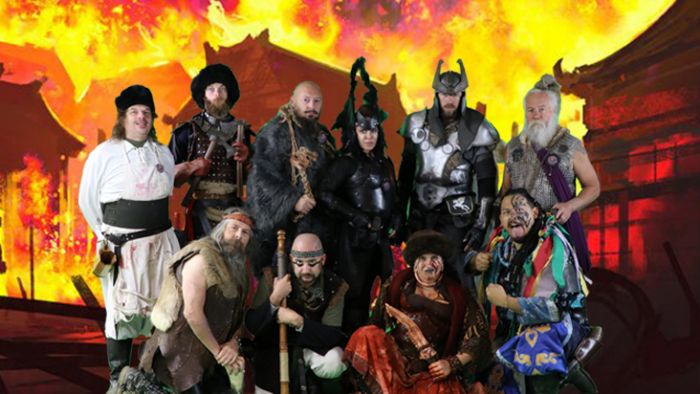 Barbarian Horde
Uncivilized, unorganized, unruly, uncultured, uncouth and unwashed minions invade the Shire of New Market Village for plunder and pillage.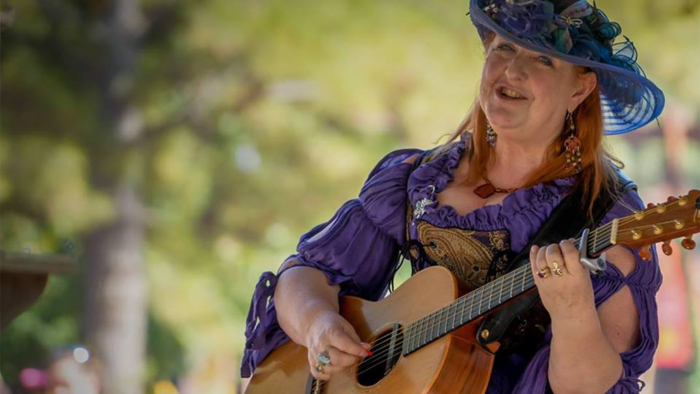 Mockingbird Music Gazebo
The Bard O'Neill
9:30/11:30/1:30/3:30
Diane is a hybrid: a musician who acts and an actor who sings and produces music. She has recorded four CDs: Rogue By Any Other Name, Janus, Bard of the Mountains, and Conversations With the Moon. C.M.O.T. Dibbler from the Renaissance Herald says, "Book Miss Linn…before she joins the ranks of Loreena McKennit and becomes too busy." Hail Bard and Slainte!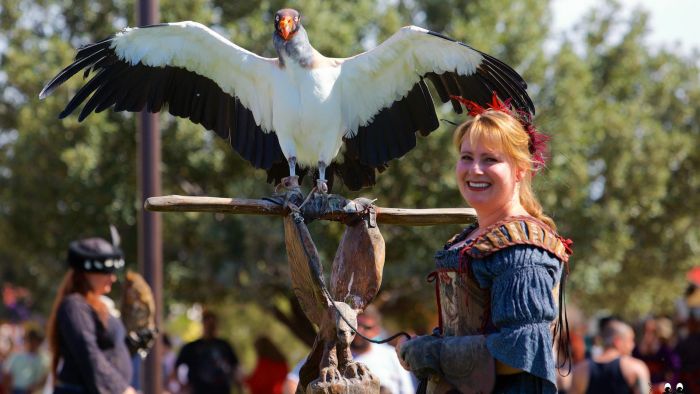 Falconer's Hearth
Birds of Prey
10:30/12:30/2:30/4:30

More than just Falconry, this complete bird show includes hawks, eagles, owls, and vultures, to name a few. Wild Sky Productions began as an idea to educate the public by presenting live animals in an entertaining format. And entertaining it is! The birds soar and glide above, in front of, in back of, and through the audience.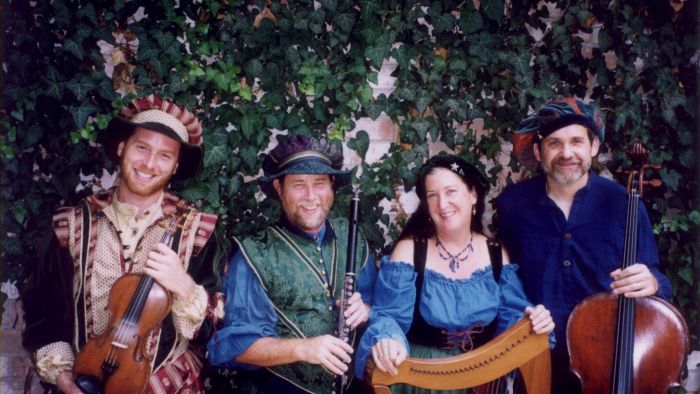 New Market Gazebo
Cantiga
11:00/12:30/2:30/5:00
Following in their tradition, the members of Cantiga are dedicated to the inclusive spirit of musical improvisation which has flourished among musicians in cultural crossroads throughout history and continues to be celebrated in today's diverse Global Village.
Christmas Elves
The holiday spirit reigns throughout New Market Village as Mother and Father Christmas celebrate Celtic Christmas with their holiday elves.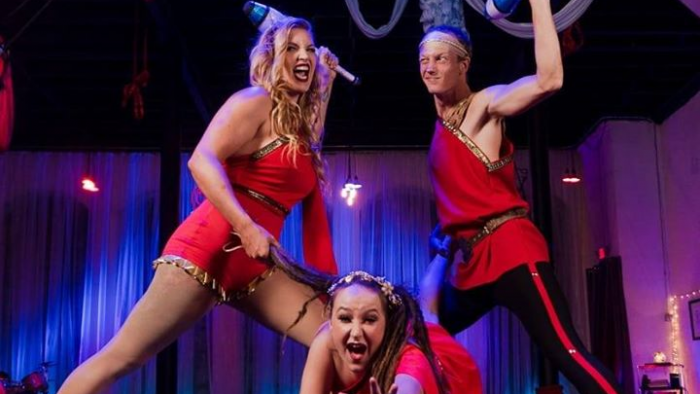 Agora Stage
Cirque Olympus
11:00/1:00/3:00/5:00
Meet Apollo, Artemis and Aphrodite - Time traveling Greek deities who bring the charms of strength, love and immortality (to worthy mortals) in the form of a wandering circus. Mythos is a Vaudeville-style circus entertainment troupe. The cast embodies the Greek Gods (and Goddesses) using comedy, song and acrobatics. The cast incorporates acting, music, circus, and comedy as well as audience participation.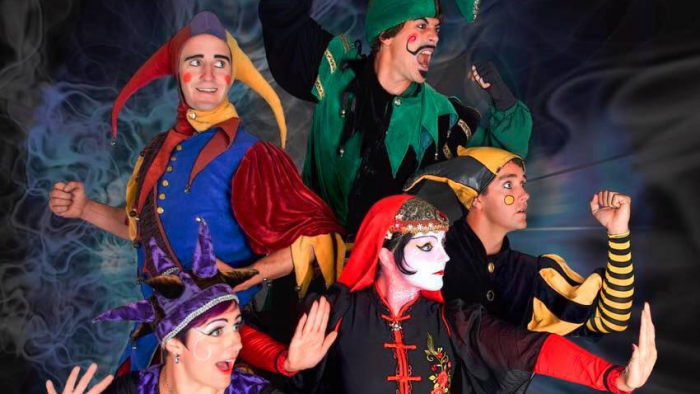 The Globe Theatre
The Clan Tynker
9:30/11:30/1:30/3:30

Clan Tynker is a family of siblings who perform a wide variety of talents in a whimsical "Old World" style. The show is a kaleidoscope performed to live music. An impressive variety of skills are displayed including juggling, stage magic, comedy, dance, sword swallowing, fire-eating and tight-wire walking. The accompanying musical soundscape is played on an variety of instruments. This fun and lively show is appropriate for audiences of all ages.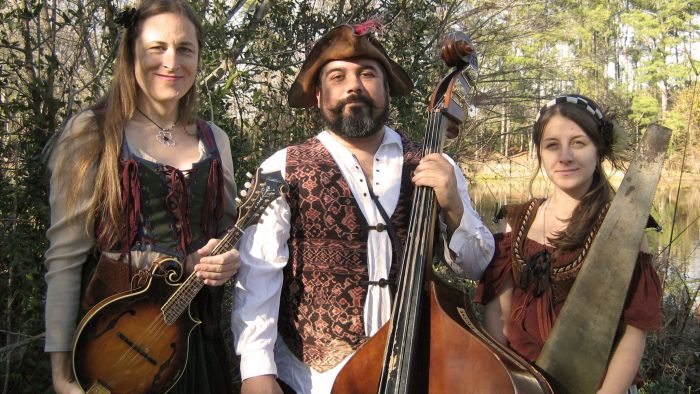 Wharfside Music Gazebo
Coal Black Rose
9:30/11:30/1:30/3:30

Embracing the spirit of the Traveler; Coal Black Rose performs unique versions of a Olde World musics (13th Century Cantigas, Classical instrumental classics, Olde Timey Folk, Seafaring Shanti and Work Songs). Using a variety of instruments of various folk origins, Coal Black Rose brings the best of all worlds to one stage.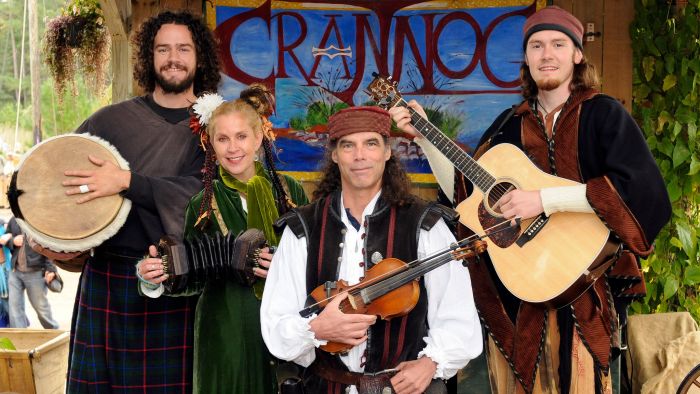 Wharfside Music Gazebo
Crannog
10:30/12:30/2:30/4:30

Crannog is known for their adventurous arrangements of traditional music. "Thrash Celtic" at its best, they feature primarily Irish songs and Celtic tunes set to fiddle, concertina, percussion, guitar and vocals. They've been known to rock the house and bring a tear to a man with a glass eye. Their tendency is to be stark, potent and poignant. They are famous for surprising their fans with new music.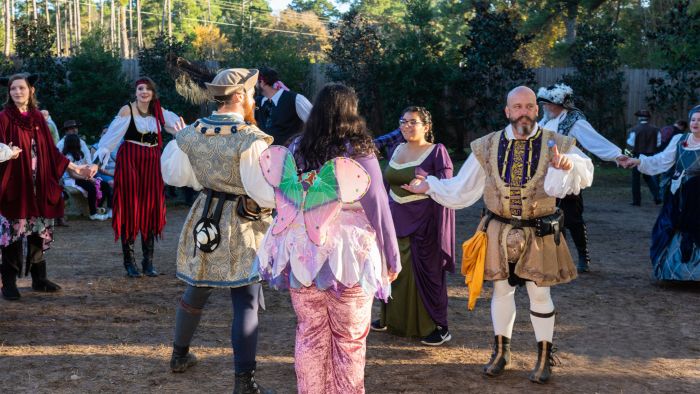 Titania's Bower
Dance School
10:30/2:30/4:00

Take part in the activities of the Nobles by learning a courtly dance. Their Majesties have imported the disciplined teachings of a Dance Master to school their subjects in the finer arts of courtly dance. You are invited to become a student as he goes step by step through such dances as the Highland Welcome and Half Hannikan. Your new dancing skills can then be put to immediate use in the dances held at the Royal Proclamation.

The Arborhause
Das Ist Lustig
Das Ist Lustig plays German Biergarten and variety music with a flair for the interactive. Audiences are invited to sing, ring, play and dance along to their music. With folk dances and hand held instruments, there's something for everyone in their show. Their zest and love of music is obvious as they entice their audiences to share in the enthusiasm and excitment of a Biergarten style show. Pull up a bench, down a brew and tap your toes to the Gemutlich-est German show around!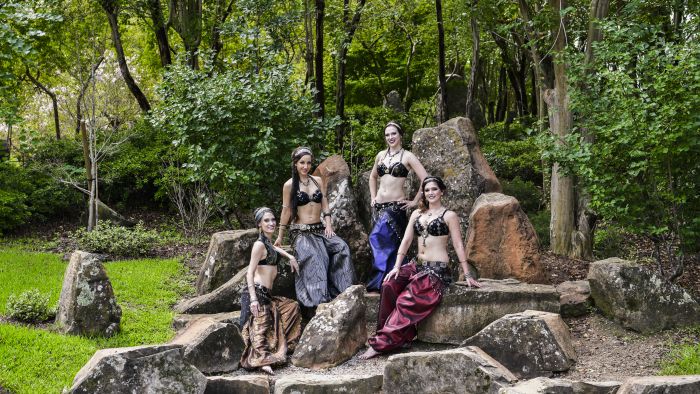 The Puffin
Dauntless Dance Company
11:30/2:00/4:30/6:00

The Dauntless Dance Company is a Houston-based team of professional dance entertainers with over 30 years of combined performance experience. Our performances feature a wide variety of prop options including swords, finger cymbals, wings, and fire props. Whether you're looking to make a party memorable or want to wow event attendees with impressively-orchestrated spectacles over an entire weekend, the Dauntless Dance Company.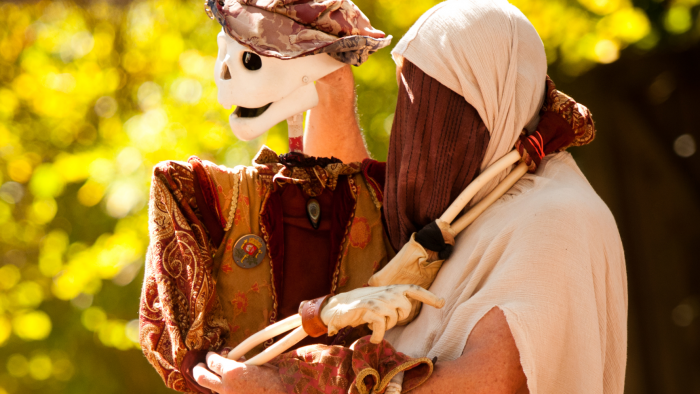 The Globe Theatre
The Ded Bob Show
10:30/12:30/2:30/4:30

Ded Bob has become one of the favorites of Renaissance Festival guests over the years. You will really dig his combination of dead-pan humor and earthy subject matter. While others' jokes may be groaners, Bob's are boners. Bob is attended by his loyal servant, Smuj. But who cares about him! Back to Bob. A noted womanizer, Bob's idea of afterlife involves a glass of wine and a smoking jacket. Watch Bob closely and you too will be Bob-mo-tized.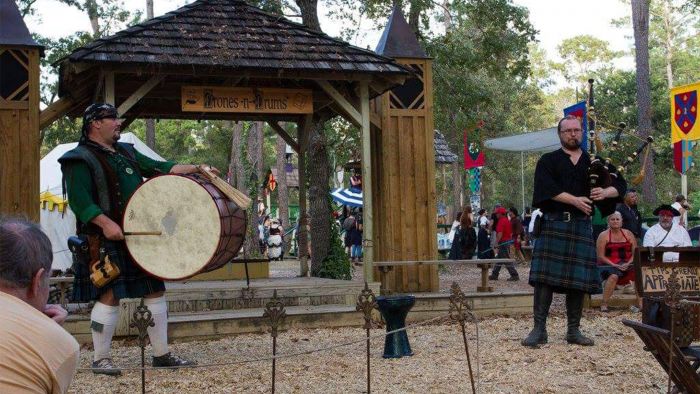 Cloister and the Green
Drones n Drums
10:00/12:00/2:00/5:00
In 2011, the bagpipe show was launched and flopped! The same year at a Celtic fest, founder Jason Gunn needed something new and fresh for the stage. So, with the help of his first drummer, he launched Drones-N-Drums. A Scottish blast from the Highland past! Now, with his current drummer, Justin Piwitz, and second piper Nathan Livingston, Drones-N-Drums is better than ever.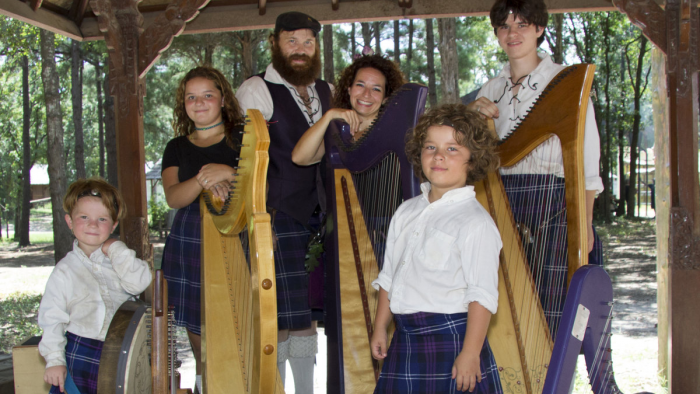 Cloister and the Green
Dublin Harpers
11:00/1:00/3:00/4:00

This outstanding family showcases the traditional roots of the Harp in Irish and Scottish culture, while concurrently delving into a kaleidoscopic musical journey of folk, contemporary, alternative, classical, and bluegrass genres. The Band, comprised of members of the Dunham Family, has been formally trained and is currently active in supporting music education.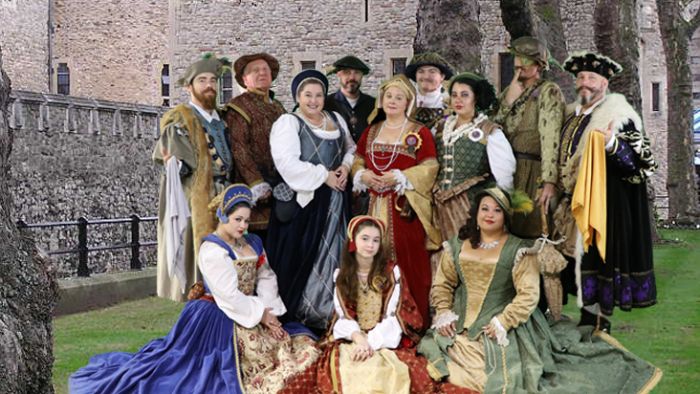 English Court
England's most refined, genteel families and society graciously welcome one and all into the gates of our fair village.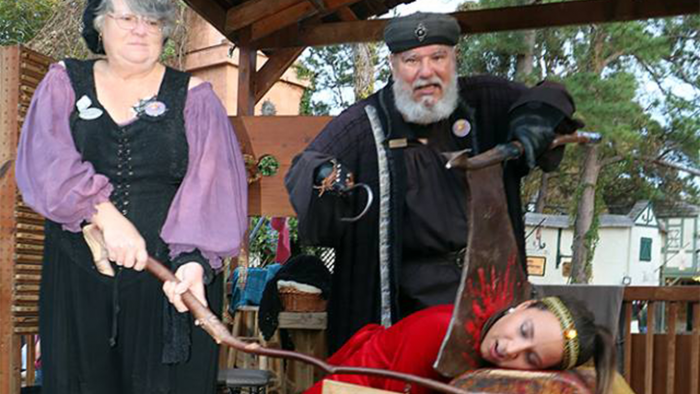 Silversmith Lane
The Executioners
Executions? Fun for the whole family! Get your loved ones' heads lopped off or put your cranky relatives in the stocks! Don Juan Diego and his assistant Adam are equal opportunity servants for justice! Derly Ramirez, II and Dave Adam are seasoned TRF veterans. Visit them in Dove Meadow.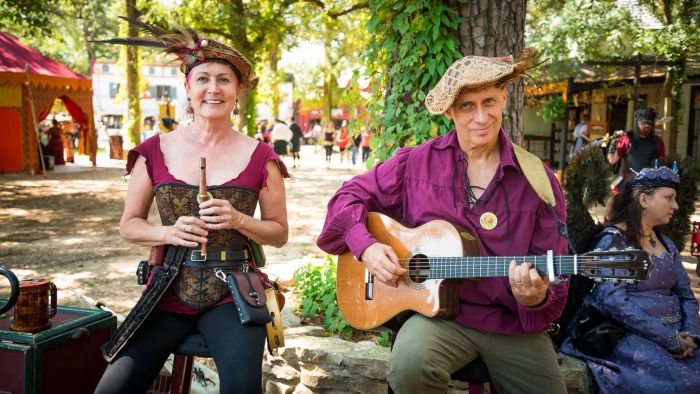 Throughout the Village
Faire to Middlin
Two lively, world-traveled minstrels who accompany themselves with classical guitar, Irish whistle, and mandolin. They bring you a mix of the traditional and original with rollicking toe-tappers, lyrical ballads, and mournful laments. Join in the fun with this delightful, creative, and often zany couple of musicians in love!
Fantasy Realm
Queen Titania and her Magnificent King Oberon beckon each and every one to partake in a magically enchanting day inside the gates of New Market Village.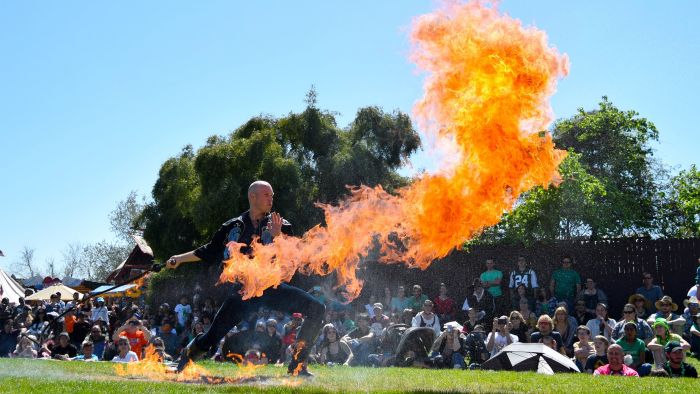 Falconer's Heath
Fire Whip Show
10:00/11:30/1:30/3:30

Adam performs sophisticated, high-energy routines, featuring dry humor, anecdotes, historical or educational stories. And yes, there is room for audience interaction in his shows, always more than just a series of amazing tricks. Routines include single-handed cracking, double-handed multi-crack demos, stunts and tricks including balloon popping, candle snuffing, paper cutting, flower snipping, whip dancing, wraps, fire whips, and much, much more.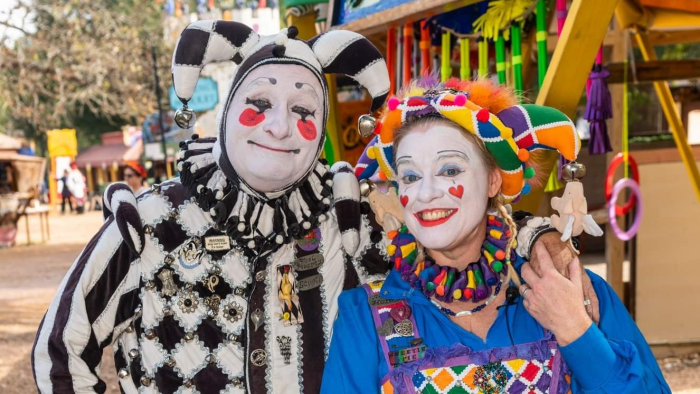 Florentine Gazebo
Fool Hearty
10:30/12:30/2:30/4:30
Good day, friends! Marquise & Ima Nutte of Fool Hearty here. We're a couple of professional Fools! With our well-developed characters, uniquely beautiful costuming, and cheerful friendliness ~ we are the perfect choice for your family! We are joy-bringers, bell-ringers, smile-in-spiring, lovers of life!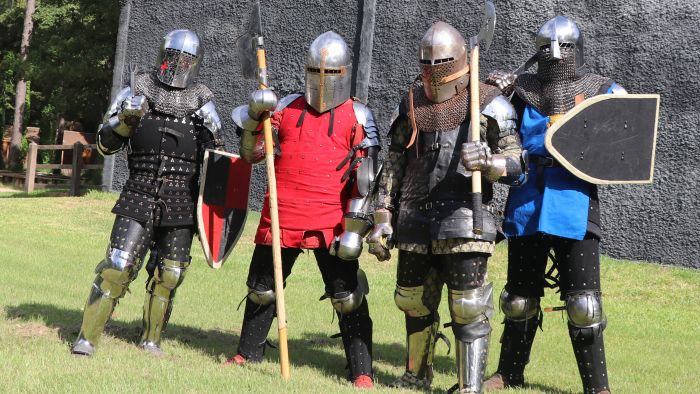 The Cloister and the Green
Full Armored Combat
11:30/1:30/3:30

Full Armored Combat is a violent display of medieval mixed martial arts and the chaos of an actual battle between fully armored knights. This is real combat and not choreographed. Our knights fight in hardened steel armor with real weapons in a grand melee to be the last man standing.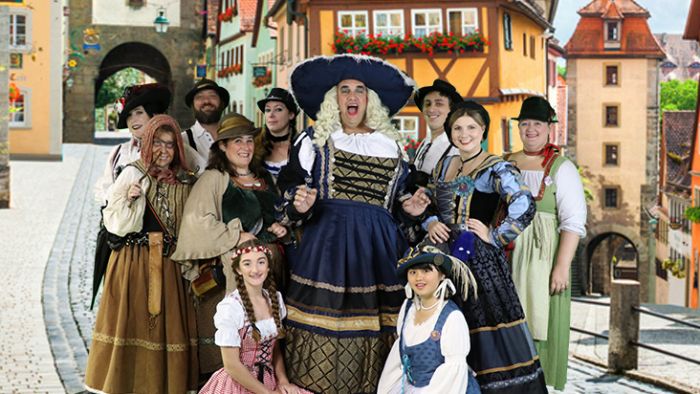 German Court
Hailing from the beautiful Bavarian countryside, they bring with them the best that Germany has to offer including a traditional Oktoberfest.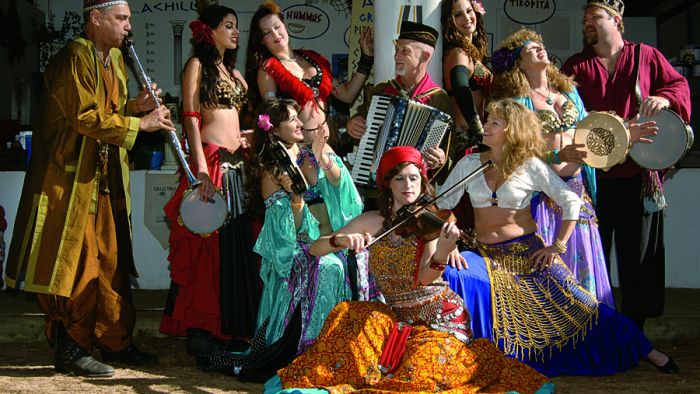 Agora Stage
Gypsy Dance Theatre
12:00/2:00/4:00/6:00
Composed of a group of multitalented and highly spirited professional entertainers, Gypsy Dance Theatre invites its audiences to tap into the muse of the quintessential gypsy spirit. They incorporate music, song, dance and humor from many of the world's diverse ethnic cultures. Spontaneity and audience participation ensure that no two shows are alike. Experience Gypsy Dance Theatre and let your own gypsy spirit fly free.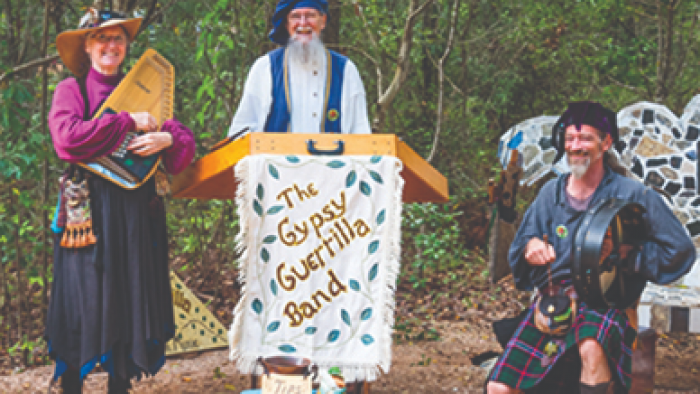 The Magic Garden
Gypsy Guerilla Band
The Gypsy Guerilla Band, established in 1984, consists of Jim and Joyce Lillquist. This versatile and highly energetic group of musicians combines a powerful style with personal arrangements and interpretations of a variety of instrumental Renaissance, Celtic, and Gypsy music. The band is committed to music that will entertain and ignite the imagination. You too will be dancing in the street to the sound of the Gypsy Guerilla Band.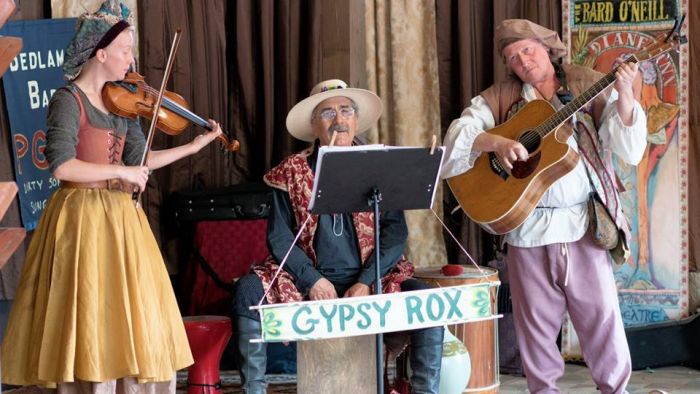 Florentine Gazebo
Gypsy Rox Family Band
11:30/1:30/3:30/5:30
Ky Hote and his Roxlovian cousins continue to scale new musical heights, crossing tonal boundaries with guitar, fiddle, vocals & percussion by Rio Blue. Special guests on fiddle (or hammered dulcimer) this season are Lauren Morris, Cedric the Fiddler, Lady Victoria and Michelle Alany. Expect special guests, tall tales and dancing!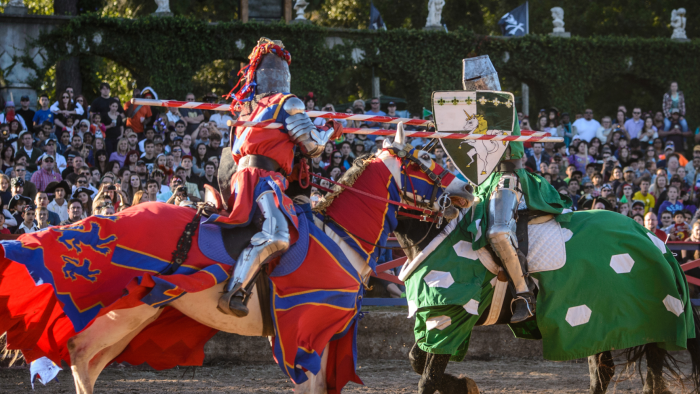 The Arena
Hanlon-Lees Action Theatre
11:00/1:00/3:00/5:00
The Hanlon-Lees Action Theatre first crossed lances in 1979, and since then they have dazzled millions at Renaissance faires and public events throughout the United States. For more than two decades, they have provided joy and excitement with their live 14th-Century-style show. Colorfully costumed steeds and noble knights in shining armor brandishing authentic weapons keep the spectacle ablaze with the action and romance of the period.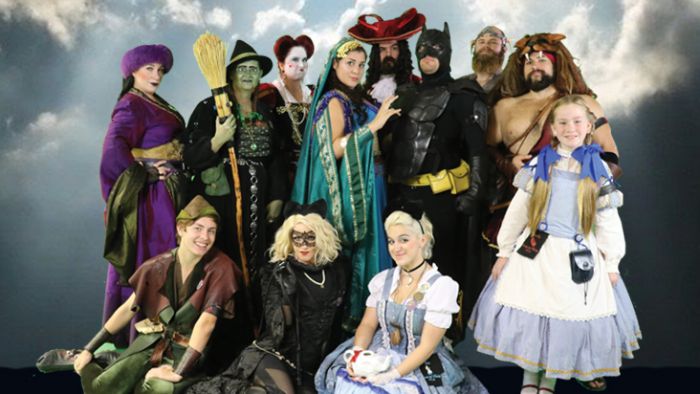 Heroes and Villains
The King's call has gone forth- assemble the mightiest heroes and gather the darkest villains for mischief and devilry, prowess and gallantry. Who will win the day?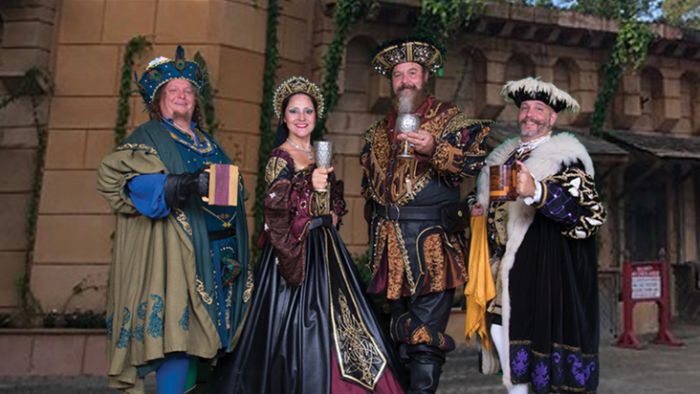 Hosts
Our Monarchs welcome all guests to the best the New Market Village has to offer! The Lord Mayor, and the Lord of the Dance offer their support to ensure every visitor enjoys a magic filled day in the Kingdom.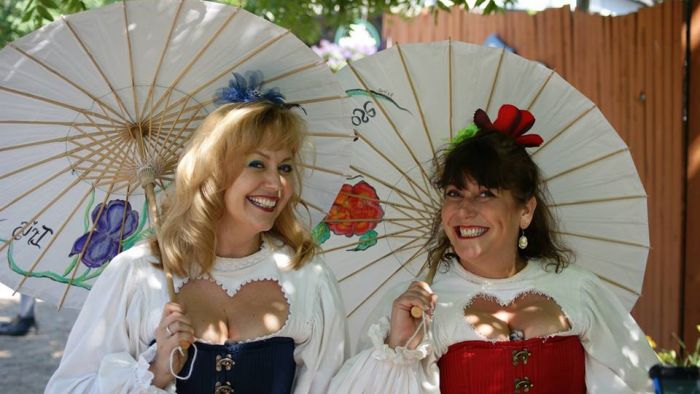 Polish Pub Stage
Mature Audience
Iris and Rose
11:30/1:30/3:30/5:30
Iris and Rose began developing their routine as Pub Wenches at the German Pub here at the Texas Renaissance Festival. Singing bawdy songs was a natural way to entertain their thirsty customers. They developed this experience into an act that they call "Bawd Ville." So come prepared for comedy, singing, jokes, limericks, toasts, and even a bit of juggling. You'll laugh so hard that you'll wet yourself. Mature Audiences Only. Not recommended for children.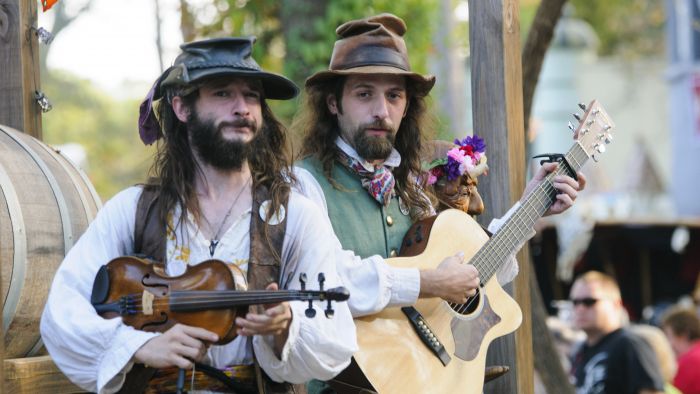 Griffin Inn Music Gazebo
Iron Hill Vagabonds
Throughout the Day
Iron Hill Vagabonds are an acoustic music duo performing a mix of traditional and original songs and instrumental pieces. Their material includes Celtic fiddle tunes, Irish songs from many eras, Renaissance Faire, Celtic, and folk standards, as well as original songs and instrumental compositions in many styles. Brothers Ehrich and Mark Gauvin have been singing and playing music, together and separately, for all of their lives.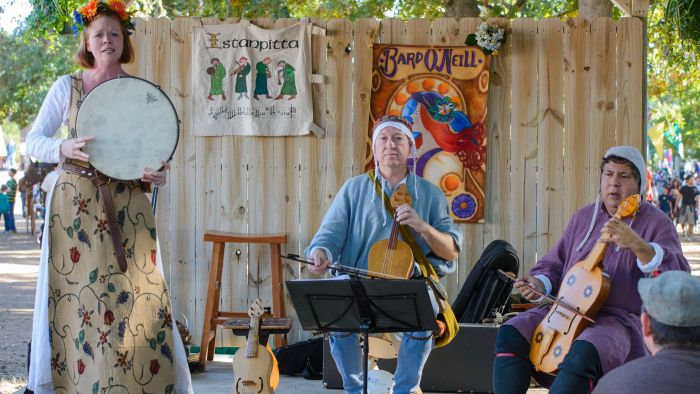 Mockingbird Music Gazebo
Istanpitta
10:30/12:30/2:30/4:30

Istanpitta was formed as a part of a college thesis project. Playing historical instruments such as oud, vielle, saz, medieval bagpipes, shawms, recorders and period percussion instruments, the musicians of Istanpitta strive to present their songs and dances in the manner that medieval musicians might have played when performing for their next meal. Audiences are treated to a performance that is both authentic and musically enjoyable.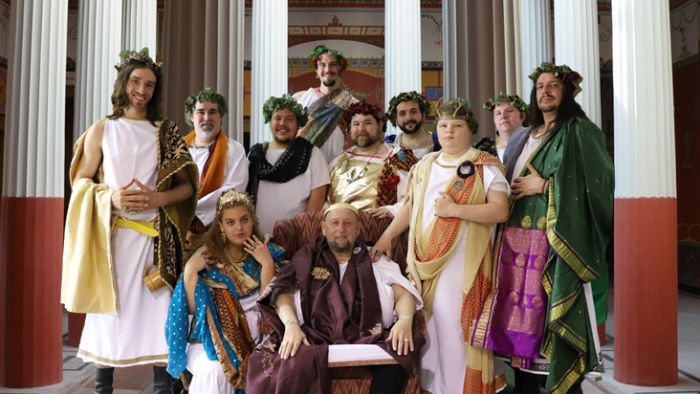 Italian Court
It would be impossible to Return to the Renaissance without the country that started it all, Italy.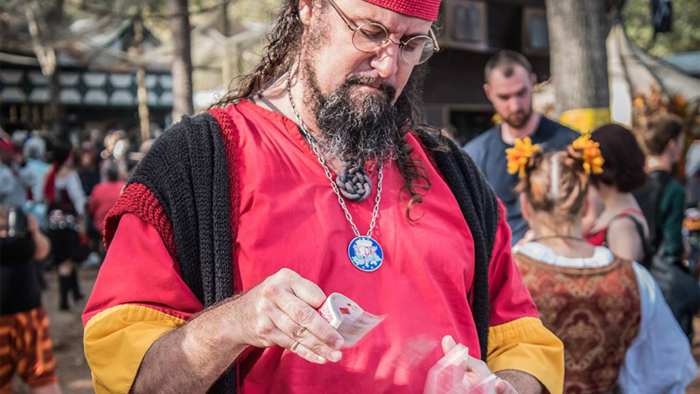 Throughout the Village
Jakem
Drew Heyen has performed at the Texas Renaissance Festival since 1991. He now appears as Jakem, the King's Magician, and can be found performing throughout the streets of New Market Village, particularly on Tournament Row in front of the Sea Devil Tavern. For more information on the Magic of Drew Heyen go to www.jack-scratch.com.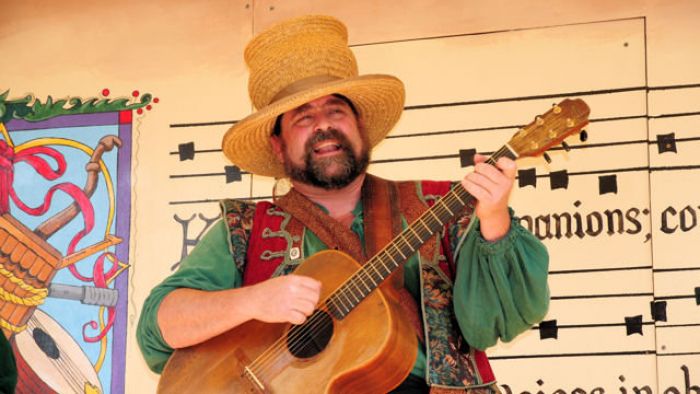 Mockingbird Music Gazebo
Jim Hancock the Burly Minstrel
10:00/12:00/2:00/4:00
Jim Hancock, the Burly Minstrel, has been a student and performer of music since early childhood. After studying voice and music theory at the University of Texas, Jim hit the road to put his knowledge to practical use. While known mostly for his dynamic work on guitar and vocals, Jim also excels on mandolin, bass and cittern. He has performed with many groups and individuals from Renaissance festivals to the Kerrville Folk Festival.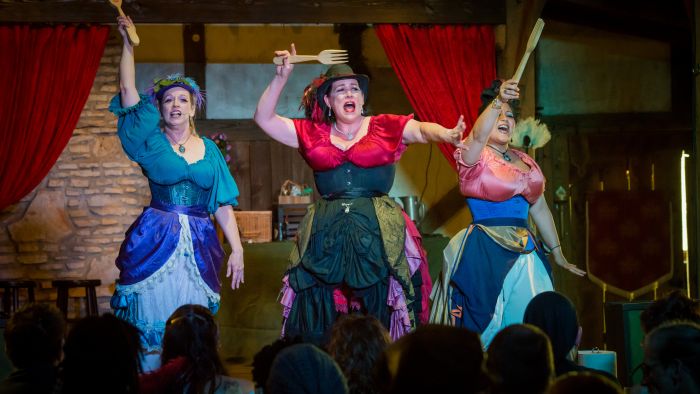 King's Arms Feast Hall
King's Arms Feast Hall
11:00/2:00
The Bordello Sisters return to the King's Feast Hall to amuse and delight you with their wit and song. Fancy and Frisky are being joined again by long lost sister Frilly! Be prepared to experience two hours of tight comedy and song, special guest appearances, games and audience participation, all while enjoying a six course all you can eat and drink feast. Let the Forking Begin!
"Loved Them at the Palace"
- King Henry VIII of England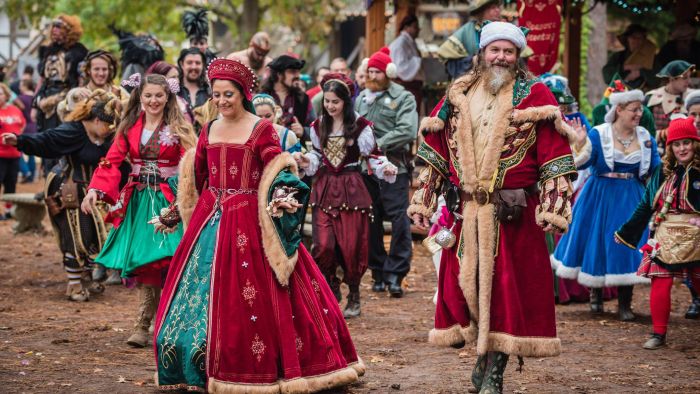 Throughout the Village
The King and Queen of the Festival
Timeless Royalty escort you throughout the festival and the day's events. Be on the lookout for this Royal couple, anywhere they are headed fun is sure to follow.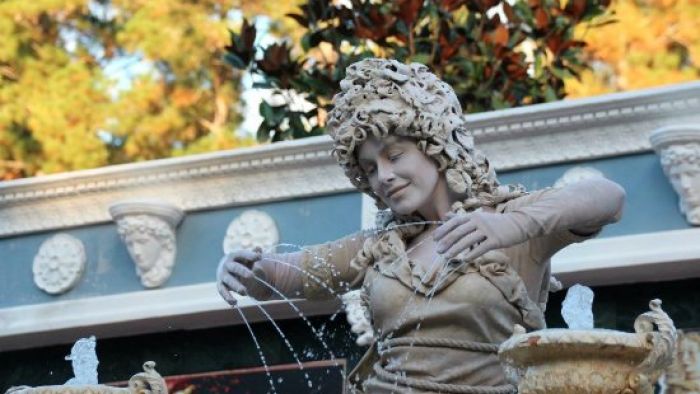 Titanias Bower
The Living Fountain
11:30/12:30/1:30/3:30/4:30
The Living Fountains are a unique entertainment experience, where nature comes to life with an extraordinary combination of movement, music and live interaction. A statue of a beautiful woman transforms herself with magical elegance into a living fountain. Delicate jets of water appear from her fingertips as a shimmering halo cascades from the crown of her head in this beautifully choreographed display.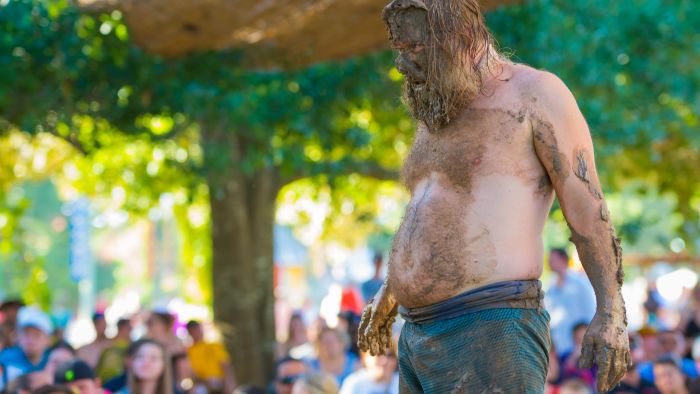 The Tower
Mud Show
11:00/1:00/3:00/4:30
Since 1980, our groundbreaking mountebanks, The Sturdy Beggars™, have continued to manipulate dirt, water and audience energy into what could only be described as: 'too cute for words.' The Mud Show® is now stuck good and proper onto The Tower Stage, and for four times a day, these assiduous fomenters foist their frolical muckary for any and all to spectate. If you have never been, come on by, they shall shake the etch 'o' sketch of your expectations.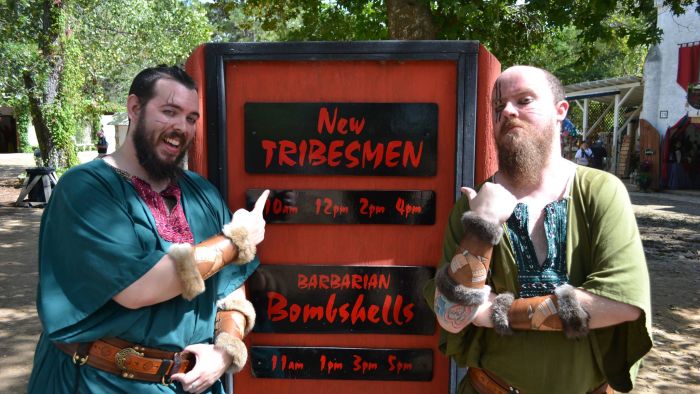 Barbarian Inn
Mature Audience
The New Tribesmen
10:00/12:00/2:00/4:00
What do you call two exiled Nordic drunkards, meandering through foreign lands, singing the legendary tales of drinking, debauchery, and blatant stupidity of their long lost Viking brethren? The New Tribesmen. That's what. They've landed haphazardly in New Market Village and they're going to give you ear worms and, for a lucky few, a ripe case of Queen Anne's bumrot.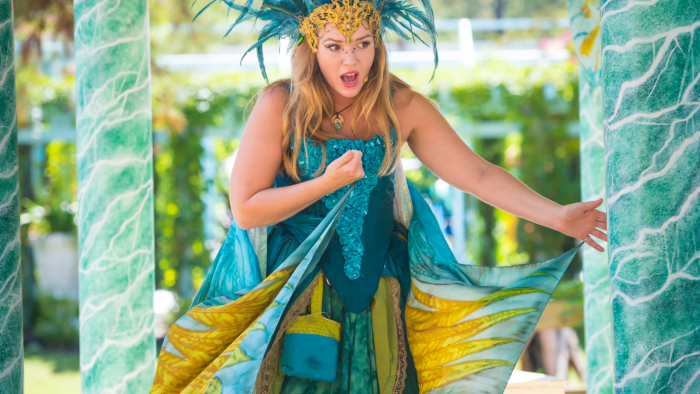 Florentine Gazebo
The Nightingale
11:00/1:00/3:00/5:00
The Nightingale, being known for having the sweetest song, sings the stories of the ages. Bright and delightful but strong from her journies, she sings for you, but also presents conversation in song or ryhme. The Nightingale is also a whimsical photo opportunity for patrons, with music that asks the audience to sing and dance along. All is set to the beautiful classical gypsy guitar playing of companion BaBa Manouche.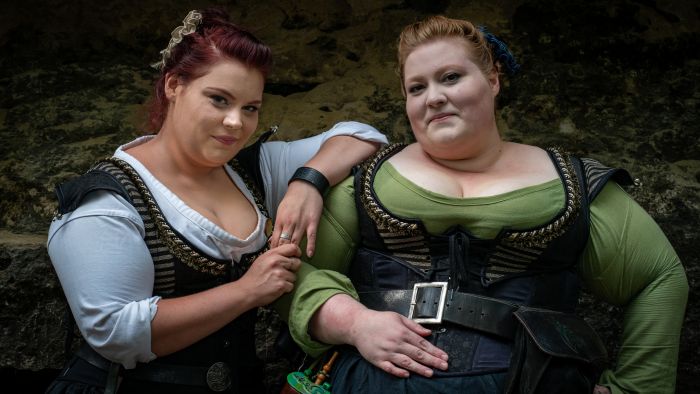 Red Lion Tavern
NEW *Mature Audience*
Opal and Jade Off Colored Treasures
11:30/1:30/3:30/6:30
Opal and Jade are saucy singing sisters, professional wenches, and aspiring musicians, comedians, and general entertainers. These bawdy bar maids will keep you in stitches with their keen wit, and dazzle your ears with their delightful melodies. These sisters are a treasure, not to be missed. "Come play with us!"
Mature Audiences Only. Not recommended for children.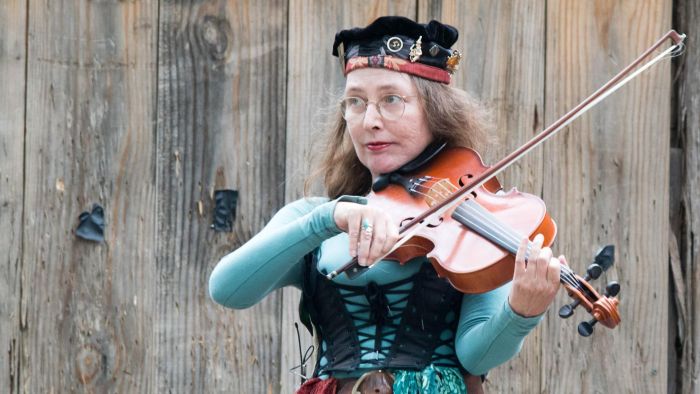 Throughout the Village
Owl Morrison
Owl Morrison brings a unique twist to traditional fiddling. Her songs are original, refreshing and familiar. Celtic and Gypsy - she goes both ways! Owl performs with the incomparable Arsene Dupin on the Odeon stage. She also roams the lanes and performs with other minstrels and instrumentalists of New Market Village. She has just released "Playing With Matches" featuring many of her mentors and protégés in the fiddle world.
Pirate Brethren
The pirates of the good ship Wild Rover have come ashore to pillage and plunder and take you on a Pirate Adventure.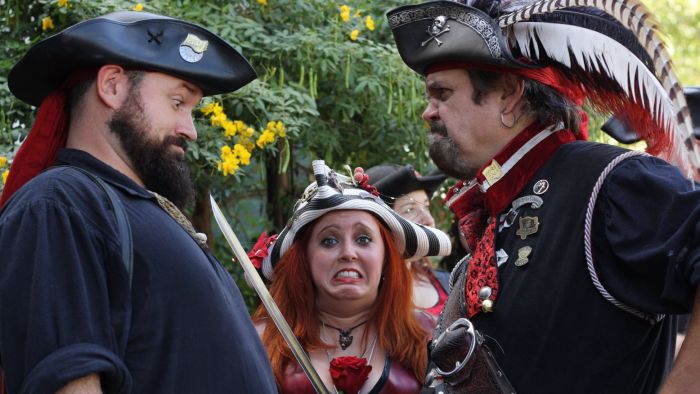 Sea Devil Tavern
The Pirates of the Pride of Bedlam
12:30/2:30/4:30/6:30
The Pirates of the good ship Pride O' Bedlam dropped anchor at the Sea Devil Tavern, where they can be found swillin' rum and singin' sea songs four times daily. Avast Ye Landlubbers! Prepare yerselves for a bawdy good time with Captain Basil Drake and his crew of misfits and scalawags.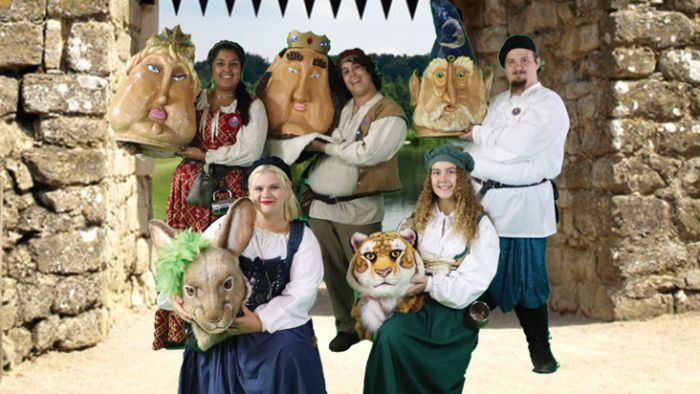 Puppeteers
Their Majesties, the King and Queen of Brittany, are delighted to be welcomed to the quaint English village of New Market for the annual Harvest Festival once again.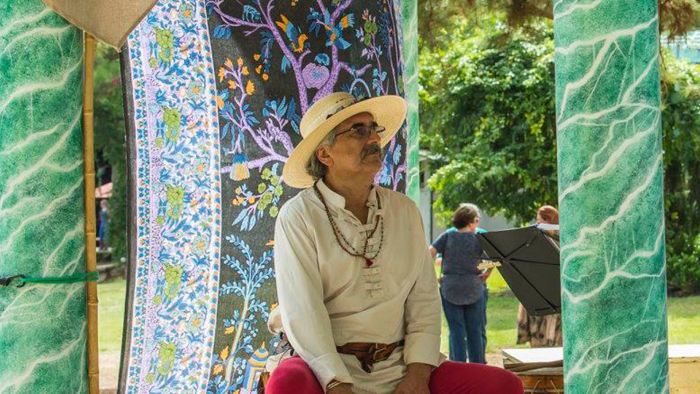 Throughout the Village
Rio Blue
Rio Blue can be found at various Renaissance festivals such as the Great Lakes Medieval Faire and the Michigan Renaissance Festival. Here at TRF he can be seen drumming for the Joust. He was the drummer for the late Owain Phyfe, including playing on Owain's Poets, Bards, & Singer of Song CD. If you buy a CD, Rio could be playing in your bedroom tonight! Uh, playing his drums, of course!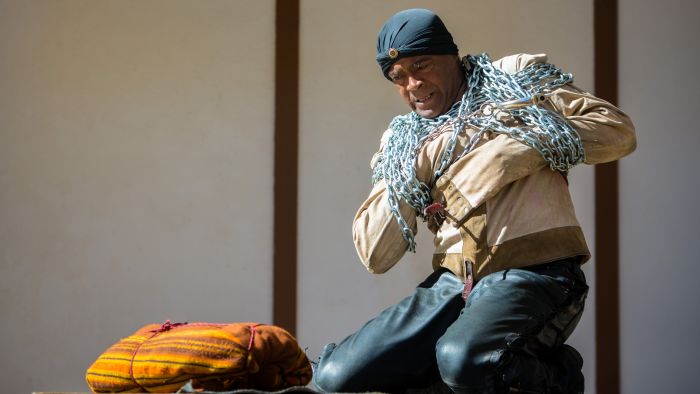 The Tower
Rondini
10:00/12:00/2:00/4:00
The Great Rondini is an exciting and engaging escape artist ! He brings a new flair to the ancient art of escape, combining amazing skill, humor and audience participation to create an unforgettable experience. Will he make it out this time ? Come see and cheer him on as he continues to defy the odds, and the physical limits of the human body!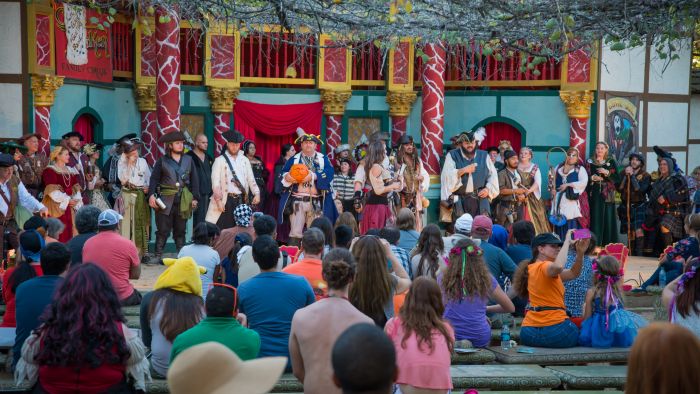 The Globe Theatre
Royal Celebration
6:00
Join us as we celebrate the best the festival has to offer in this one hour extravaganza, featuring song, dance, comedy, and magic. The entire performance company shall be on hand to ensure that all who attend will lift up their cares. The festivities conclude with lantern lit parade leading to the Royal Fireworks at the Arena.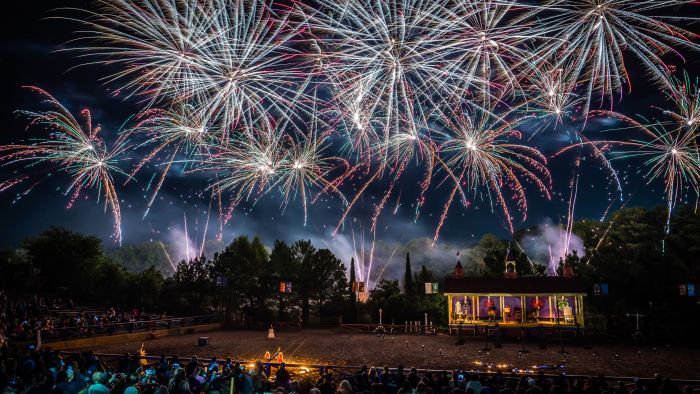 The Arena
Royal Fireworks
7:50
The King and Queen of the Festival decree a Royal end to a perfect day! In the tradition of London's fireworks over the Thames, the Royal Company of Greenmen will light the night with a remarkable display accompanied by the combustible music of Tartanic! Join us at the Arena for the noble finale of your festival day. Sponsored by TopDog Fireworks.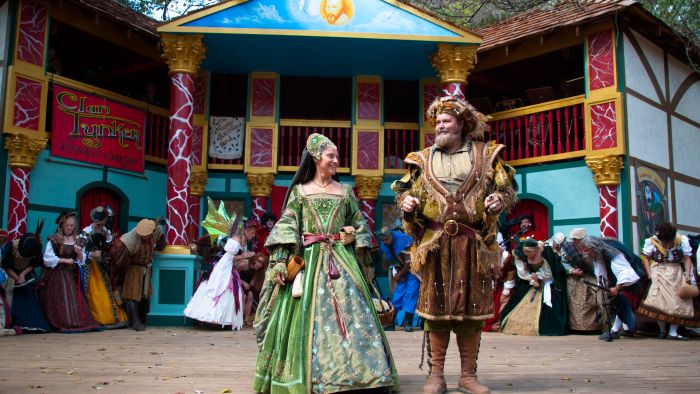 New Market Gazebo, The Globe Theatre
Royal Proclamation
New Market Gazebo - 9:30
The Globe Theatre - 12:00
The Royal Courts shall gather for the news from the village. The King and Queen of the Festival will honor special guests and contest winners, and share in all kinds of revelry. The Lord Mayor will reveal new delights and events in which to experience the theme of the weekend; and the Courts of Europe in all of their finery will dance and cheer their way through a marvelous festival day.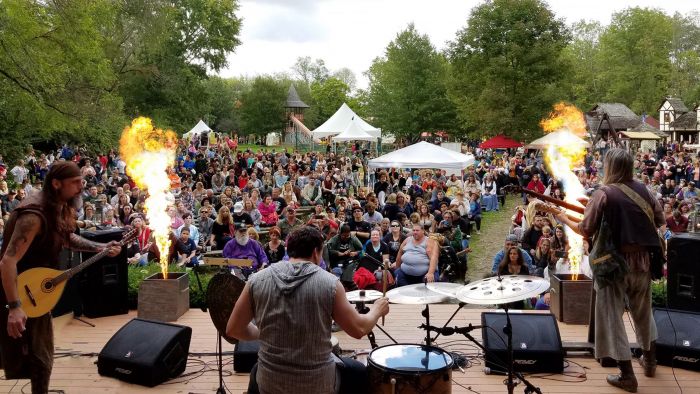 Dove Meadow Stage
Saxon Moon
10:30/12:30/2:30/4:30
Saxon Moon is an instrumental Nordic group of musicians with influences ranging from Scandinavian Folklore to hints of Mediterranean World Music . Saxon Moon's sole focus is to transport its audience back to the olde world, to re-create images of Saxon ancestry and the perilous travels of ancient forefathers from the adventures that were sought and the numerous stories that bled forth that... "ENTAIL THE SOUNDS OF SAXON MOON."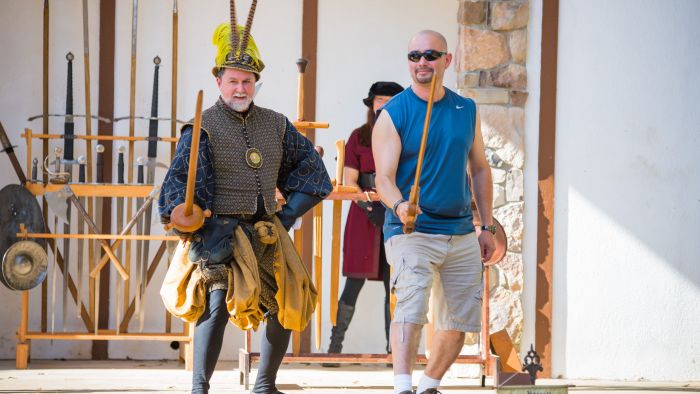 The Cloister and the Green
School of Sword
10:30 - Adult/12:30 - Adult
2:30 - Child/4:30 - Child
Oskar Hasselhoff, the German Master of Defense, will teach two sword classes for adults and two for children at the Cloister and the Green Stage, by the elephant rides! Learn to meet interesting people and then kill them!
DO NOT BE LATE! Only a few clean seats available.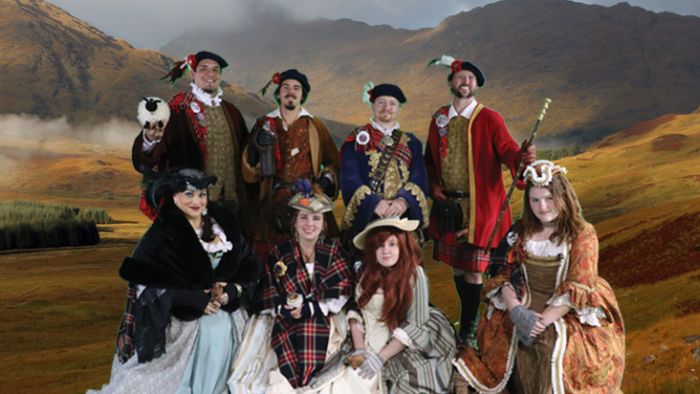 Scottish Court
The Bonnie Prince Charlie, hopes that his Highland Fling weekend will be just the ticket to lift up his, and all his invited guests', cares.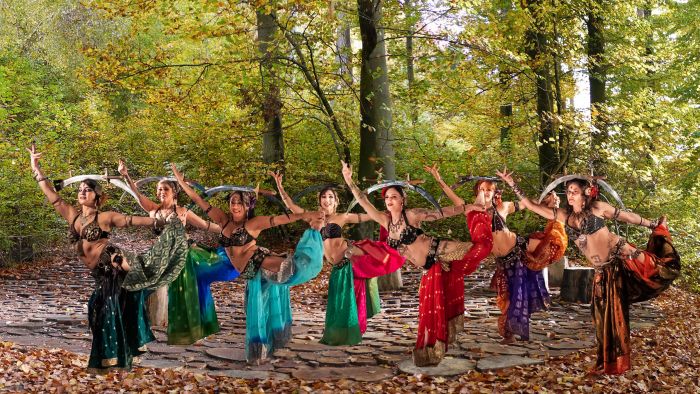 Red Lion Tavern
Shunyata Fusion Dance
12:30/2:30/4:30/5:30
Shunyata Fusion Dance encompasses traditions from the Arab, Indian, African, Latin and Spanish world and blends them with a variety of Western forms such as modern, jazz, ballet, and ballroom. This year they present a brand-new show that will make the audience travel through dances of the gypsy migrations, starting in India and finishing in Spain, where the "gitanos" developed a dance form that centuries later would become flamenco.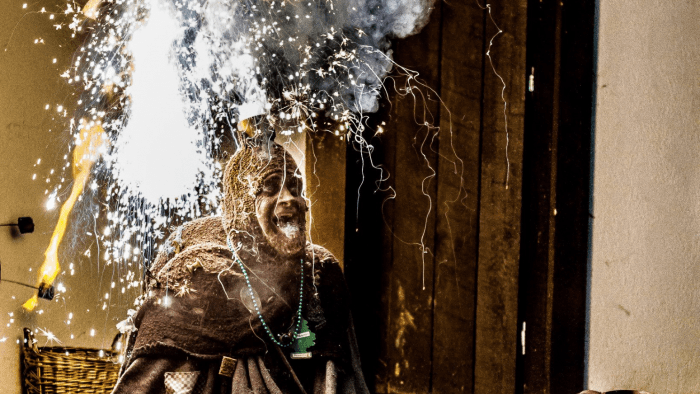 Throughout the Village
Skidmark
My name is actually Markus Skidders, but my friends call me "Skidmark" cuz I don't have very good friends. Homeless, Jobless, Feckless. I do not however beg for a living, I DEMAND! I am divinely inspired and highly talented in the art of rotting meat sculpture.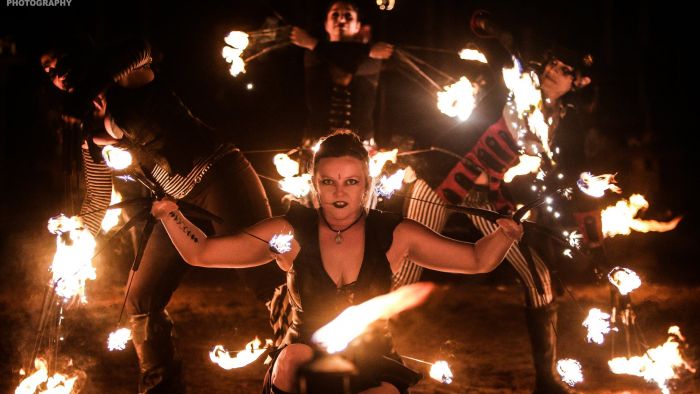 The Arena
Solar Rain
7:20
SolarRain has been a fire performance tribe in central Texas since 2015. Their performance includes skills based on juggling, baton twirling, poi spinning, and other forms of object manipulation. It also includes skills such as fire breathing, fire eating, and body burning.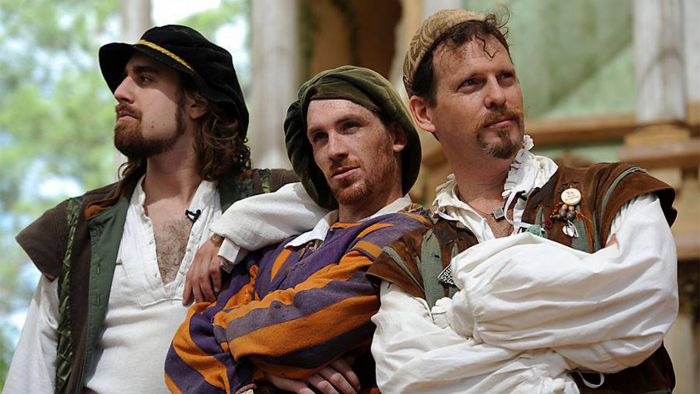 The Odeon Stage
Mature Audience
Sound and Fury
10:30/12:30/2:30/4:30
Sound & Fury™ is a nouveau-vaudeville troupe of players who present original comic works mostly in the style of that Bard fellow, Bill Shakespeare. Using frequent audience participation and utter destruction of the "fourth wall," Sound & Fury draws in its patrons making their "Fakespearean" works accessible and nonthreatening to a modern audience with limited attention spans. Mature Audiences Only. Not recommended for children.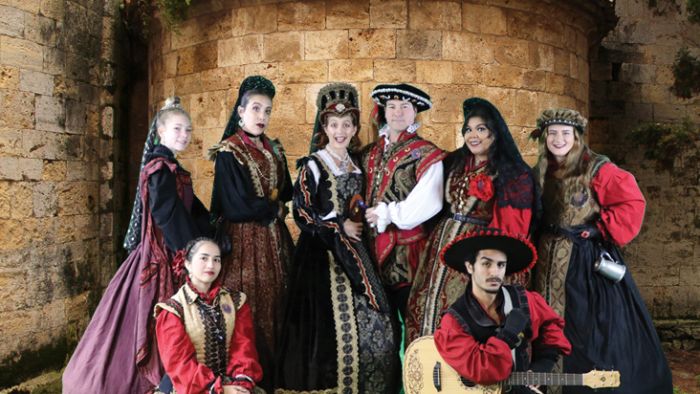 Spanish Court
His Majesty, Philippe el Hermoso and his Queen, Juana bid thee all una experiencia maravillosa at New Market con brazos abiertos.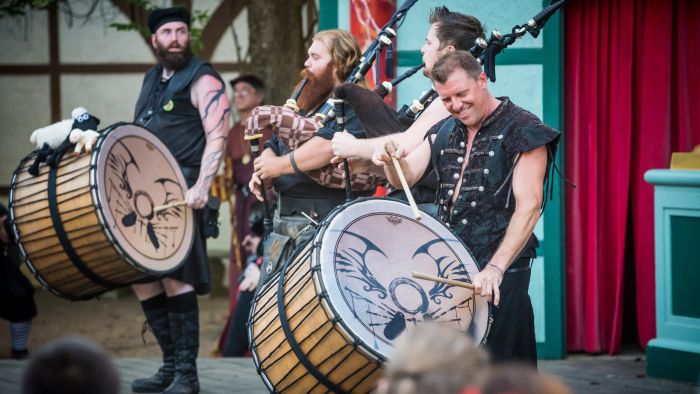 Dove Meadow Stage & Globe Stage
Tartanic
Dove Meadow Stage - 9:30/11:30/1:30/3:30
Globe Stage - 5:00

The only thing that limits a Tartanic show are strict laws set by the fire department. Take two bagpipers and two drummers, then mix in world percussions and tunes ranging from "Scotland the Brave" to scorching samba-driven numbers that feature half the band leaping off the stage, running, dancing, and playing to the audience. Tartanic takes live performance to heart and creates a high-energy pulse at 120 beats per minute.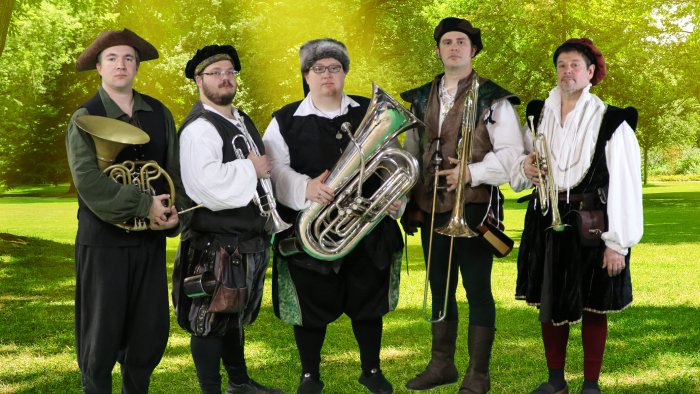 New Market Music Gazebo
Texas Brass Ensemble
10:00/1:30/3:30/4:30

Texas Brass Ensemble has been performing at the Texas Renaissance Festival for more than three decades. The members of this musical group include symphony musicians, educators, Big Band musicians, Dixieland musicians, and composers, often all in one person. They bring a modern flair to traditional Renaissance era music. As visitors enter the Festival grounds, they often hear the sound of the Texas Brass welcoming them from the New Market Music Gazebo. What a welcome!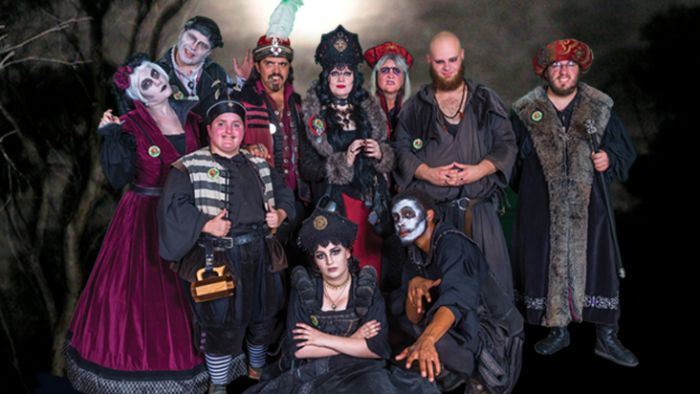 Transylvanian Court
The Prince of Moldavia and his kooky, spooky family come to New Market in preparation of their celebration to be held on All Hallows Eve.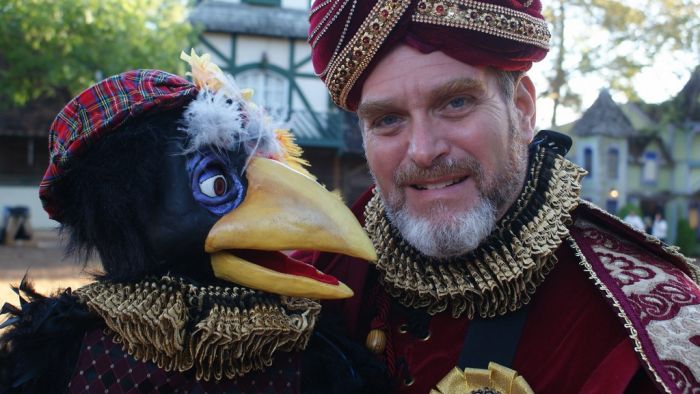 Throughout the Village
Ventriloquist Philnick the Great
Master Ventriloquist Phil Nichols aka PHILNICK the GREAT! has been a Ventriloquist for 45 years. He has performed live all over the country with his talking crow Bosworth and a cast of crazy characters. His recent television appearances include a cameo appearance on season 13 of NBC's America's Got Talent. His photos hang in the wall of fame gallery at the Vent Haven Museum in Fort Mitchell Kentucky (the world's only museum for Ventriloquism).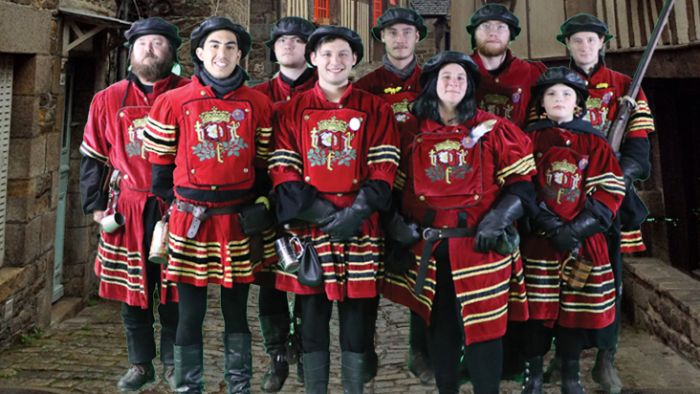 Yeoman of the Guard
As escorts to all of the beautiful brides who bless New Market Village with their wedding celebrations, one would have to search far and wide to find their equal.