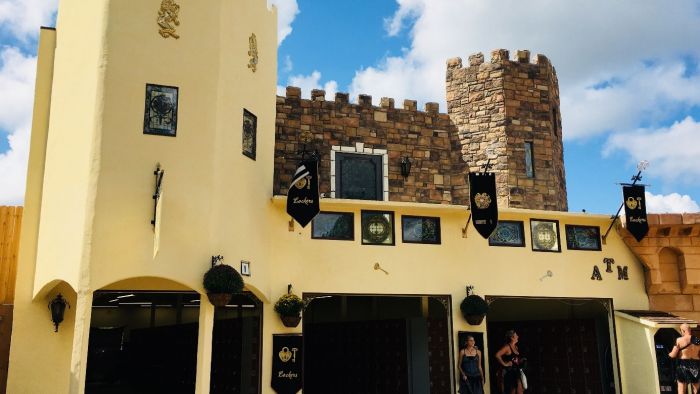 1
The Keep
Sir LocksAlot will keep your belongings safe at The Keep. New Market Village's new locker and storage rental facility, located just inside the village entrance. Every locker has a USB charger. Forgot your phone charging cable? No problem, they have those for sale at a great price! Won't fit in a locker, they have Hooks in the back for oversized items! Other gifts available! Try our latest service…………Concierge! Don't carry stuff around all day. Buy it, call us, we pick it up FREE and transport it to Shoppe #1. You pick it up on the way out. We've got you covered. Call 913-706-5471 for a FREE pick-up just pay for the Hook

2, 679WW
Wildsteel Kingscraft
Metal artwork and home decor.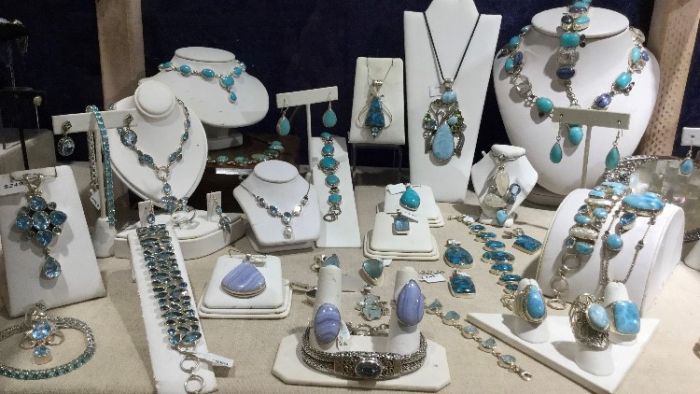 3
Pendragon Jewelry
Original designed jewelery. Jewelry and pewter purchased for resale, chimes, boxes, beads, fairies, childrens gift bags, wands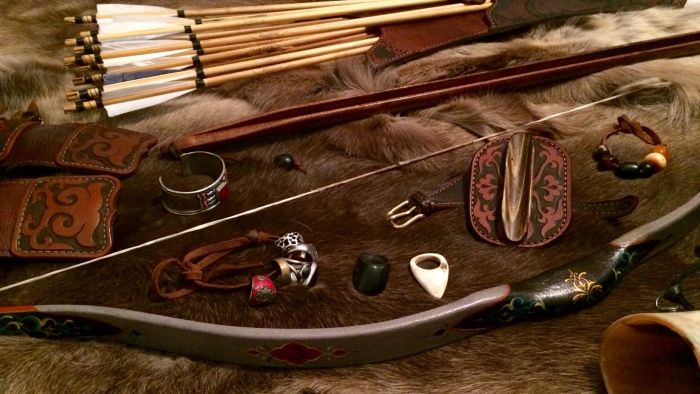 4
The Flying Hun
Archery and Leather is a premier supplier of Eastern and Eurasian archery equipment, including bows, arrows, custom leather gear, tack and saddles - we specialize in all aspects of ground and horseback archery. We supply equipment used by the Mongols, Hungarians, Turks and many more.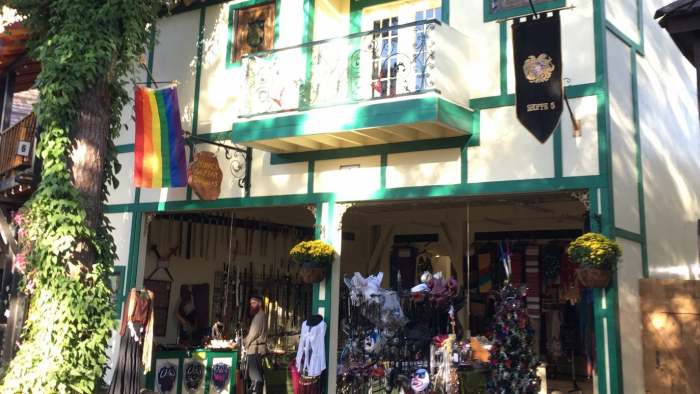 5
Zevart's Bazaar and Exotic Apparel
A Bizarre Bazaar shopping experience with one of a kind handcrafted items and beautiful garb to dress up your body! Add some shiny accessories or wrap up in a tapestry for those cool November nights. Tapestries, rugs, jewelry. Choose your weaponry or cool off with a fan. You will find many wonderful and unique gifts at great prices.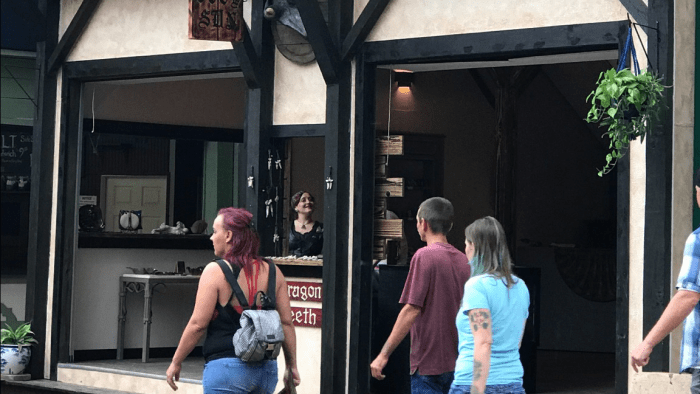 6
House of the Good Sun
A family-run merchant at The Texas Renaissance Festival for over 40 years. Specializing in sculpture, we offer a wide range of pieces from fun to fine sculpture. We offer hand-sculpted, one of a kind ceramic housewares and are most known as the original artists and merchants of The Dragon Tooth.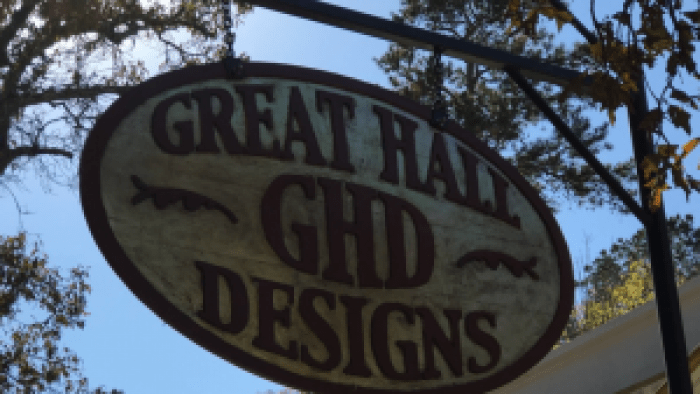 16
Great Hall
The Great Hall (Booth #16) is one of the grandest shoppes at the Texas Renaissance Festival. We are but a stones throw from the front gate, and lie next door to the Globe stage. Our sprawling storefront offers original design clothing and adornments from Alli Designs, as well as a generous selection of handmade pottery and drinking vessels from John Coiner Pottery. Also in our booth, we have a wide array of treasures from our travels; such as magic wands and staffs, slump glass bowls on driftwood, wares for your castle and estate, and many other fine arts – all uniquely designed and handcrafted by skilled artisans. From whimsical trinkets, collectibles and costume accessories, to heirloom pieces for your hearth and home, the Great Hall has it all!
16, 17, 233
John Coiner Pottery
Original, handmade pottery by John Coiner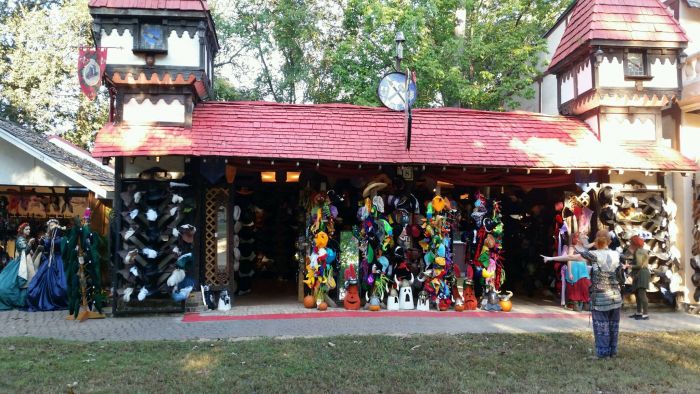 18
The Hat People
For the largest selection of headwear, visit The Hat People in our 45th - and final - year at Renfest. Our inventory includes custom made, "over-the-top" hats exclusively available at The Hat People, as well as finely made casual to formal styles for everyday wear. From fun hats to fine panama hats - The Hat People carries them all. Our friendly and knowledgeable staff will make sure you find THE perfect headwear.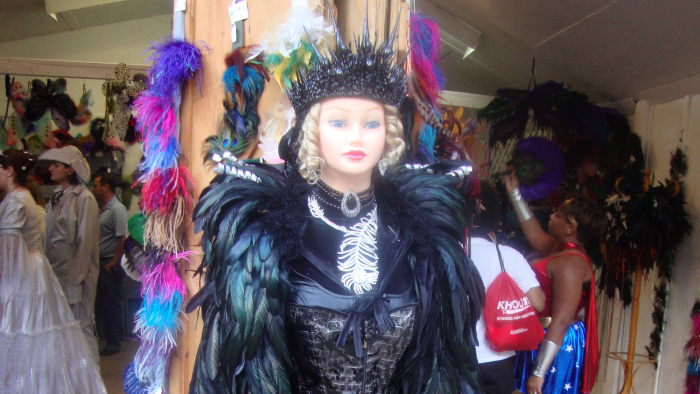 19
Camelot Enterprises-The Royal Fan Shoppe
Feather fans, feather halos, crowns, feather headpieces, feather masks, feather hat pieces, headpieces, feather earrings, feather purses and feather collars. Feather cloaks and capes and custom feather wings!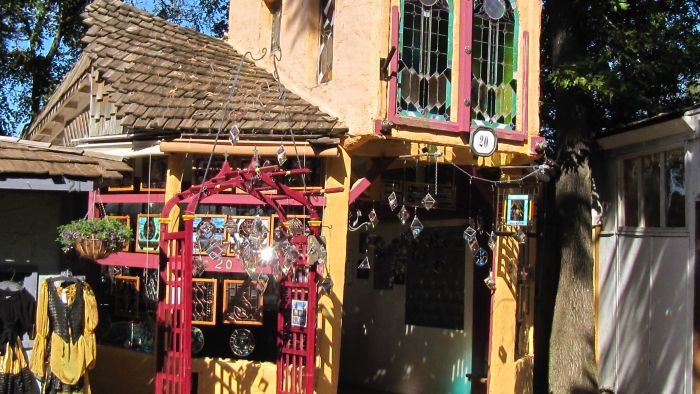 20
Glass Mountain Studios
Original stained glass by Thomas OwensGlass Mountain Studio has served the King for 40 years. Artists Jennifer and Thomas create beautiful and original stained glass art. This includes unique designed free hanging panels , glass art boxes , and glass yard art. More famously they are responsible for the ever beautiful Glass Mountain Water Prism which throws wonderful rainbow colors using only water ,glass , and sunlight. We look forward to seeing you in the shire.
21
Unicorn Clothing
Original design clothing by Teri Evans
22
ChainMaille Fashions
ChainMaille fashions and carved coin jewelry.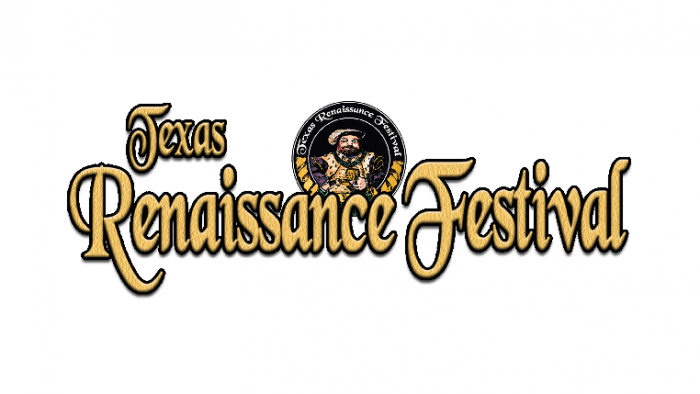 23
Crystal Fynery Boss Wench
Original design Men's & Women's Renaissance Clothing
24, 46
Prince Charming
Welcome to Prince Charming, where you can crown thyself Princess with one of our fyne crowns, and become enchanted with our whimsical adornments. We are proud to offer the highest quality workmanship and helpful, knowledgeable staff. Huzzah!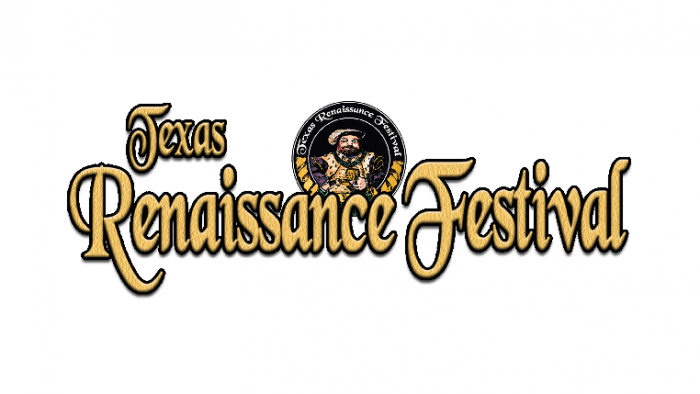 25
Precious Time Services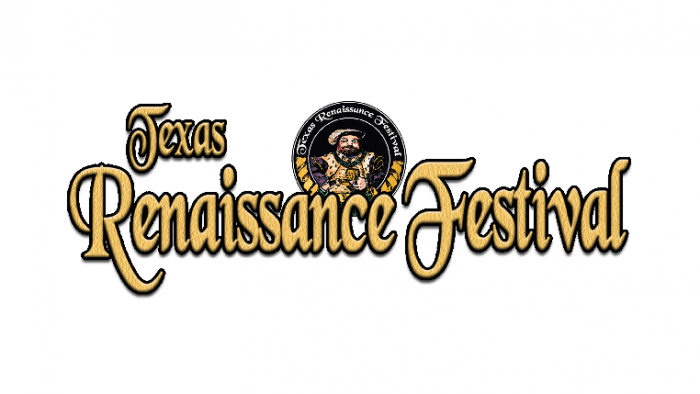 27
Express Steamworks
Leather Steampunk pouches, baldries, bracers, belts, mens and ladies steampunk clothing including ladies garters, men & ladies tophats, steampunk goggles and steampunk accessories, designed by Dealy Express Inc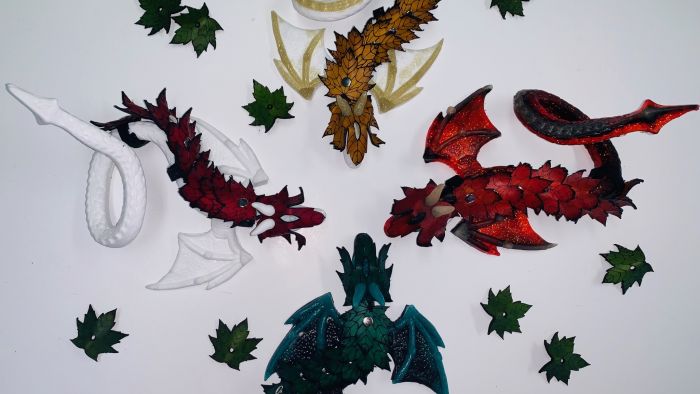 28, 315, 648F
Dragon Pets
Engineer, alchemist, artist, and craftsman, Richard Terry, creator of My Dragon Pets™, is a true Renaissance man. Whether working in his home studio outside Houston, TX, or his mobile workshop on the road, Richard meticulously hand crafts each item. Utilizing his artistic talents, extensive knowledge of organic chemistry, and his fine eye for detail, he creates fantasy objects that delight both children and adults alike.

37
Southern Exposure
Original design jewelry by Ron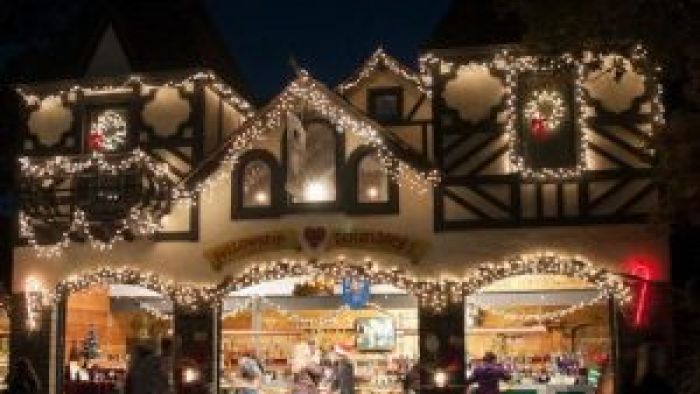 38
Fellowship Foundry
Handmade pewter goblets, wedding glasses, beer steins, necklaces and sculpture.
39
The Village Flutemaker
40, 133B
Rena's Leather
Original tails and ears shoppe, best prices ,quality and quantity!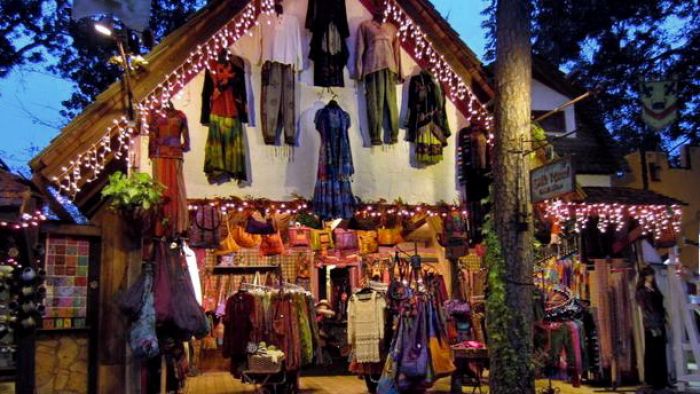 41
Silk Road Trunk Show
Men and Women's festival clothing, TribeNine utility belts, tribal jewelry and accessories. Large selection of warm festival outerwear for those brisk festival weekends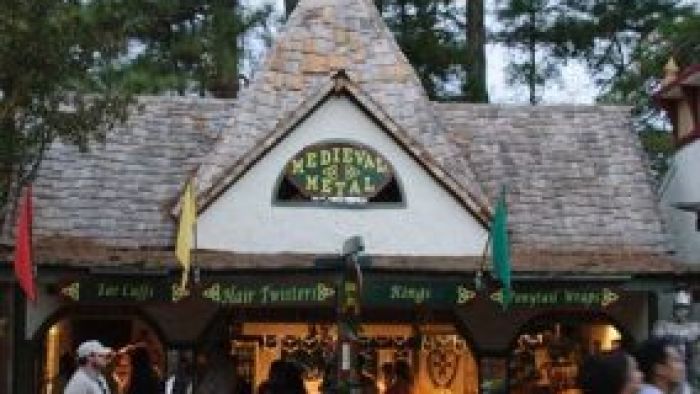 123, 42, 658A
Sean Potter: Medieval Metal
Hair accessories: hair twisters, ponytail wraps, hair hooks, charms and hair armor. Jewelry: rings, earcuffs, earrings, bracelets, finger bracelets, ear wraps, necklaces, crowns and anklets.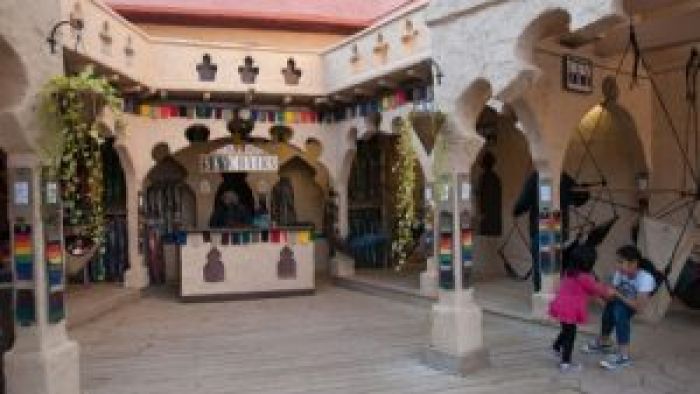 43
Sky Chairs
Sky Chairs Fashioned by Hand in Minnesota. Hanging Canvas Chairs. Comfortable and Fun, inside or outside hung from rafter, beam, porch or tree. Robert and Molly Anderson have handcrafted SKY Chairs since 1976 and shown them at the Texas Renaissance Festival since 1979. Stop by their Shoppe to rest and relax in one of the 20 SKY Chairs. Many colors and two fabrics to choose from to bring to your home.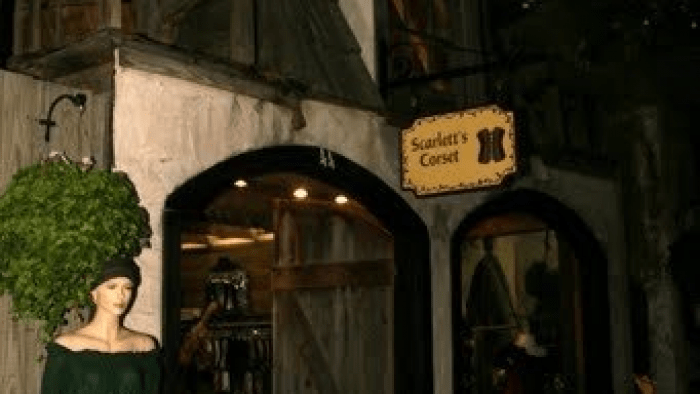 44
Scarlett's Corset
Specializing in corsets, skirts, tops, overskirts and related ladies accessories.
45, 262
Zootzu
Renaissance Festival Clothing! Mens and Womens!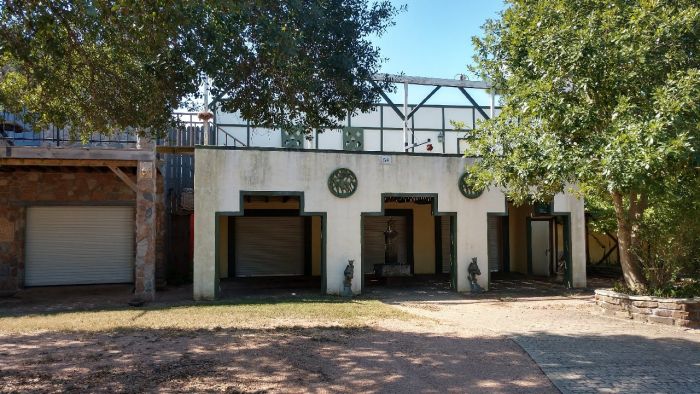 54
Magick Cauldron
The Magick Cauldron is a 35 year old company located at 2424 Montrose in Houston, TX. We have been a proud associate of the Texas Renaissance Festival since 2001. We offer a unique selection of goods that change every year from around the world. You never know what treasures you will find at the Magick Cauldron. We have the largest selection of wood, foam, and steel video game and anime swords in the land. The Cauldron also carries journals and unique jewelry. Our stone selection will have tumbled and specimen pieces. The Cauldron's statue selection is second to none, fairies, dragons, arch angels, Viking, Gods and Goddesses and much more. Then we have a section of just neat stuff. Come see us at booth 54 in the back corner of the fair next to the Tower Stage in the German Village.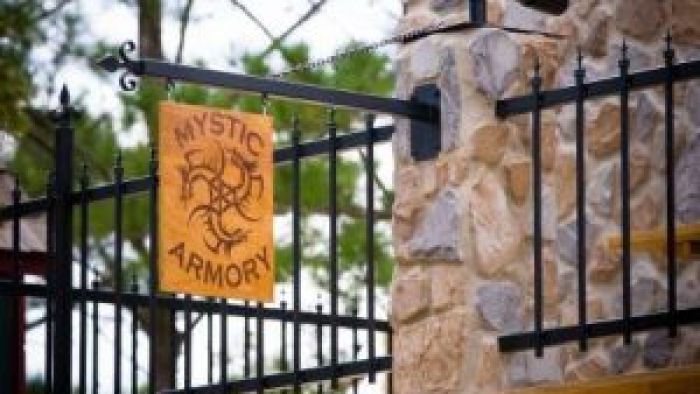 55
Mystic Armory
The Mystic Armory, Booth 55, was created because our sword sales grew too large for one building. In 2015 we built a building specifically for weaponry and armor. At the Mystic Armory you will find over 700 different items for your perusal. The Mystic Armory offers the largest selection of weaponry in the fair. We have prop pieces, licensed movie and TV replicas, battle ready swords and knives from around the world, antiques and collectables. The Mystic Armory boasts some of the BEST prices and quality in the land. Come visit us at the back of the Fair in the German Village next to the Tower stage.
56
Silvernail Jewelry
Original design jewelry handmade by Gordon Silvernail
57
Gypsy Wings Travelbags
Original design bags by Rebekah Paparella
58
After the Fire
Handmaid pottery by Philip Geil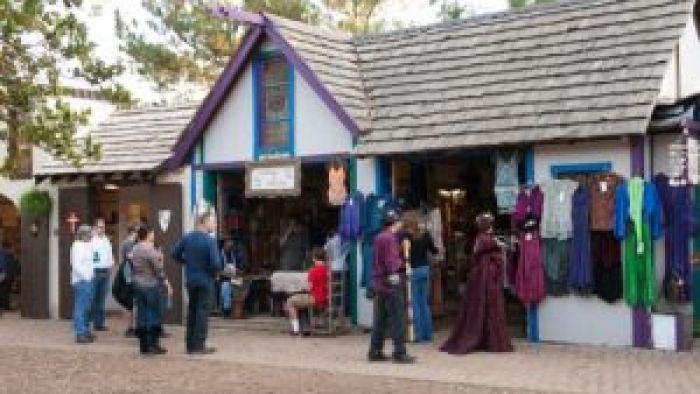 59
La Baraque de Marco Polo
Unusual finds from faraway lands: Clothing,purses & jewelry,drums & skulls,natural incense & puzzle boxes , fans & chimes , bells & wall décor , cats , monkeys & elephants , plus much , much more to discover.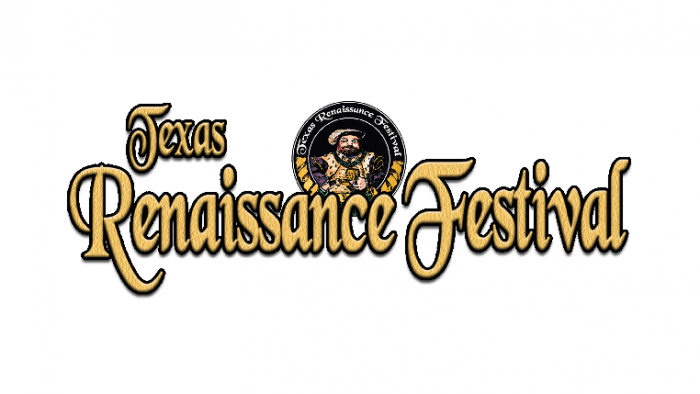 61
Great Scot
Handmade ladies billie kilts, standard kilt skirt, ruana, blouse, chemise, ladies belts, bags, Scottish dress, Men's kilts, men's belts; Scottish accessories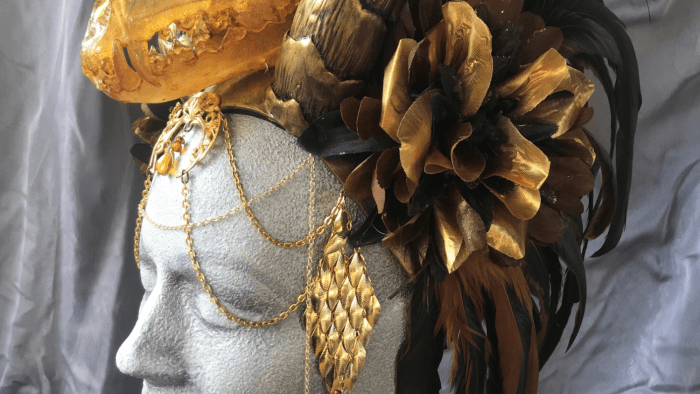 62
Artsmyths
Artsmyths, established in 2005, creates unique and theatrical Leather masks, headdresses, and accessories. We are a mother and daughter dynamic duo of devoted artisans.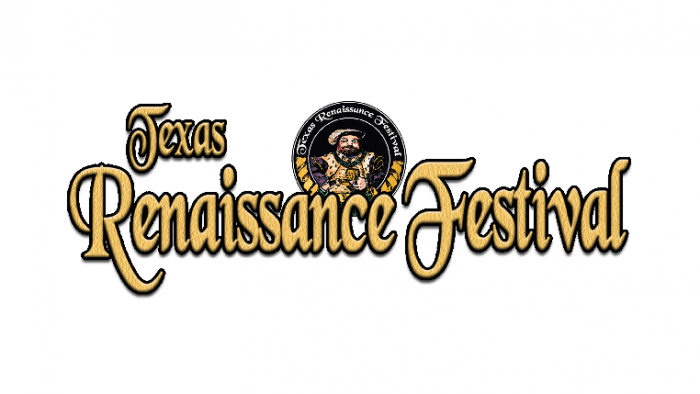 63
DragonMark LLC
Crossbows, bull whips, black powder weapons, war hammers, torture chamber equipment, chain maille, floggers and other support equipment for arsenal and leather goods. Also rebuilding, restoring, repairing or modifying weapons. All products are handmade and can be custom ordered.
64
Bittersweet Armory
Swords, daggers, knives, axes, spears, including hand forged Damascus pieces. Armour, shields, helms, and helmets.We also carry a line of weapon accessories to wear your items in style while enjoying the village.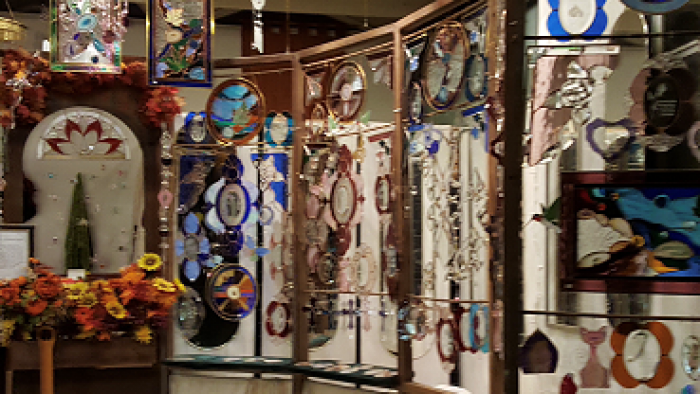 65
Glass Images
We have been making handcrafted stained glass for over 30 years. Our work is unique and designed by us. We have a large selection of windows, flying dragons, fairies, and suncatchers; something for everyone. Please stop in and meet the artist.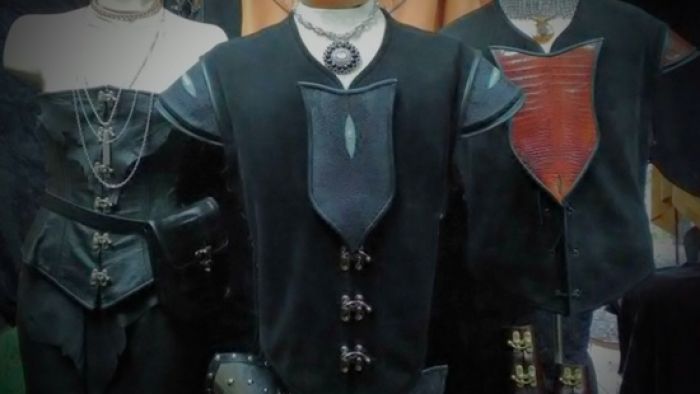 66
New Wineskins Leather Magicians
New Wineskins Leather is a family-owned leather company. We started creating and marketing leather in 1972 then, we found our calling at Renaissance Fairs in 1973. 'Conceived in Love and Made With Care ' is the company motto. As second and third generation crafters, we still cotinue to honor our ancestors principles. Our focus is on costuming that can also be worn in everyday life. Please come view our wears. We are right across from the English garden and two doors down from the Polish Pub. Have a most wondrous season at the Texas Renaissance Fair.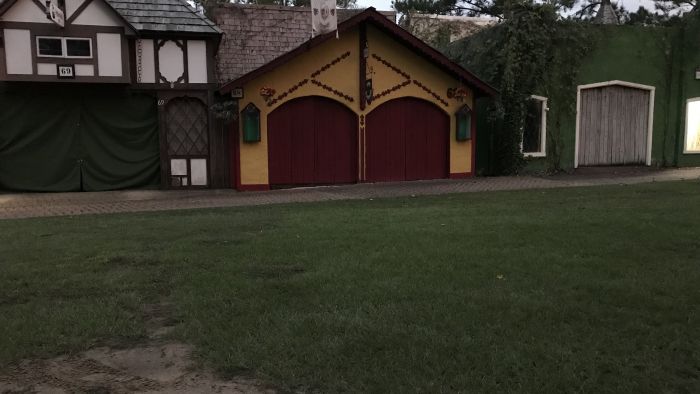 68
Four Quarters
Four Quarters has been hand crafting our wares for 20 years. We make a wide variety of items, including garments, hammers, canes, staffs and jewelry. We love making people happy and welcome a visit.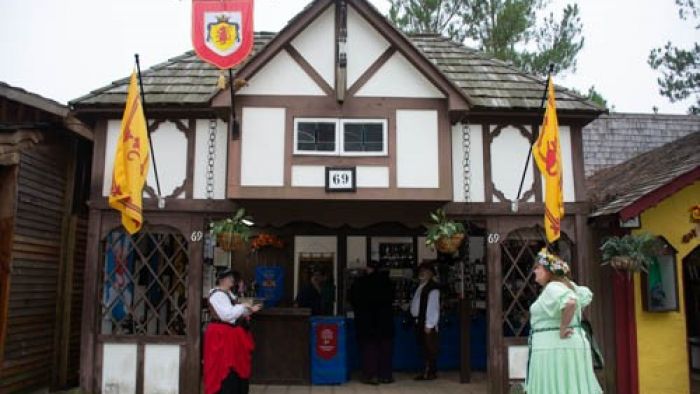 69
The Highland Rat
Soft sculpture creations specializing in rats of various shapes and sizes. Dragons and other fanciful creatures make periodic appearances as well.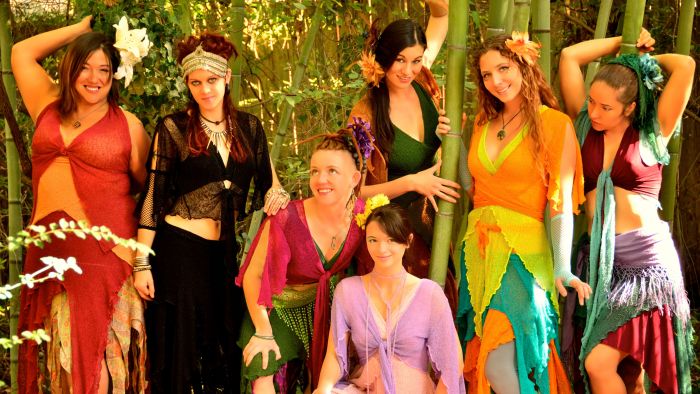 16, 75
Alli Designs
Alli Designs will outfit you from the top of your head to the jewels around your ankle and everything in between! We offer original designs that are made from soft and breathable fabrics - many dyed with our own custom shades and colors - and all made to fit a wide range of shapes and sizes. When in one of our shops, you will be greeted by friendly salespeople who are trained to help you create countless different complete outfit opportunities with just a few separates. To further accentuate your style, we have a large selection of high-quality scarves and hand-painted sarongs available in a variety of designs, colors, sizes, and even textures. We also offer clothing and hair accessories, as well as fine jewelry to add the finishing touches to your desired fair day, or any day look. At Alli Designs, you will find that our clothing and accessories are created for wear at the Renaissance Faire, but are also for your everyday wear, or even a high-class date night! But more importantly, they are created and designed to make everyone who dons our wares look and feel great!
76
Midnight Mist
Midnight Mist a booth full of beautiful tapestries in the form of wall hangings, bags, and pillows. Tapestries were used to adorn the castle walls as a beautiful way to keep the castle walls draft free. There are also essential oils and unique headpieces and hats.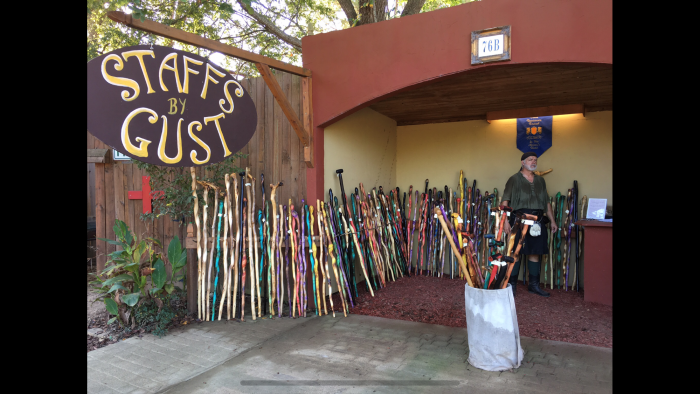 76B
Staff By Gust
STAFFS BY GUST is a family owned and operated business established in 1987. Taking pride in crafting beautifully sculpted and designed walking staffs for the most novice of walkers to the most experienced of adventures. Our unique walking canes are designed for comfort and give our customers that added help to get around.
All of our staffs and canes are handcrafted from the heart of trees we harvest in a thinning and fire mitigation effort with the forestry department. Stop by today and let our dedicated staff help you find that perfect Walking Staff or cane for you to enjoy year around or for that perfect gift for friends or loved ones.
Over the last few years we have been very excited to add a new line of staffs that we were able to harvest from the 2016 Hayden Pass wildfire that devastated over 16000 acres of pristine forest in Colorado. These trees were considered a total loss but we were able to find the beauty mother nature left for us to discover in our backyard.
So come by and visit our shoppe and say "Hello" to our friendly staff. Enjoy your day and HUZZAH!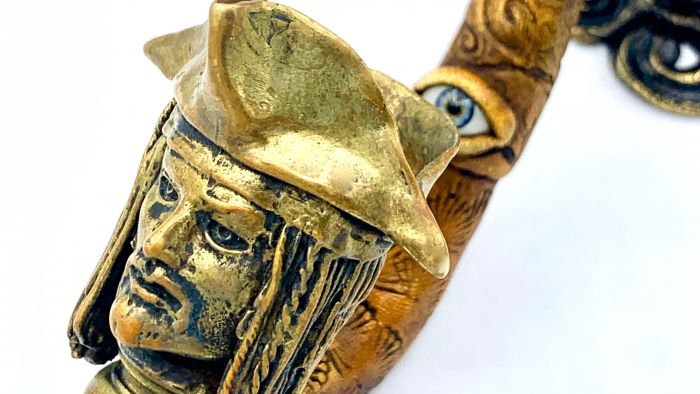 77C
Blue the Pipe Maker
Blue The Pipe Maker offers collections of US artisan made pipes, sculpture and wearable art.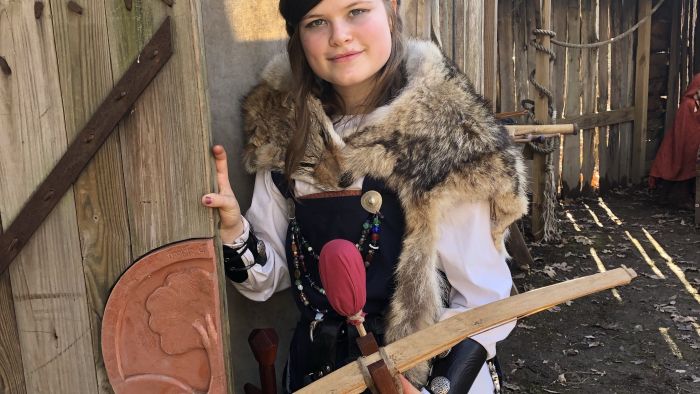 78
Hollow Earth Sword Works
At Hollow Earth Swordworks we offer fine hardwood sparring weapons, and fully-functioning wooden crossbows inspired by those used from the 13th to 16th century. For holding your weaponry at the ready, a full line of leather belts, belt frogs, and backslings. From the serious practitioner in the art of the sword, to the young squire or shield maiden, we have a sword for you. We are at your service.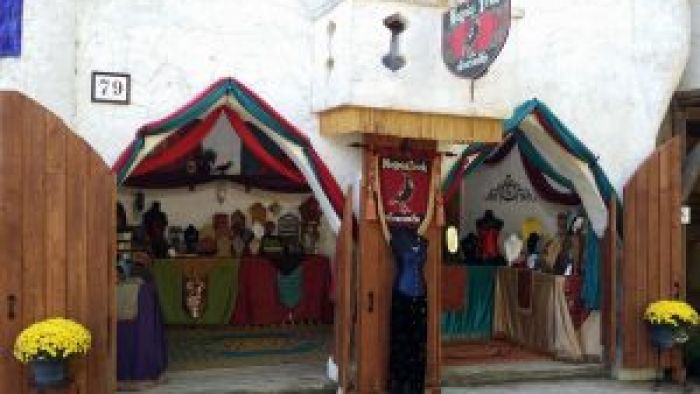 79
Magpie's Trick
Hand-forged sterling silver and gemstone jewelry. Using time-honoured silversmithing techniques, we create artistic adornments for poets and star-gazers, rogues and vagabonds, nobility and royalty.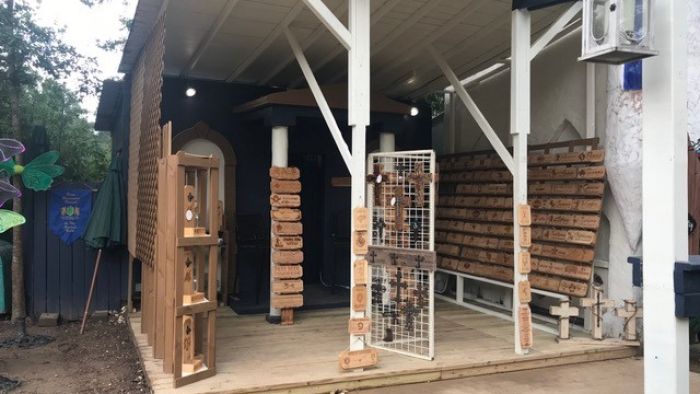 80
Lazer Engravers and More
Custom engraved items on wood & glass as well as custom crosses & items for your castle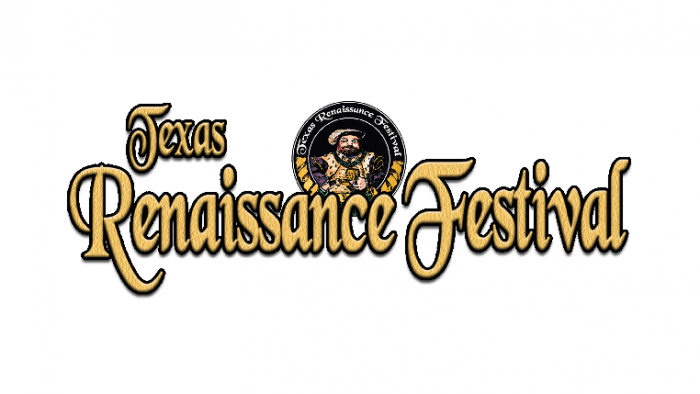 83
Bows of the Risen Son
Primitive archery supplies & weapons handmade by Rod Scoville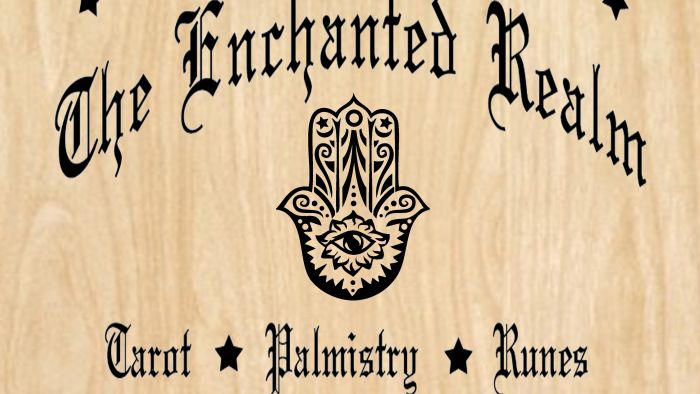 86
Enchanted Realms Readers
The Enchanted Realm shoppe 86 is in the magical Enchanted Forest, where you may have your fortune told in many ways by our very talented seer's. Your questions may be answered and your future foreseen by tarot readings, angel cards, rune casting, palmistry, and numerology. Appointments are recommended.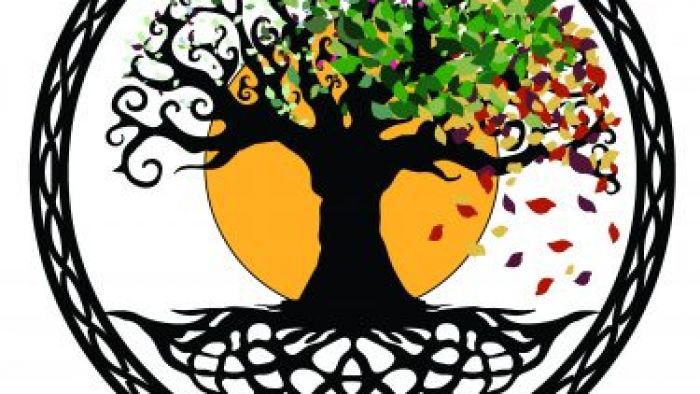 86A
The Broom Closet
The Broom Closet is a metaphysical and mythological cooperative carrying goods from artisans and craftspeople from all over the world. We specialize in British and Celtic goods however we have a wonderful collection of Norse/Viking, Wiccan, and Eastern and Western European selections. Statuary, pottery, plaques, hand carved wood boxes, hand tooled leather journals, handmade brooms, sterling silver adornments, fine art, oils, lavender, sage, herbal utensils, ritual tools, divination tools, books, parchment scrolls, inks, quills, sealing wax and signets, leather hats, fine art cards, tapestries and prints are just a few of our favorite things!!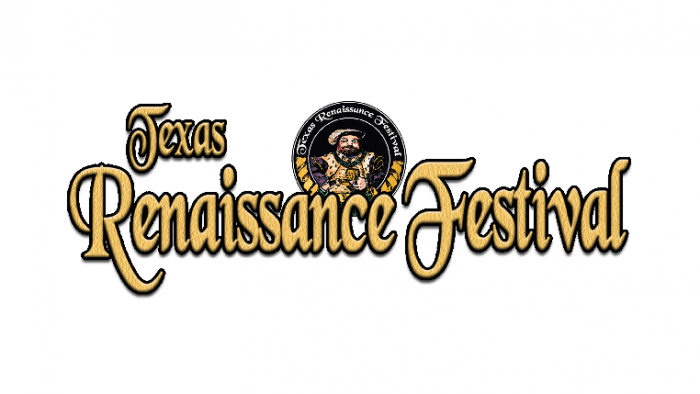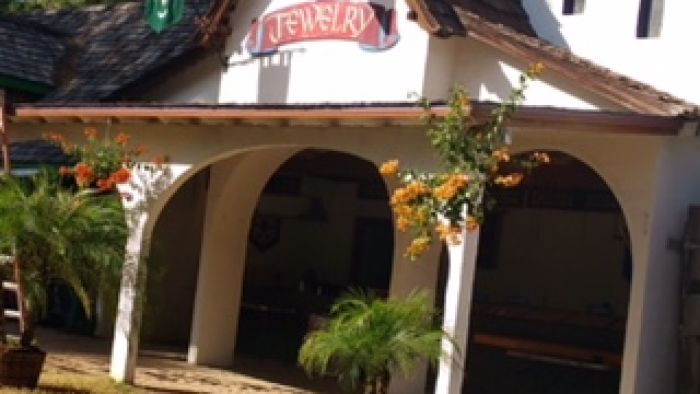 116
Set in Stone
Sterling silver renaissance style jewelry, rings and adornments, set with beautiful gemstones.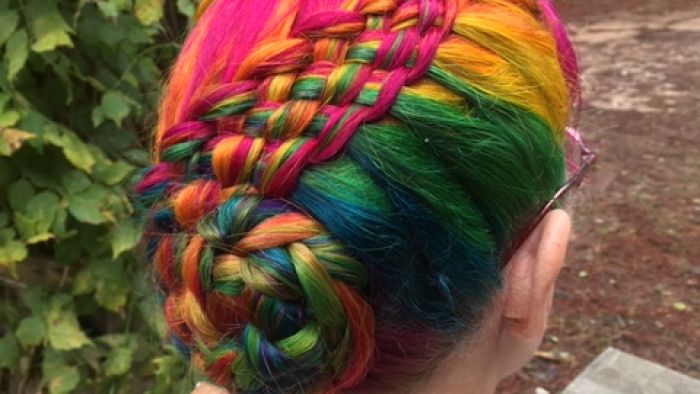 117
Twisted Sisters
The Twisted Sisters have been braiding for years in this location. See us for the latest in Renaissance and modern styles. We are available for weddings and parties, both here at Texas Renaissance Festival and other venues.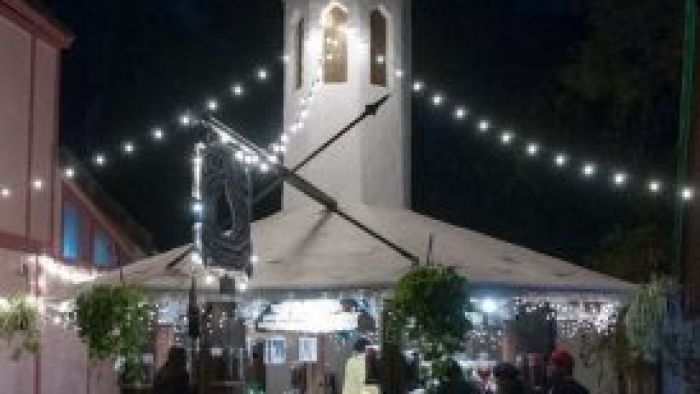 118
Crystal Mountain
We offer 150 different essential and fragrance oils. We have on hand 32 different hand dipped incense, the best you will ever find, and eye-catching, ever popular smoking bottles to burn them in. The windows are full of dazzling aroma necklaces to carry away your favorite scents. Essential & fragrance oils, incense & smoking bottle incense burners and unique aroma necklaces
119
Peacocks and Dragonflies
Fine handmade wares starting from the wee sizes into the later years. Clothing that inspires one to partake in the festival festivities.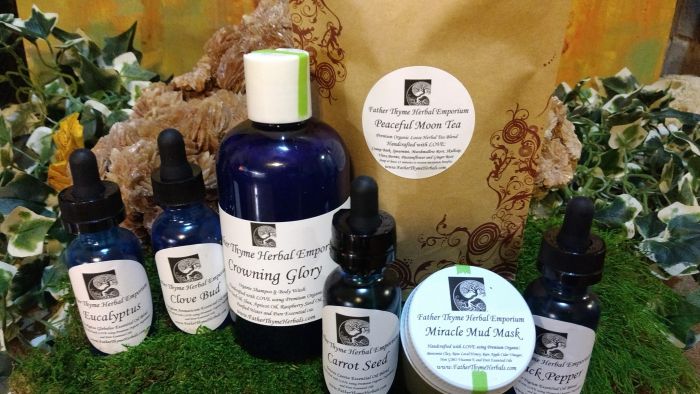 120
Father Thyme Herbal Emporium
We are purveyors of the finest lotions, potions and herbal remedies you can find! All handcrafted with LOVE using premium organic ingredients and the purest essential oils. Visit Father Thyme™ Herbal Emporium at shoppe 120 at the Texas Renaissance Festival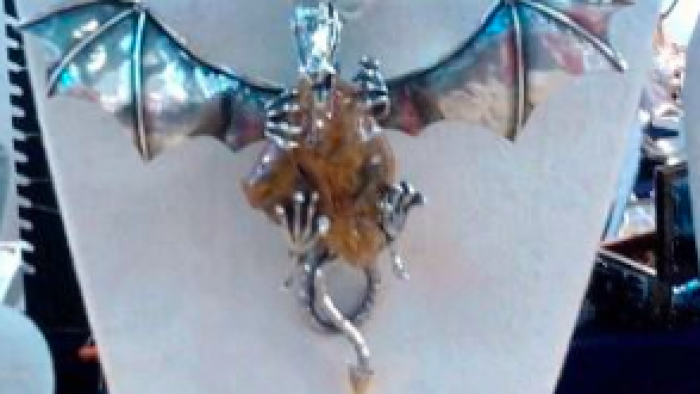 121
Royal Family Jewelry – The Amber Room
Specializing in Baltic Amber. The largest collection on the Shire! Also featuring opal, pearls, and other gemstones set in sterling silver.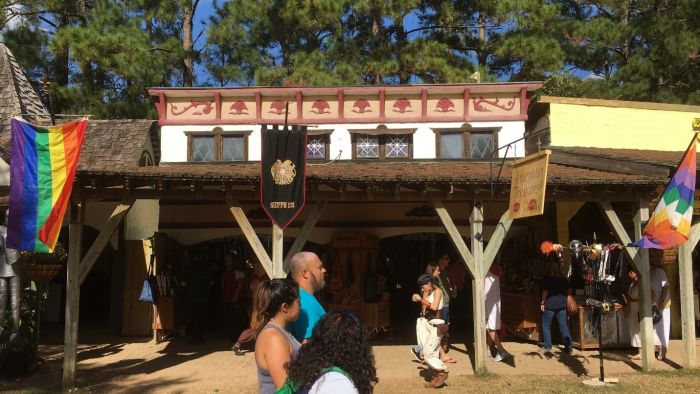 122
Amazonian Treasures
A wonderful selection of unique handcrafted gifts and toys at great prices! Located across from the Falconer's Stage, we are on the main walking path to Sherwood and the Magic Garden Walk. Stop in and say Good Day, we look forward to telling you all about our products and the stories behind each one.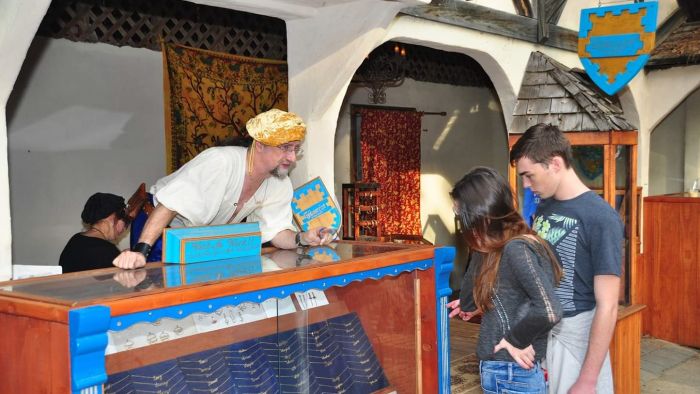 124
Gyldanscript
Here at Gyldanscript, We custom make Rings, Necklaces, Earrings, Pendants and Bracelets in various precious metals by manipulating the metal by hand. The majority of the items are a Name, Word, or Phrase twisted into the the same continued piece of Silver, Gold, or Platinum. We do not solder any of our items. Please come see us at Booth 124 for your name twisted in Gold.
125
Mystic Cloak & Tailor
One of a kind Water-Proof cloaks, throws, and cloak clasp
126
Metal Mistress
Artist Brenda Duncan: Handcrafted jewelry from head to toe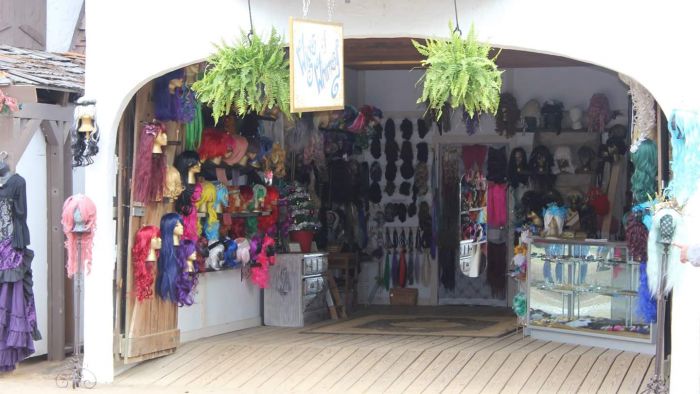 127
Wigs of Whimsey
Wigs of Whimsey provides wigs and hair accessories in every color, shape and style. We also will make custom wigs and hair accessories to suit your needs. Lace gloves and lace masks are available as well. Our shop can be found just two doors past wax hands.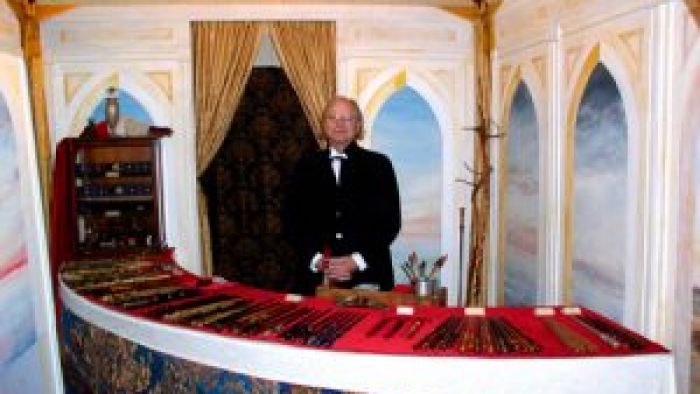 128
Whirlwood Magic Wands
Whirlwood Magic Wands are real magic wands of the highest reputation. This is the world's largest collection of hand-made wooden wands, created in the Old World style, world-renowned for their great power, beauty, elegance, and fine craftsmanship. Each magic wand is a work of art made from the finest hardwoods, one at a time, by hand, by master craftsmen. Whether you are a discriminating collector or a practitioner, you will find the perfect magic wand at Whirlwood.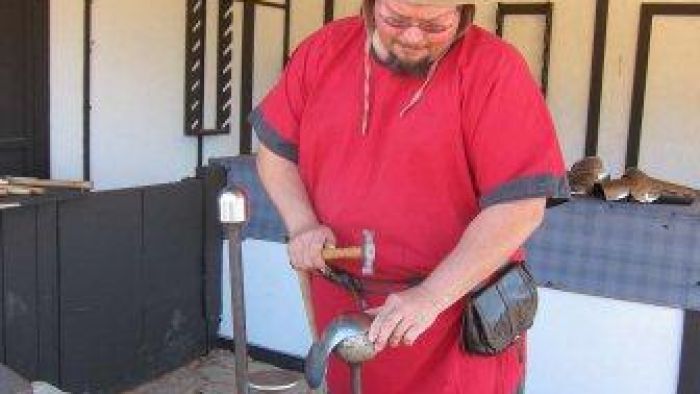 130
McCoy's Armory
Imported medieval & renaissance swords, knives, polearms, hatchets, whips and accessories.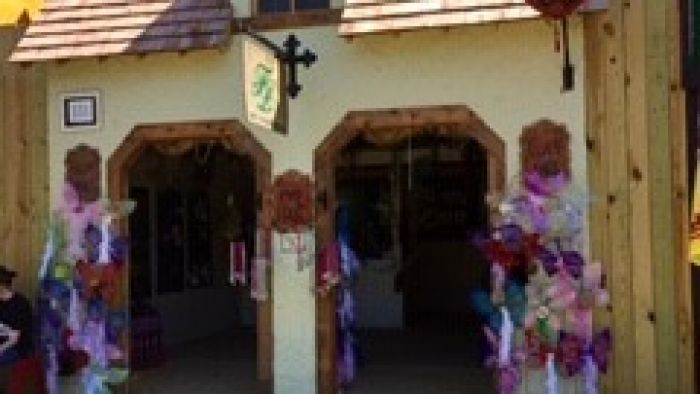 131
The Faery Lair
The Faery Lair offers whimsical wings, magical wands, unique masks, majestic headpieces and more! Wing designs include a variety of fairy wings and leather dragon wings, in a wide range of sizes! Our masks and headpieces will transform you into a wild range of mystical beings from, dragons and princesses to mermaids, birds, beasts and other fairy ilk! Complete your magical skills with a crystal wand, a druid staff and a vial of sparking pixie dust! At The Faery Lair we can help you fulfill your dream Renaissance Faire Fantasy look!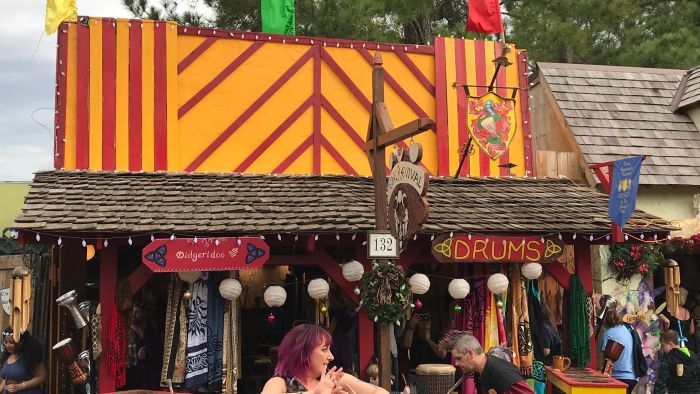 132
Tribal Revival
Specializing in fine hand crafted (by the artist) bamboo didgeridoos and tribal drums; Bodrans, djembe, prayer drums, meditation items, and folk string instruments including the authentic Renaissance lute.

133
Magically Intertwined
Handmade wire wrapped jewelry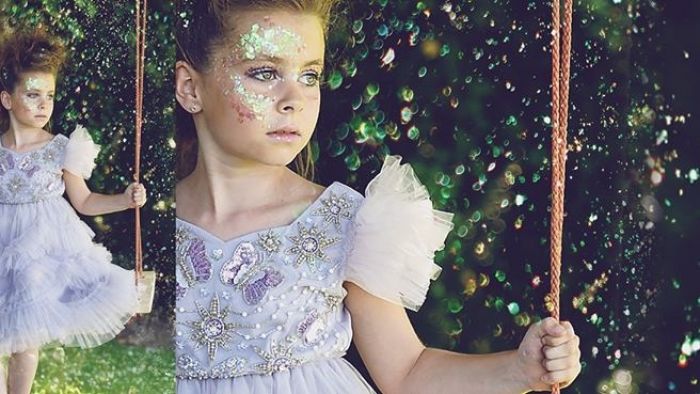 133A
Doodle Tots
Doodle Tots is a whimsical adventure for the littles, offering children's costumes, headpieces, accessories, tea sets, and collectibles for size newborn and up. Make an enchanted stuffed animal by hand and create a memory to last a lifetime.
134
Violet Moon Pottery
Handmade pottery, functional works of art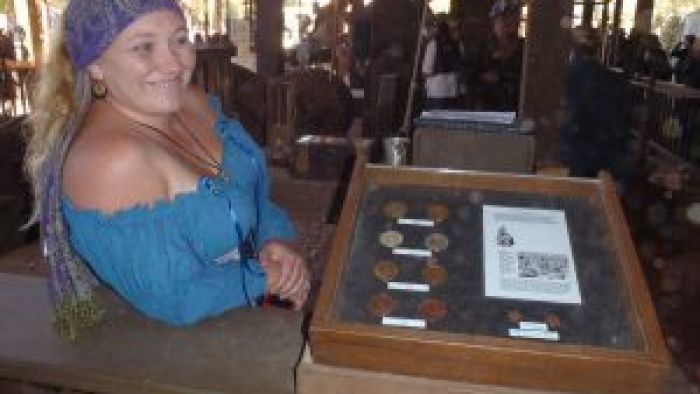 135A
The Royal Mint
Demo Times: 11:30am, 1:30pm, 3:00pm and 5:00pm Come work a full scale replica of a 15th century drop hammer mint. Hand crank up the 300 lb. hammer to 12 feet in the air, pull the lever and strike your very own 1 troy ounce souvenir coins. The coin design and date change every year, so start your collection with this year's coin. We have a smaller sledge hammer mint with souvenir coins as well.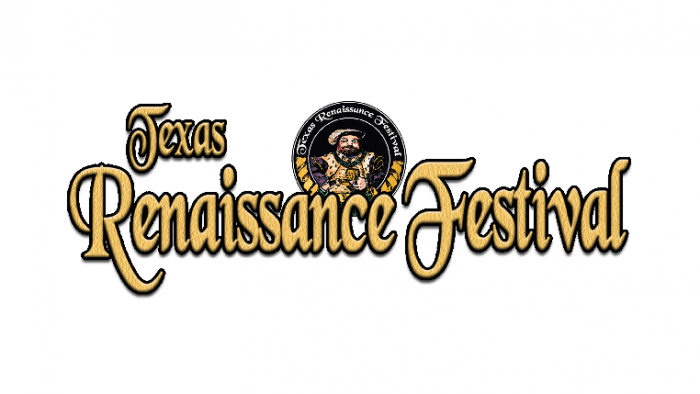 135B
Woven Magic
Dawn Runkel began a study of the weaver's art may years ago as a simple hobby. From such humble beginnings, she has grown to become a master of this centuries-old craft. Her demonstrations present the entire craft of spinning and weaving from selecting raw wools to the spinner's wheel then finally to the weaver's loom to create an original, handcrafted work of art.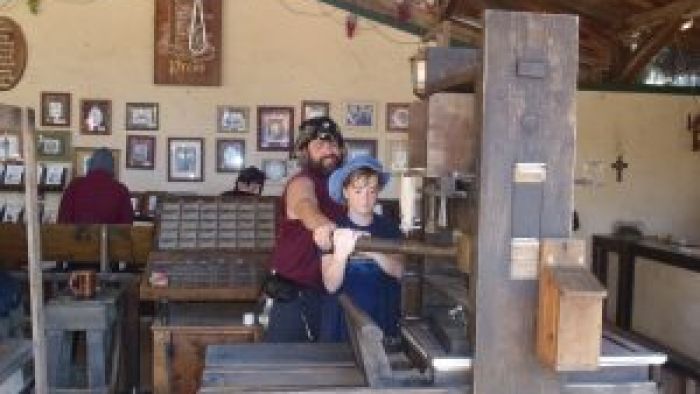 138
Gutenburg Press
The Gutenberg Press is a full functioning 15th century print shop, similar to that of Johannes Gutenberg, complete with a full-size reproduction of a 15th century printing press, a type foundry for creating type for the press and a paper making area. A demonstration for any or all of these processes is available upon request throughout the day. The shoppe also has a wide variety of brass rubbings and printed goods for sale. Demo Times: Throughout the Day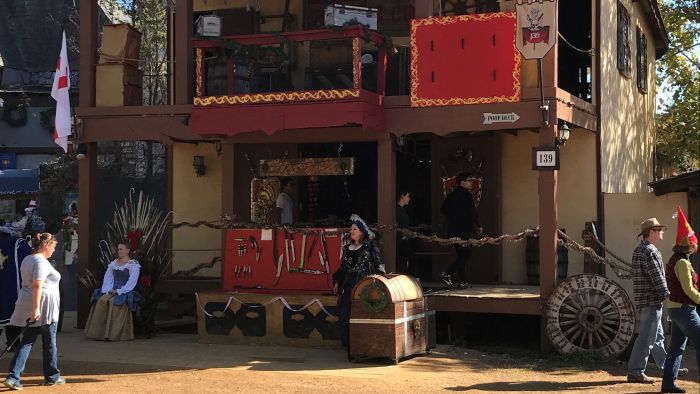 139
The Pirate Docks
The Pirates Treasure is a premier weapons retailer. We offer a selection of swords, knives, daggers, pole arms, axes, whips, leather accessories and carriers. There is a selection of modern to historical weapons in a wide price range. The Pirates Treasure also features the daily Pirate Auction and giveaway at the Docks

144
Rose & Crown Pottery
Hand-thrown pottery by Norma Elvin
145
Wee Peeple
Dolls, wearable art and more!
146
Castle K'zar
Leather hardware, armor, leather corsets and dresses!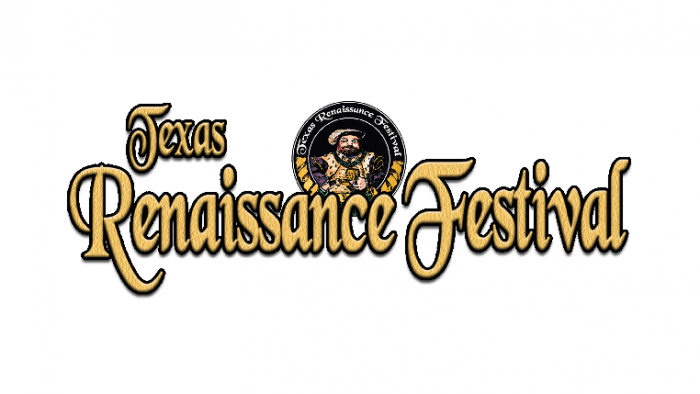 147
Over the Edge Gallery
Toy guns, tanned hides and furs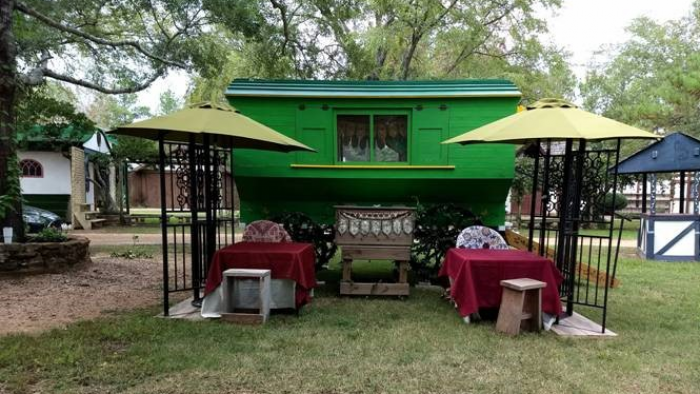 148A
Valen Charron, Gypsy/Fortunes of Valen
Fortunes of Valen has been a feature of Texas Renaissance Festival for 25 years. We are skilled at Tarot Cards, Palm reading and Psychic reading.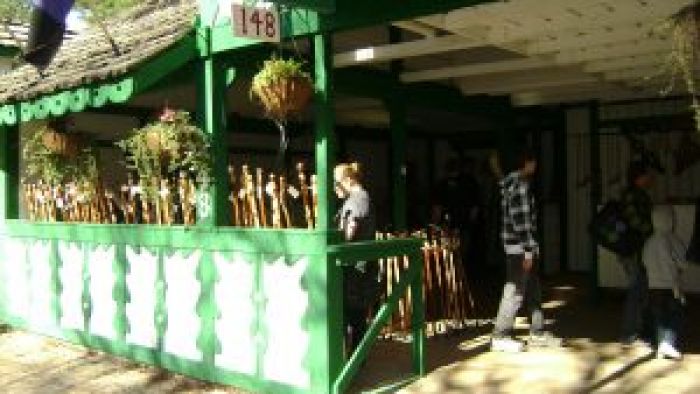 148-149
Lady Mac's Horns Canes & Staffs
Handcrafted walking staffs & canes, drinking & blowing horns and antler & horn jewelry.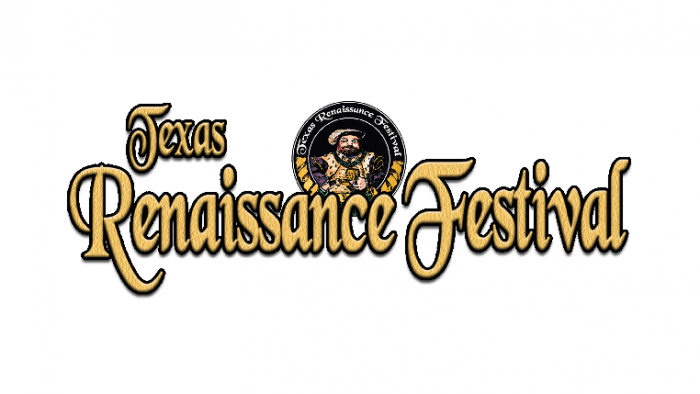 150
Brigadoon Brewery & Brew School
Homemade root beer, free samples of Renaissance Ale, brewing equipment, t-shirts, posters, glassware, mead kits, and absinthe kits. Also brewing education, which consists of Brewmaster for a day, Brewmaster's Breakfast Club, behind the scenes tour, home brew parties and brewing classes!
153
The Sun & Moon Hideout
Old gypsy magic still works today. This shoppe is filled with magical bottles created from recycled items, beadwork, and deerskin medicine bags and hair ornaments. Tarot cards, runes, and crystal ball readings by appointment by Ms. Lauri, a 44-year veteran of TRF.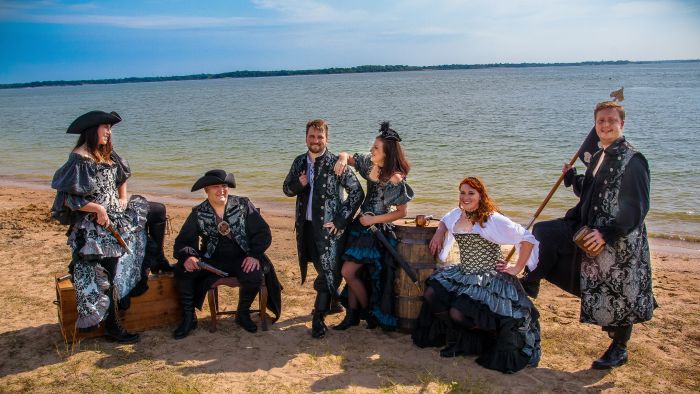 157
SilverLeaf Costumes
Silver Leaf Costumes creates handmade clothing for the discerning lady and gentleman-- or pirate, princesses, highland lad and lass, bride and groom and more! Our custom pieces are fashioned using designer fabrics, sturdy linings, and real flat steel boning. We are particularly known for our Renaissance cosplays, combining hand-tooled leather emblems with our corsets and jackets to bring your favorite heroes back in time. With corsets, chemises and skirts, pirate jackets, Captain's coats, demi jackets, and gypsy vests, Silver Leaf has a look for everyone at the Festival!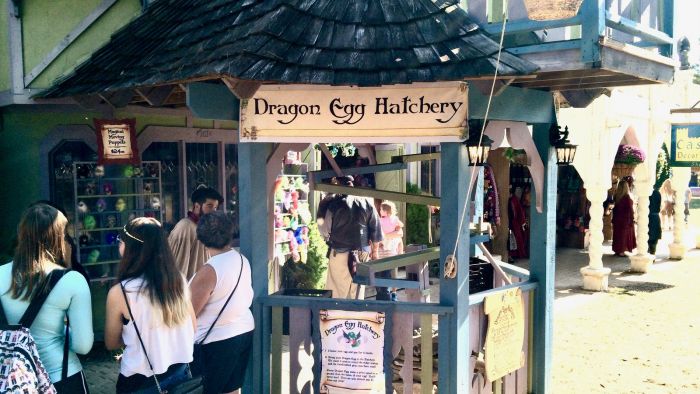 161
Imaginarium Galleries
We invite you to join us as we embark on a magical journey into the fantasy world of Imaginarium Galleries. A world where dreams become reality and everyone can adopt a fuzzy or fierce fantasy shoulder pet of their own. Choose from Dragons, Griffins, Unicorns, Fairies, and various whimsical, cable-controlled Drabbit creatures of the like. You can even win them from our Dragon Egg Hatchery! Visit us and see for yourself!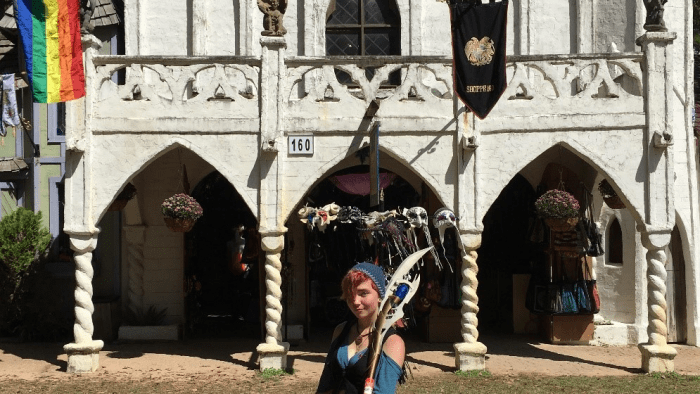 160
Castle Décor
Let's get Medieval!! Tapestries, curtains, furniture, Alpaca wool blankets, magic wands, clay figurines, our trademark collectibles Animalitos™, Celtic designs, Swords, Shields, wind chimes, masks ……………… you name it, we probably have it! Anything that goes in your home or on the walls! If you don't see it, ask about ordering it. Come in, it's free to look around and you may find something unique for the kids, yourself, your spouse, Christmas, a birthday, an anniversary gift or just for the heck of it!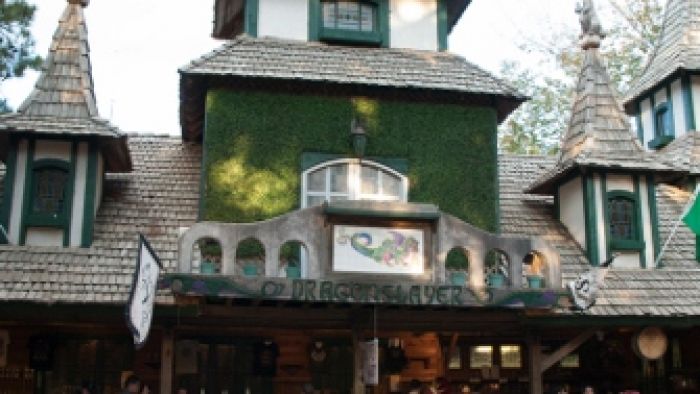 162
Dragonslayer
Your visit to the Village of New Market begins and ends with a peek inside The DragonSlayer, home of the shire's Official Merchandise. And lest you think this is your everyday peasant's souvenir shop, we invite you to browse our displays full of brand new apparel designs, drinking vessels, and other gifts. Eager to see the latest Collectible Tankard? Have an infant in your stroller who needs a sassy onesie? Maybe you are on the hunt for a bauble to add to your ring of keys or charm bracelet? Better yet, take a look at our children's books, board games, and plushies to plan a nite of family fun! After all, when you can't decide, why not just take one of everything? It's up to you how your choose to bring your adventure home with you! Oh...and never fear, if you forget your phone charger, toiletries, or over the counter needs, we've got you covered too. We carry all of our convenience items and the staple souvenirs in both the DragonSlayer and three "Mini-Slayers" located through out the Village!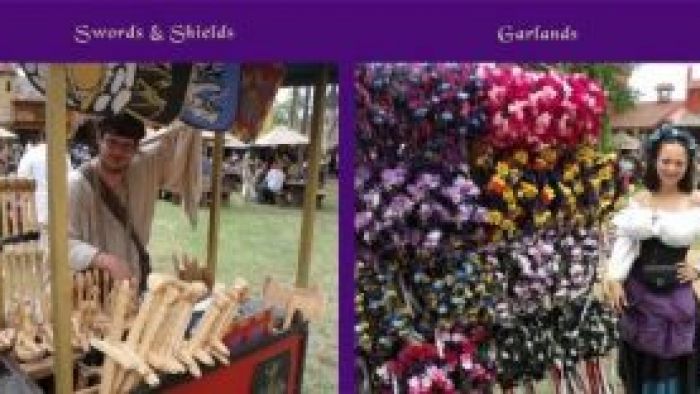 163
Garland, Swords & Shields
By order of His royal Majesty, King Henry VIII, in this magical village there shall be no naked heads. Be ye ever so cautious, yet ye be found without, the Garland booth lies just to the left as one enters the Front gate to the Village. Herein ye will find had picked blossoms to adorn the loveliest of tresses. Hand wrapped and garnished with ribbons to compliment every attire. Should the magic of the day capture thoughts away, there are garland poles located throughout the site to prevent notice from Royalty should nakedness prevail beyond the entrance. So that young Lords my avail themselves of proper weaponry, the Swords & Shields booth is just next door, offering fine hand made weapons to protect against invading marauders and distasteful dragons. Should the need for more weaponry present itself, swords and shields carts are easily spotted throughout the village.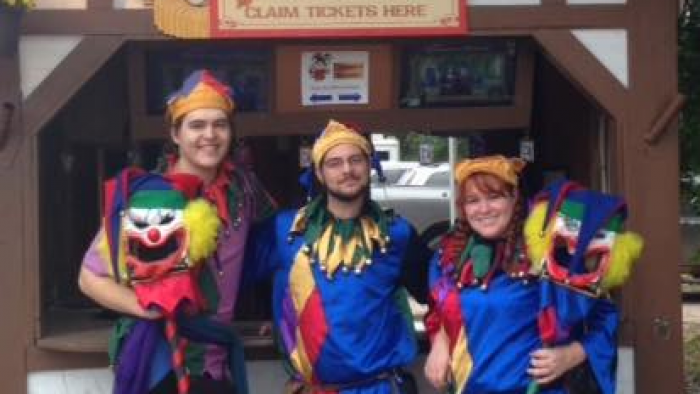 164
Jesters Portraits
Village entrance portraits. To find your photos from the faire click on the 'Jester's Photos' link below. (Photos from the weekend generally not available for 72 hours after closing on Sunday)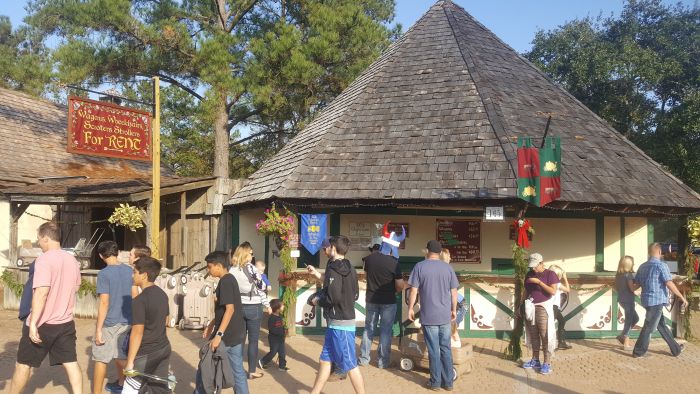 165
The Belrose on Wheels
Costumes, wheelchairs, scooters, wagons and stroller rentals. You will need to have a credit card and identification to rent all costumes and any equipment. Costumes, wheelchairs, scooters, wagons and stroller rentals. **Scooter rentals are weather permitting** Weight Limits: 300lbs max – Scooters 250lbs max – Wheelchairs 125lbs max – Wagons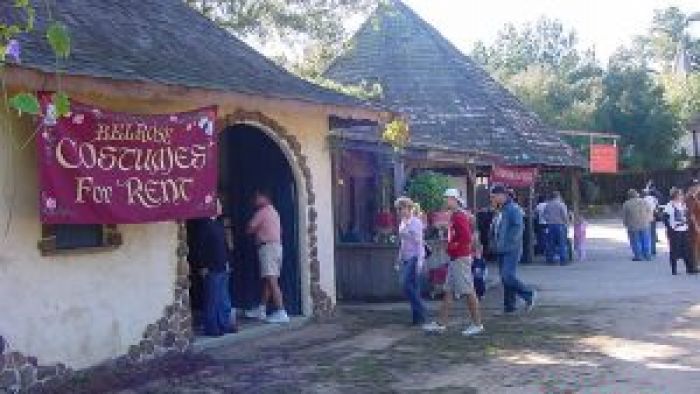 166
The Belrose
Costumes, wheelchairs, scooters, wagons and stroller rentals. You will need to have a credit card and identification to rent all costumes and any equipment. Costumes, wheelchairs, scooters, wagons and stroller rentals. **Scooter rentals are weather permitting** Weight Limits: 300lbs max – Scooters 250lbs max – Wheelchairs 125lbs max – Wagons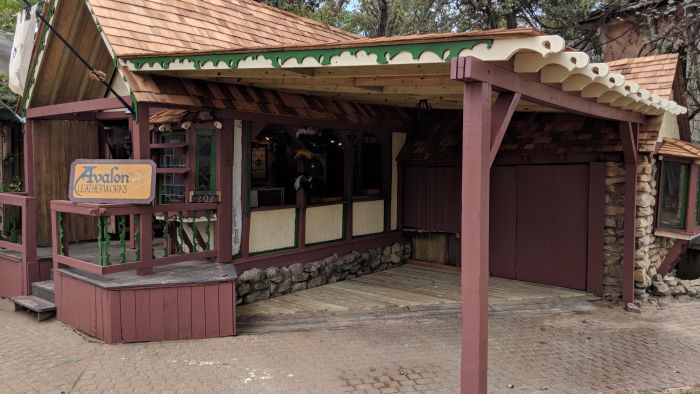 202
Avalon Leatherwork
Founded in 2010 as purveyors of Excalibur Leather: Crafting the finest leather hats and accessories by a small family of skilled craftsmen. We continue to offer the same high-quality items and customer service that Excalibur has been known for since 1969.
203
Uncommon Adornments
Handcrafted Celtic & Mythological Jewelry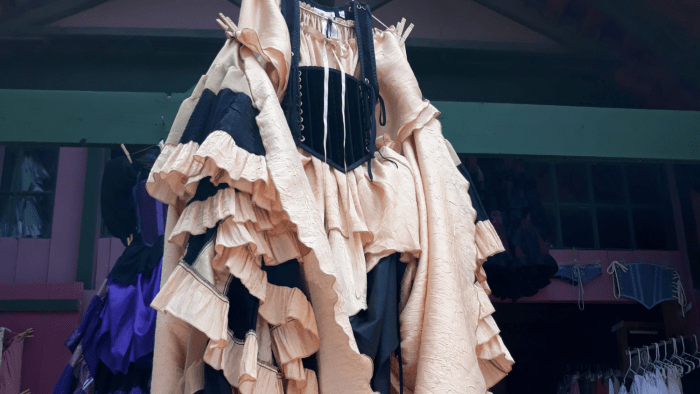 206
The Frock Shoppe
The Frock Shoppe offers unique, quality garments. Along with our one-of-a-kind signature Liz skirts, and our one-of-a-kind steel-boned bodices, corsets and belts, you will find an array of skirts, chemises and blouses to combine into a truly special costume. Our children's line includes girl's and boy's costume pieces.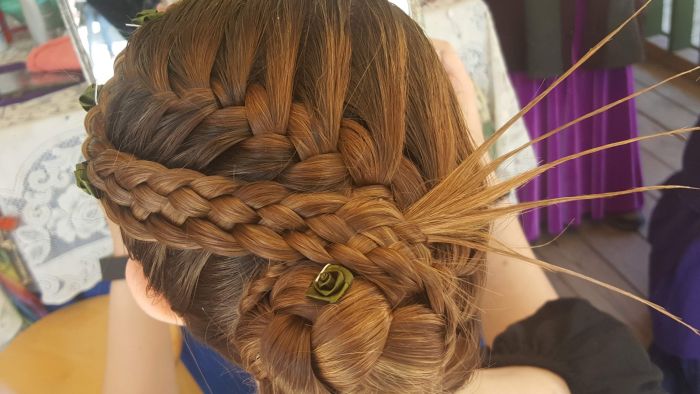 207
Ladies In Braiding
We are a hands-on artistic company weaving hair into traditional and contemporary designs.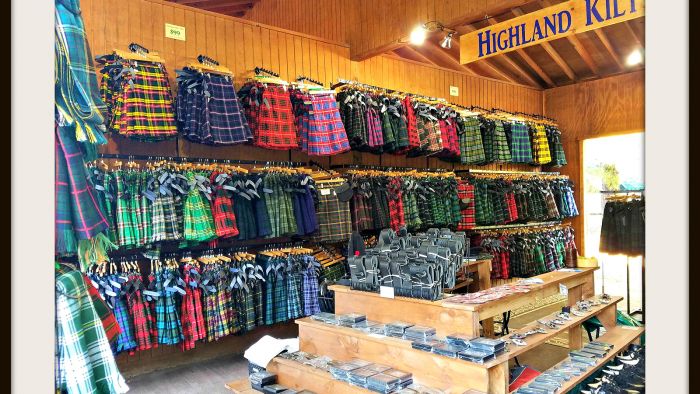 209-210, 625I
Highland Kilt
Highland Kilt Company features traditional kilts in over 150 different tartans in stock right here at Texas Renaissance Festival, as well as all the accessories to outfit you from head to toe: Highland Shirts, Sporrans, Hats, Shoes, and more. Scots Women will delight in our assortment of dresses, skirts, wraps, and tartan accessories, and of course we have kilts for the wee ones as well! And be sure to check out are wonderful line of Irish goods. We have your every Celtic need covered!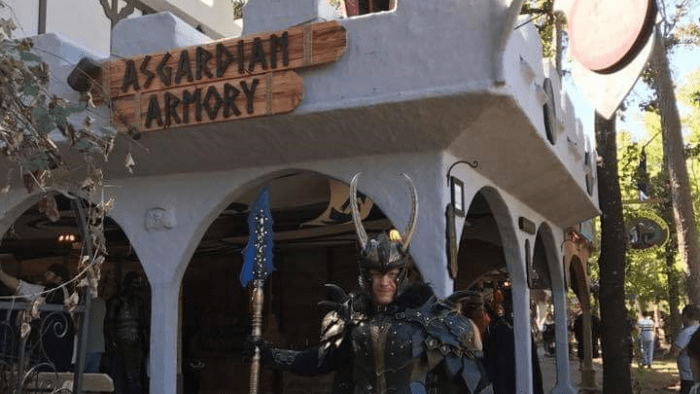 211
Asgardian Armory
At Asgardian Armory, we sell leather, armor, combat ready weapons and scalemail. We are fine purveyors of leather armor and leather accessories including but not limited to custom sheaths and full suits of armor. All of our weapons are created by true artisans that represent historical blades from around the world from a variety of time periods and have a lifetime guarantee. All our creations are handcrafted and made in the United States. Contact us for all your custom needs.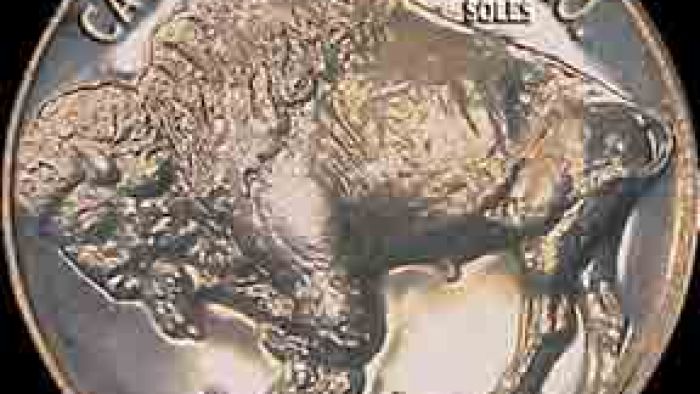 212
Catskill Mountain Moccasins
We have been making custom moccasins for over 30 years. Every pair of our moccasins are custom made from a cast of each persons feet and legs. We are the oldest and most respected custom moccasin makers in the world. Our customers reach every walk of life from fashion designers like Donna Karan and Anna Sui to musicians like Joni Mitchell and Erika Badu, to film stars like Tommy Lee Jones and Benecio Del Toro to grand parents, teens and tens of thousands very happy Catskill Mountain Moccasin customers. As a master artisan and master Mason I take the tradition of Master teaching apprentice very seriously. Over the 30 years of my business I have had the honor of teaching some of the finest artisans In the renaissance business. Our family of dedicated, talented and loyal artisans, with over 160 years of combined custom footwear design and construction, is second to none. We invite every patron to visit us and see why Catskill Mountain Moccasins makes the finest footwear in the world. We also invite you to visit our website at
http://www.catskillmoccasins.com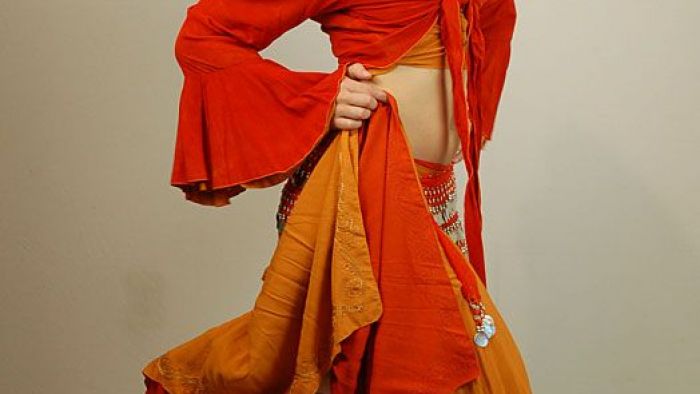 213
DragonFly
Gypsy clothing, belly dance outfits, Renaissance garb, jewelry and accessories Masks,boxes, frames, crosses, figurines, copper frames & mirrors, half moon, & sun decorations, catrinas, clothing, semi-precious stones, silver jewelry.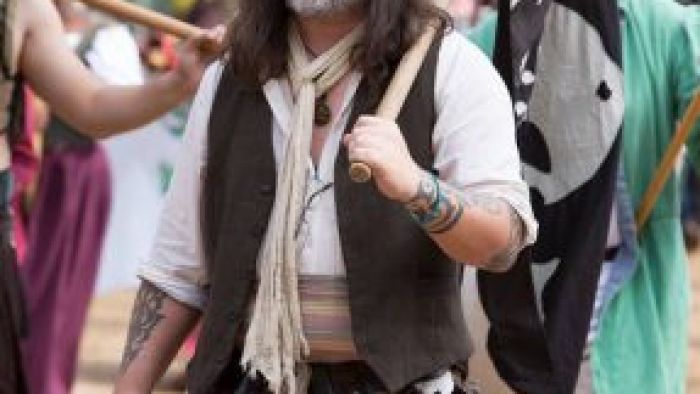 215
Nigel Sade Fine Art
Nigel Sade and Sarah Wilkinson are the founding artists at Studio de Sade, a Fine Art studio that has been sharing their art with fans for over 17 years. The studio has a couple student artists under their tutelage. Their artwork ranges from popular culture and beloved fandoms with a fine art twist, to symbolic abstracts and surrealism-based original artworks, exploring emotion, world views and deep personal connections. They offer high quality art prints, bandanas, and art pendants. There are several sizes of prints, including the newest Texas size print. A protective bag and board is included with every purchase, and the ability to store purchases at the booth for later pickup. They are located at shoppe 215, across the street from The Globe stage! To browse the art, please visit:
www.studiodesade.com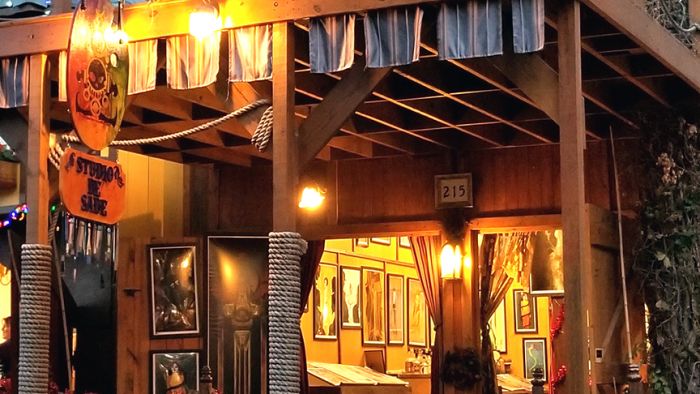 215
Sarah Wilkinson Art
Nigel Sade and Sarah Wilkinson are the founding artists at Studio de Sade, a Fine Art studio that has been sharing their art with fans for over 17 years. The studio has a couple student artists under their tutelage. Their artwork ranges from popular culture and beloved fandoms with a fine art twist, to symbolic abstracts and surrealism-based original artworks, exploring emotion, world views and deep personal connections. They offer high quality art prints, bandanas, and art pendants. There are several sizes of prints, including the newest Texas size print. A protective bag and board is included with every purchase, and the ability to store purchases at the booth for later pickup. They are located at shoppe 215, across the street from The Globe stage! To browse the art, please visit:
www.studiodesade.com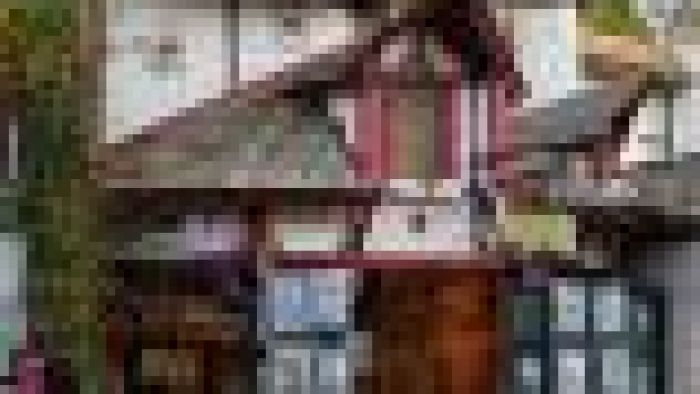 216
Dan Thompson Fine Arts
Dan has been drawing all his life and got his professional start by selling original artwork out of the trunk of his car. His talent was recognized about 1979, when he was accepted into the Colorado Renaissance festival as one of the original craft vendors. For over 38 years, he traveled to the Texas Renaissance Festival, and other fairs and festivals around the country, selling his FANTASY ART to enthusiastic customers. Nowadays, he can only be seen in Texas and Colorado. Dan's ink and pencil art, along with the best paper, makes a fantastic medium for intricate and beautiful coloring books. He offers two sizes, 11x14 and 4x8. His artwork is also sold as matted prints, single prints, post cards, Christmas cards, puzzles, and bookmarkers.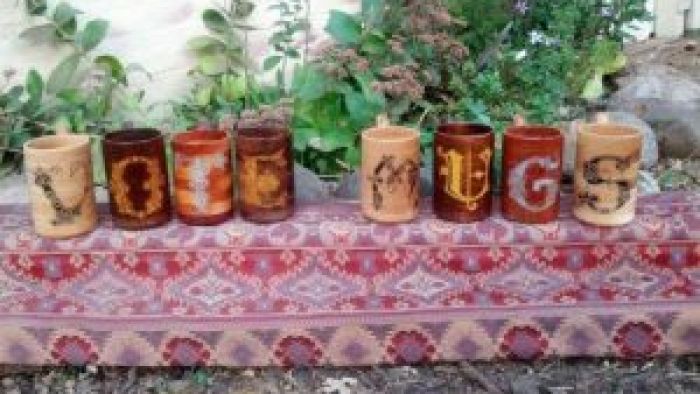 217, 252A
Wondrous Works in Wood
Handcrafted wooden mugs, goblets, cutting boards, earring holders, bowls, vases, wine balance holders, pitchers, leather and jeweled mug accessories, wine stoppers and other wooden gift items.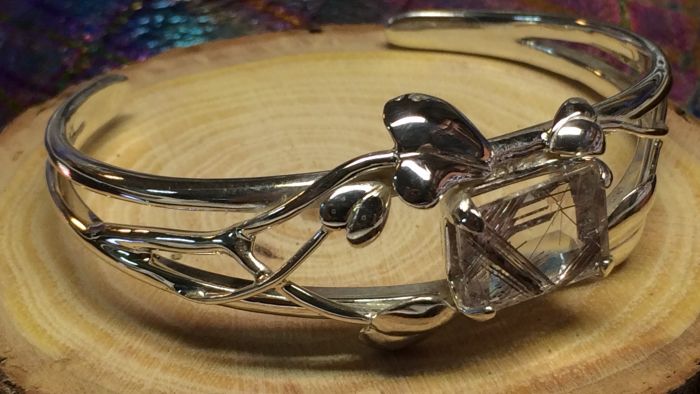 219
Illusions Into Reality
Artist Hal Robinson has been a working as a full time artist for 45 years. Illusions Into Reality proudly displays his handmade original designs in a variety of metals, glass, steal, stone, and clay. He also works in Sterling Silver, 14K gold, and Bronze with unique gems and hard to find stones. Hal can custom design a one of a kind piece of wearable art just for you. He is also known for his many unique and breathtaking wedding and engagement creations designed to 'Wow' your friends and family for a lifetime.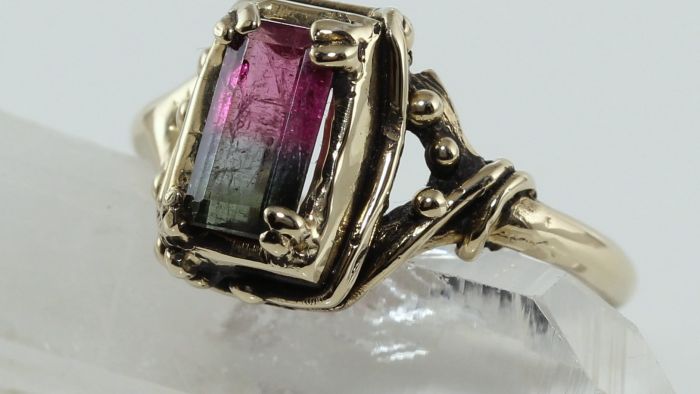 220
Walkabout Jewelry
Unique one of a kind rings, ear rings, and necklaces, hand-made in Austin, TX using sterling silver, 14k gold, copper, and natural gemstones.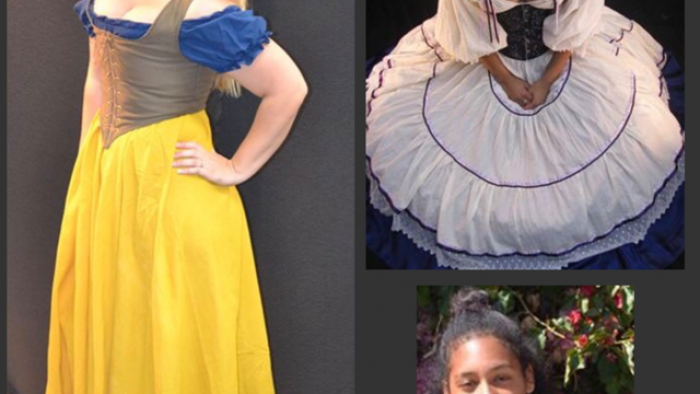 221
Heart's Delight
Hearts Delight Clothing Features beautiful handcrafted clothing that is designed after historically accurate renaissance style garments as well as some more ornate fantasy style pieces. Our clothing is all handmade in Ventura, Ca using American made fabrics and materials. We also hand dye the beautiful garments into a vast variety of colors so that your clothing dreams can come alive!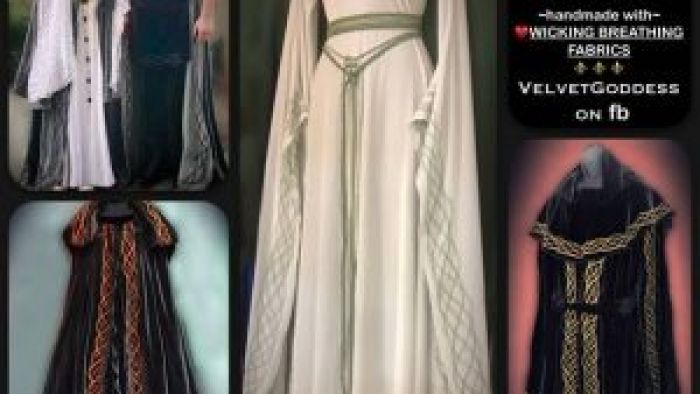 222
Faire Pair
Handmade medieval-inspired clothing by Faire Pair. Our fabrics (including the velvets) are made of "dry-wicking" breezy stretchy goodness so you are amazingly comfortable in most all kinds of weather. Everything washes too. We feature Wedding gowns and Bridesmaid gowns, Grooms and Groomsmen wear. Outerwear choices include Grand-Cloaks, Capes, Wraps, Hooded-Mantles and Fleece 4-in-one Capes for the very cold days. We are well known for our Dresses, Tops, Tunics, Tabards, Vests and glorious Robes. For the wee ones, we have a selection of kids clothing too including kid capes and mantled hoods. Maternity?…No problem! We have you comfortably covered. Come to see the photos of the moms-to-be wearing the off-the-rack goodies. Yay stretchy-goodness! Our Tights and Shorts will cure your chafing bits (We are looking at you funny-walking kilt-guy). Curves are encouraged here. Ladies size 0-26 and Mens up to 4X. We are a fun and friendly bunch so do come by. Welcome and prepare to be awe-inspiring!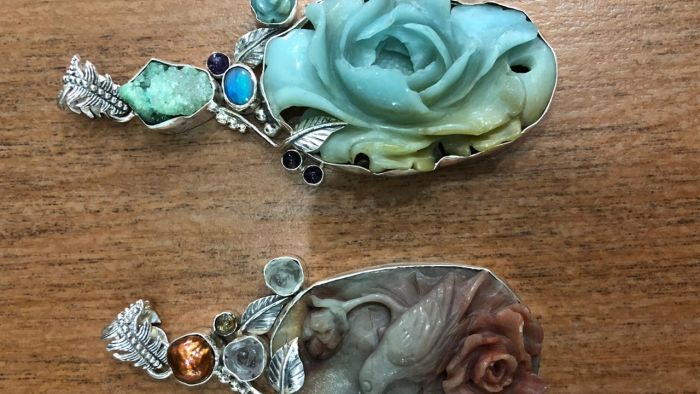 223
Earth Art
EarthArt has been offering fine sterling silver jewelry in New Market Village's original inner circle since 1991. Our expansive selection of gemstone jewelry, puzzle rings, and classical home decor will enchant you as our engaging staff help you to all that your heart desires, so that you may add some of your adventure to your own private collection at home. Behold the beauty of nature and the artistry of generations... at EarthArt. We also encourage you to visit our sister shoppe, Renaissance Gypsy boothe 250, just on the other side of the Circle.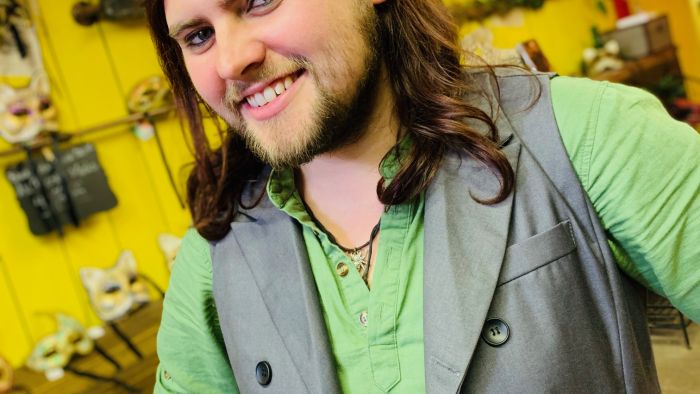 225
Kronos Steamworks Emporium of Fanciful Ephemera
Step into the time-traveling corners of the Kronos Steampunk Emporium for fanciful clothing, home goods, and leatherwork all meant to conjure your imagination to the future of what some wizards call the "steam age". Our little "punkies" will give you impeccable service and knowledge and then encourage you to find something in nooks and crannies that must come home with you. See the future without having to time travel all alone!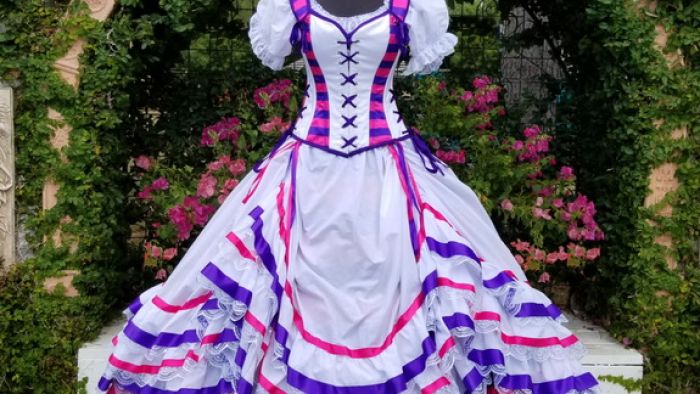 226
My Favorite Dress Shop
One of a kind hand painted dresses, custom made corsets, petticoats, and hats all designed by local Texan Dakota Zayles. We also specialize in big princess dresses, and fantasy character wedding dresses.
227
Delwaide Pottery
Original design pottery handmade by RJ Delwaide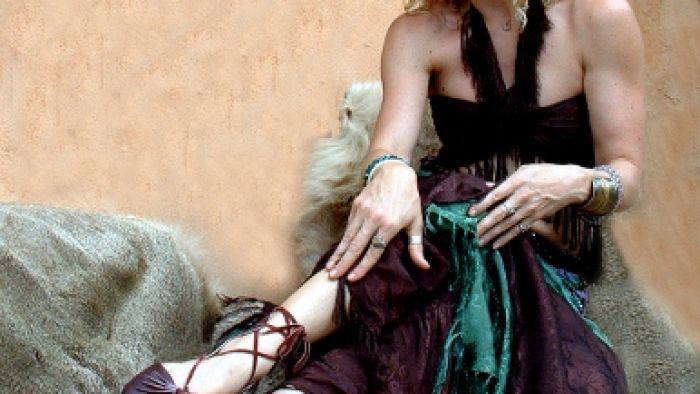 228
Renaissance Moccasins
Return to a time of real nobility when they understood the importance of beautiful yet comfortable footwear. Nothing quite compares to Renaissance Moccasins. Equisite leather. Soft comfort. Rugged durability. Stop by and choose the perfect shoe that captures your imagination and fits your lifestyle. Renaissance Moccasins…leaves imitations to the weak of heart!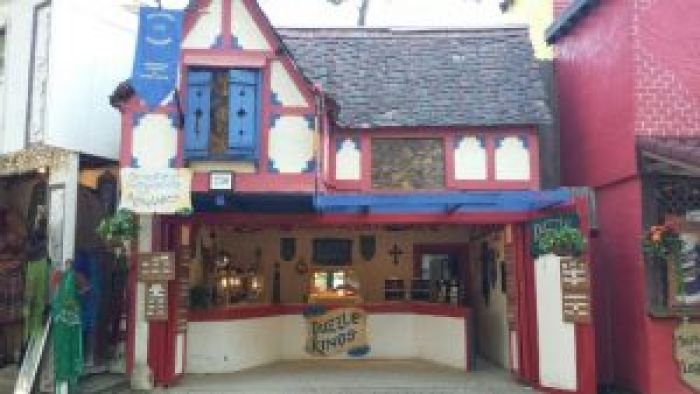 230
Honorable Company of Metalsmiths
We are Honorable Company of Metalsmiths (Booth #230 ). We have created the largest selection of Handmade Puzzle Rings in the world in Gold, Platinum and Sterling Silver with your choice of precious stones. We also make a large selection of Historical Scientific Instruments including the Astrolabe which we make the only functionally accurate metal Astrolabe left in the world. Our Astrolabe production was featured on the Discovery Channel show How Its Made. Please stop in our shop and learn about the navigational instruments used during the Renaissance Period and also see a demonstration of how they work as well as a demonstration of the puzzle rings. We look forward to teaching you their secret.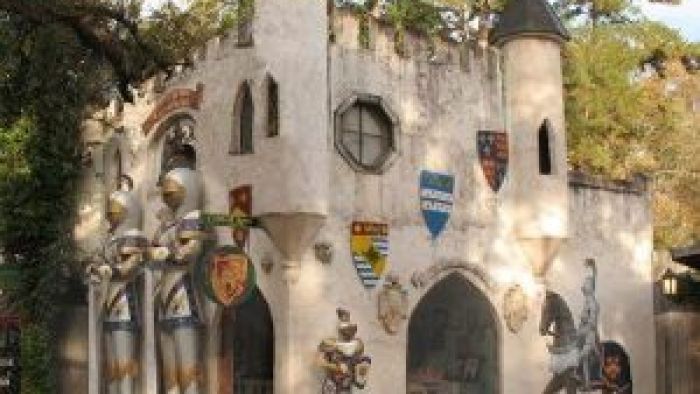 234
Coat of Arms: Old World Family Names
Specializing in embroidery, clothing, glassware, gold rings, photo prints, key chains, blankets and a variety of other things!
238
Daedalus Consortium and Trading Company
Specializing in Custom leather/metal work: Mugs, belts, pouches, and much more! We offer hand forged buckles and leather accessories freshly made from our own blacksmith! All of our items are hand crafted, hand tooled and hand painted. If you don't see it here, it's because we haven't made it yet – ask us! Your imagination is the only limit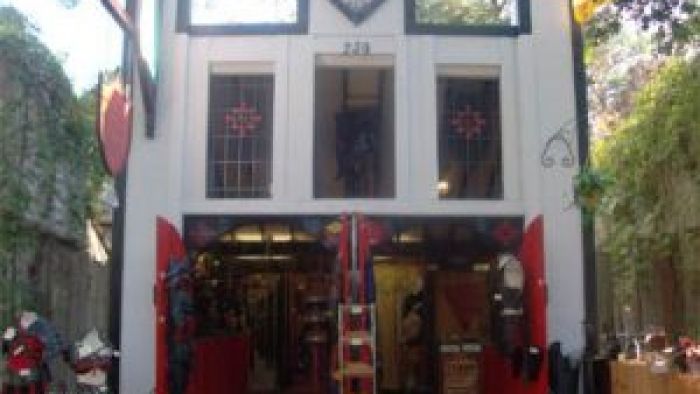 239
Rev's Armour Werx
Original Leather Products customized and made for you while you watch. Armour, clothing, pouches, bracers, celtic, drinking accessories, weapon carriers, custom scabbards and novelties. Demonstrating Artisan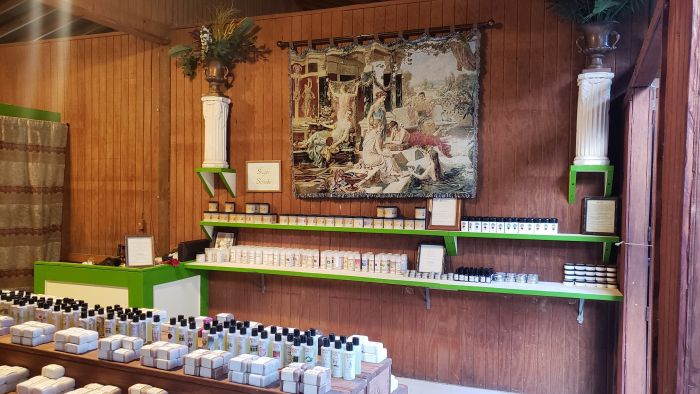 240, 625H
Roman Bath
Roman Bath has been selling, high quality, uniquely scented, soaps and personal grooming products, since 2002. Our handmade products use only the highest quality natural and organic materials to craft the finest products for our customers. Simple Packaging Superior Product.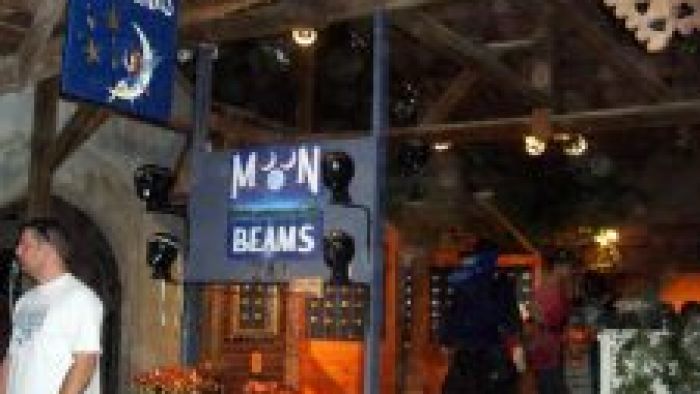 241
Moonbeams
Copper roses, twist & lock barrettes, tiaras/circlets, bracelets, bubble wands and more!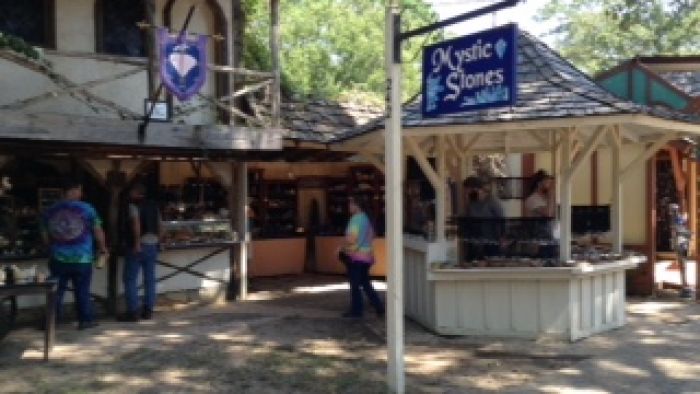 242
Mystic Stones
Aventurine to Zebra Stone, Herkimer Diamond to rust streaking Hematite, Mystic Stones has over a thousand different crystals, gems and minerals specimens. We gather stones from around the world to bring you stunning beauty at incredible prices. Curious seekers can come learn the folklore of the stones; the powers the ancient mystics believed each stone could bring to you. Rock hounds can some to the shop to learn scientific information from our ample library. Learning how certain specimens form and where they are found and discover how crystals are formed. Come in and develop a discerning eye and learn what makes a mineral specimen collectible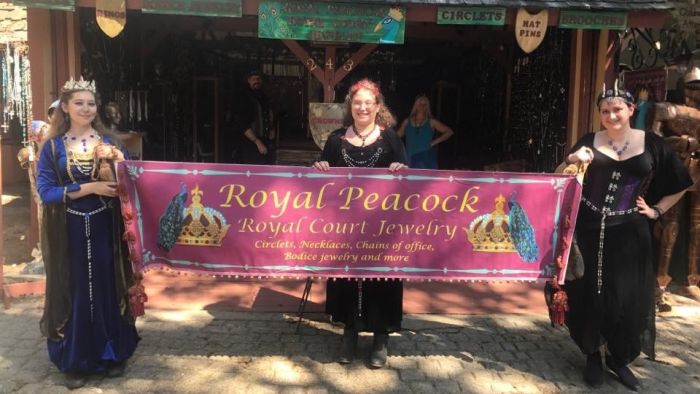 243
Royal Peacock Royal Court Jewlery
We are Booth 243 Royal Peacock Royal Court Jewelry. We have Chains of Office, Bodice jewelry, natural stone Necklaces, wire wrap pendants, and crowns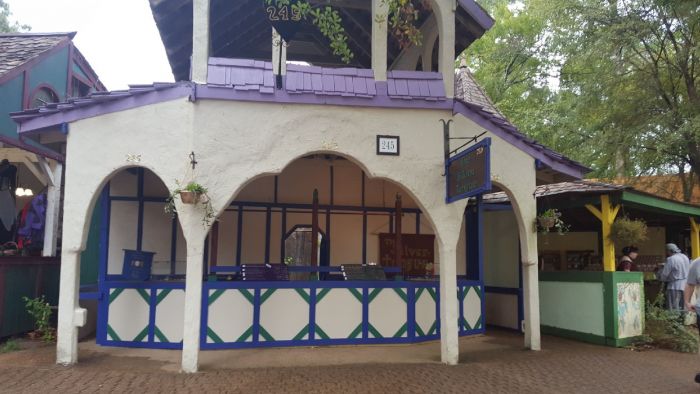 245
The Silver Tongue
From elegantly simple to elaborate creations, The Silver Tongue features hand-crafted jewelry. There's something for everyone! We carry rings of all sizes, earrings, earcuffs, armbands, necklaces, circlets and wristcuffs. Come see our selection of natural gemstones and molded metals today!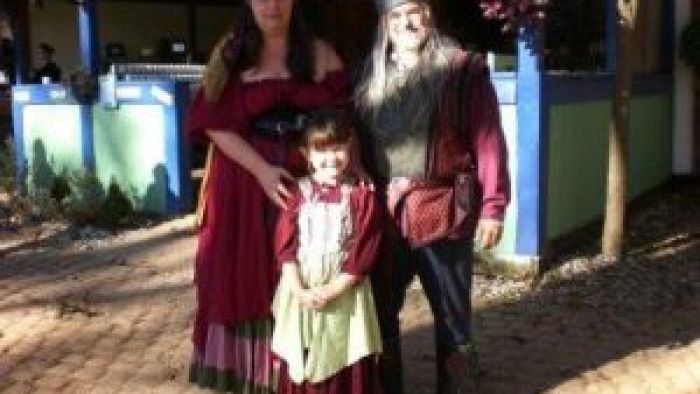 246
Estelril Apothecary
Traditional Native American and European recipes come together in a Renaissance version of a functional apothecary. The owners bring over 90 years of training and study in herbal lore between them. Mary and Sakeeta remain as two of only a handful of artisans, continuing the tradition of whole herb incense. This variety of incense remains as the incense of choice for Native American and many other nature based religious ceremonies world-wide. During the festival, stop by and witness demonstrations on making salves, whole herb incense, and other products during the day. Products range from Liquid and Bar Soap, Lotions, Salves, Salts, Shower Gels, Massage Oils, Smudge Sticks, Aroma Oils, and any number of products that are made from essential oils or whole herbs. Prices range from 25 cents to $25.00. Many items include 3 for pricing to allow you an opportunity to mix and match your favorites. Custom blends at no additional charge. Stop by to visit an old fashioned, functional apothecary at booth 246.
248
Heart of the Mountain
Gift items made from Honeycomb Calcite (Stone from one mountain in Utah) Items include: Angels, crosses, Fleur De Lis, Mountain Scenes, light boxes, cubes, spheres, candleholders, wine racks. Stained Glass by Terri Rogers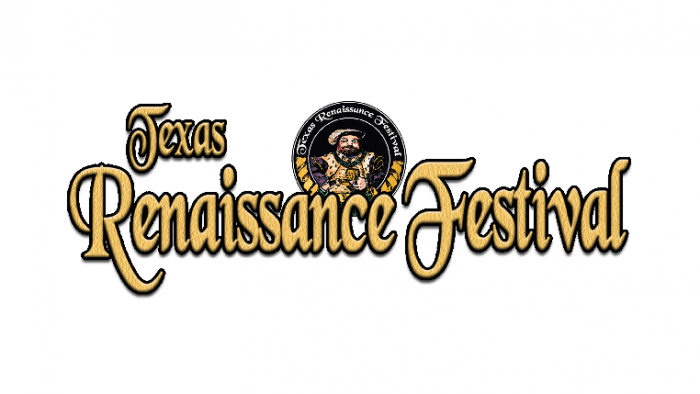 249
Swan Lace
We offer Renaissance clothing for the whole family- from wee lads to Lords and lassies to Ladies. Swan Lace presents a full line of beautiful original designs of high-quality clothing for your festival wear as well home, and in your own village. Come & view our walls of outfits on display featuring, unique Reversible Overbust & Underbust Corsets, Capes, Kilts, Doublets & more. While you visit please allow us to give you a tour of our most modern of day dress, our Modern Sarong. A magic garment which can now be worn in 17 different styles, creating several dresses, skirts, jumper (for work & play), an evening dress, several fun, cover-up styles for play - travel & festival costume outfits. Our shoppe assistants are ready to help, size and fit you into the perfect outfit to complete your renaissance fantasy day!

250
The Renaissance Gypsy
Jewelry, chimes, and gifts purchased for resale
49, 251
Casta Diva
Original design clothing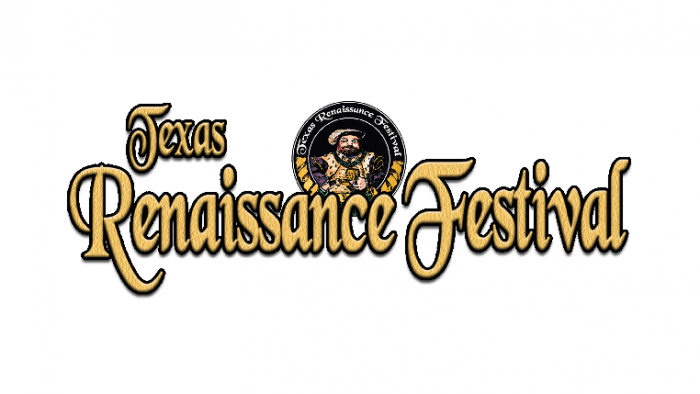 255
The Merchant's Tailor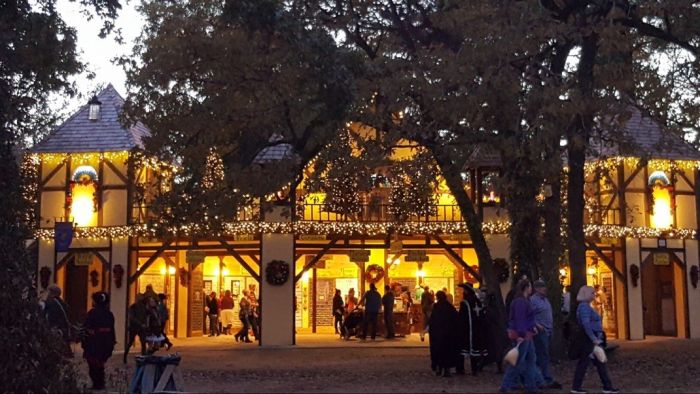 256
The Crown Jewels
Fine jewelry set in sterling silver – pearls, opal, amber, and many other natural stones. You can also have our pearl monger harvest your very own pearl from an oyster while you watch.
257
Poetic Portraits
Oil Painting with photographic canvas and print in frames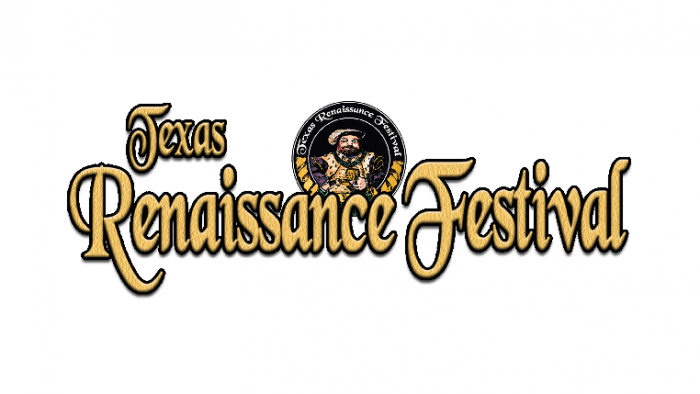 258
Ye Ole Odd Duck
For Ye Ole Odd Duck: Figurines are hand-crafted with a special sculpting clay, there are no paints or molds used in the creation of these amazing works of art. The Duck Pond also offers one of a kind decor for your home. With items like original paintings, wooden signs with swords, sculpted sconces, picture frames, or a 5' Dire Wolf you are sure to find just what you're looking for.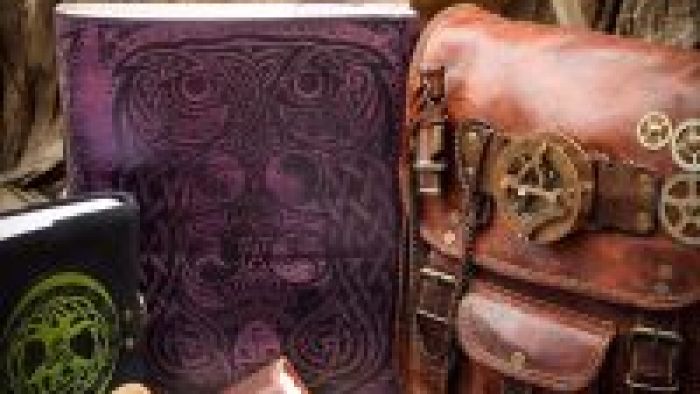 260
Poetic Earth Handmade Journals
Original, unique handcrafted leather journals in hundreds of one of kind varieties and old world styles . we feature only the finest archival handmade linen - cotton parchment paper in everything we make. Poetic Earth offers a wonderful selection of handcrafted iPad & Kindle / Nook covers for all your magical devices. Poetic Earth offer a limited selection of Salt pit tanned vintage style satchels, laptop bags that are wonderful for everyday use regardless of which realm thou art may come from.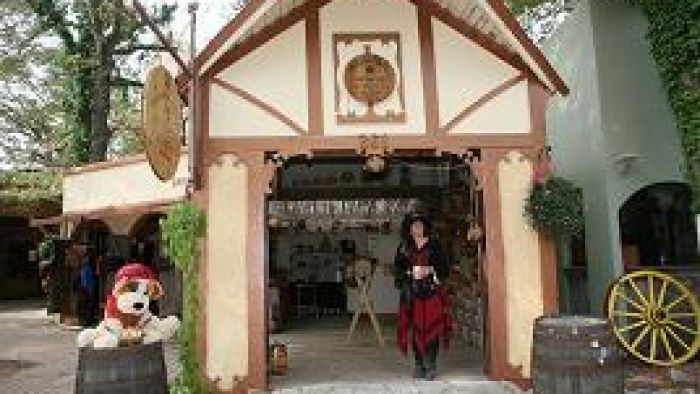 261
Deep South Barrels
American White Oak barrels for aging spirits, bootleg kits for making your own spirits and pirate barrel drinking mugs.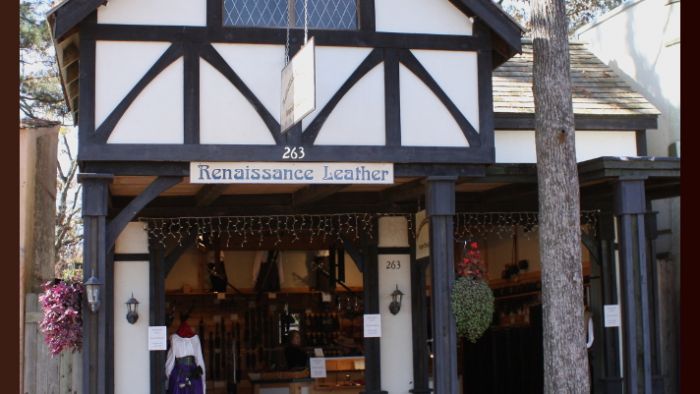 263
Renaissance Leather
Handcrafted leather accessories including belts, belt pouches, cell phone cases, hand bags, and sword scabbards, all made in Denver, Colorado.

263A
Lost Island
Original design belly dance outfits, gypsy wear, jewelry and accessories.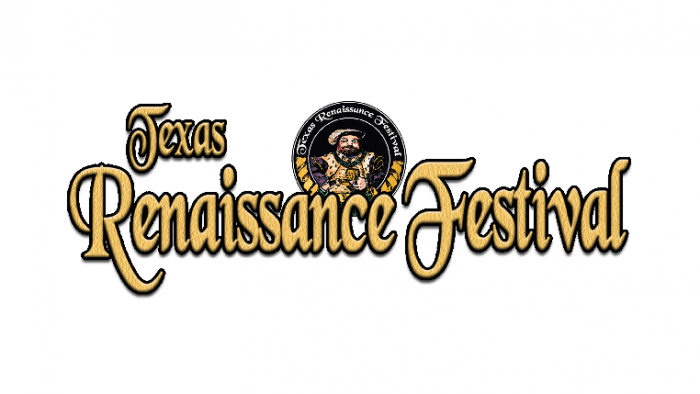 264
Pottery by Mark Jaramillo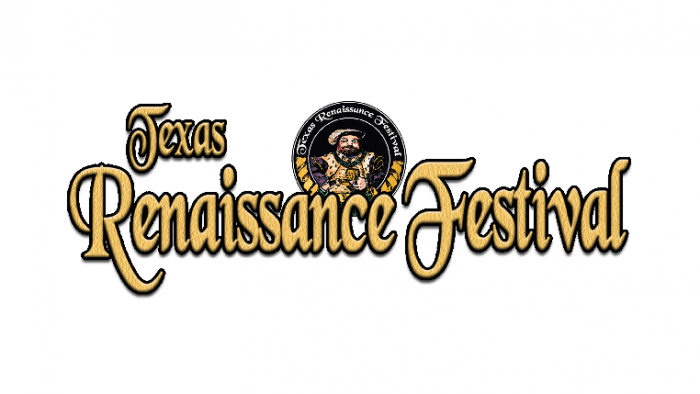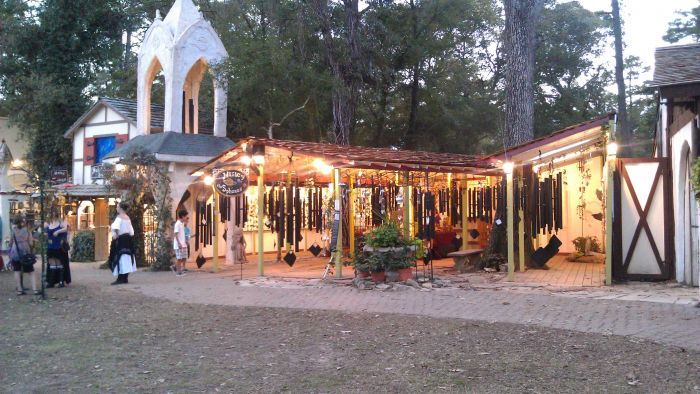 266
Music of the Spheres Inc.
We make Precision Tuned Windchimes, 11 Tunings, 5 Sizes of Each, Plus 3 Specialty Tunings. Weights range from 2 to 200 pounds. We are located at Shoppe 266 at Texas Renaissance Festival in Mockingbird Lane.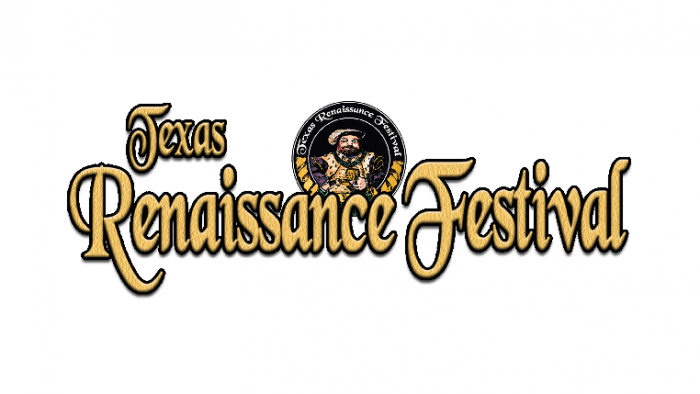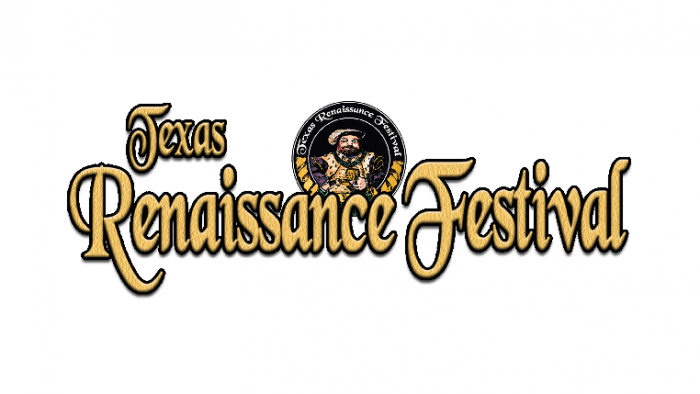 268
Ravenswood Armoury
For over 30 years, Ravenswood Leather has worked to provide the highest quality leather goods for our customers. We are renowned for our customer service and offer a large variety of bespoke leather clothing, allowing our customers to get custom tailored garments without the "custom" price tag. Along with our leather clothing, we also offer a variety of leather accessories including belts, baldrics, pouches, frogs, hats, and archery equipment. Nearly everything we offer is available for customization. All of our leather products are handmade in the USA in southern Oregon, where our small crew works year round taking great pride in producing the finest in quality leather products. We hope that our joy in our work and pride in our quality spills over to you, our friends and customers.
269
Poppet Pewter
Handmade pewter figurines, metal art and bubble wands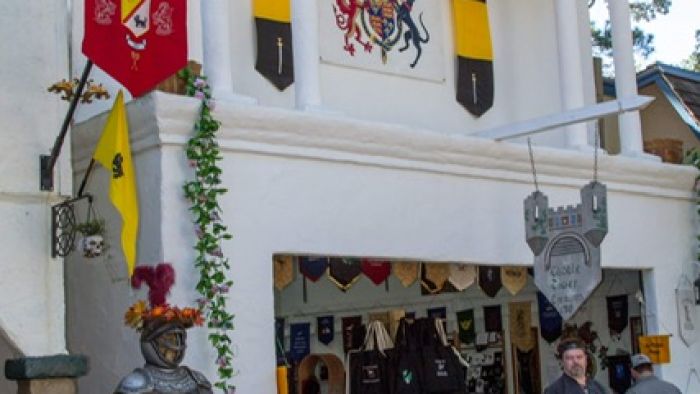 270
Castle Tower Creations
Striving to bring you the very best in medieval and renaissance theme items as well as custom embroidery. Featuring: Banners/Pennants, Hankies, Favor Sashes, Masks, Patches, Hand Muffs, Blankets, Scarves, Towels, Baby Bibs, Table Runners, Custom Orders for Family Crests, Company Logos, Parade Banners. Special Occasions or Hard to Shop for People Always Welcome Military, Police, and Teacher Discounts available. 1000's of patterns available in all themes.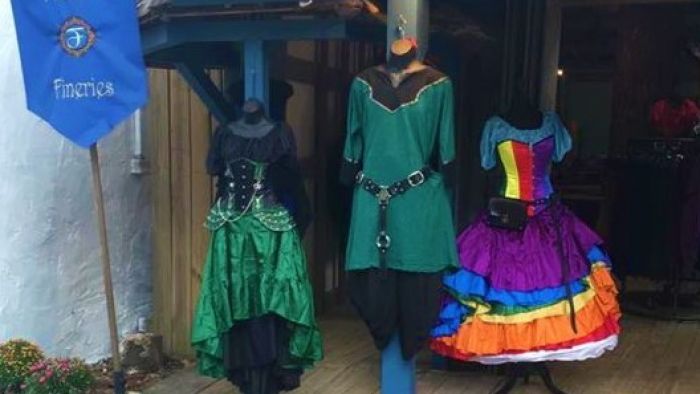 271
Fiona's Fineries
We provide historically inspired clothing for the discerning Patron or Participant that you can wear, get dirty, sweat in, and in general live in for days on end. Then throw in the washer (or in some cases, dry clean) and repeat the whole proscess. We have clothing for both men and women in a large variety of sizes. We believe that bodices and corsets, if made and worn correctly, are comfortable and a joy to wear and be seen in.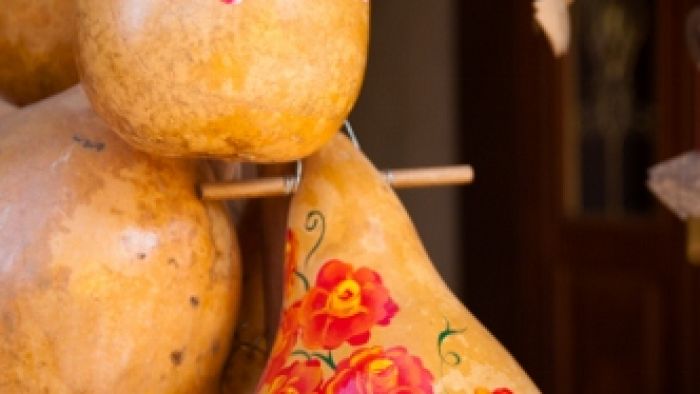 272
Dragon's Garden
Gourds have been used by many different cultures for centuries. Items from the Dragon's Garden include dried gourds in both functional and decorative designs. Complimented by unique oil candles as well as other garden mythical themed items.

300
Done With Mirrors
The product is handmade stained glass and copper framed antique art.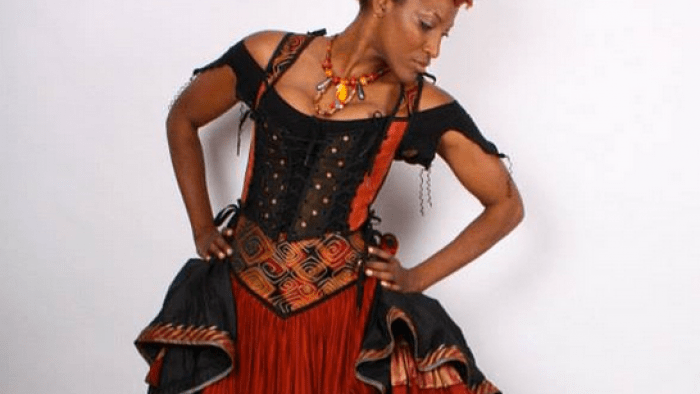 304
Moresca Clothing & Costume
Medieval, Renaissance and Fantasy clothing and accessories since 1974.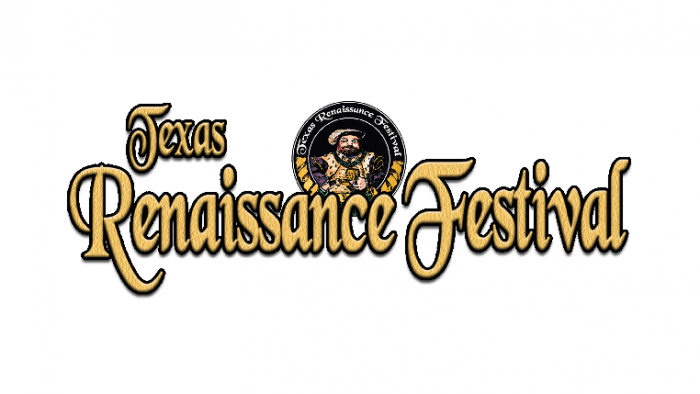 305
Opinicus Soaps
Handmade soaps, body products, herbal remedies and re-sell shaving brushes and dish (10% off the shaving kit)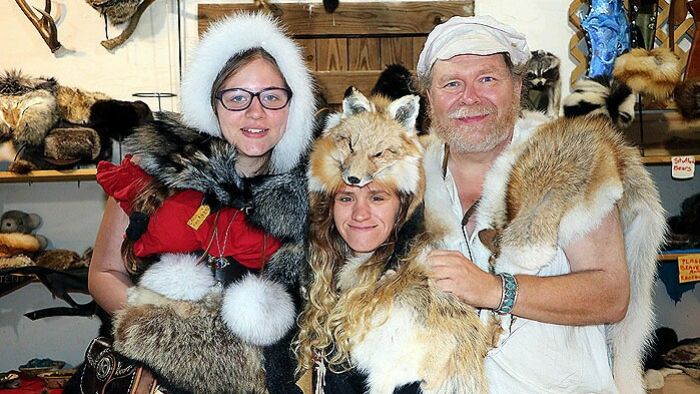 306
The Wylde Hunt
We are a huntsman's shop. We manufacture a complete line of longbows and archery equipment, stone knives, arrowheads, quivers and much more. We also have a broad selection of the fruits of the hunt, including fur hats, gloves, and capes as well as soft leathers for those who wish to make their own accessories. For the wee ones, we have crossbows and a large assortment of fox tails. Flintknapping and bow building demonstrations are presented several times each day.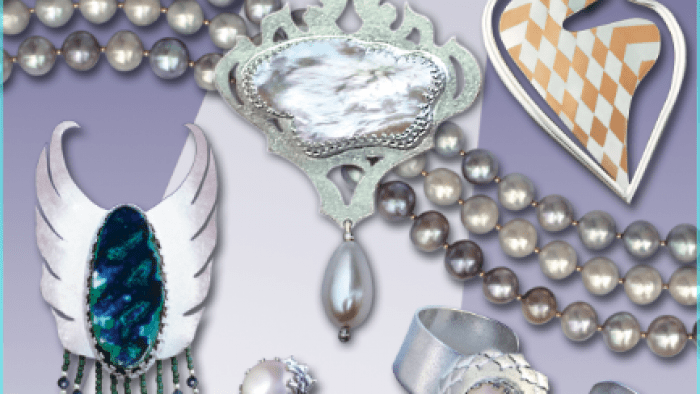 310
Lucia – Inspired Handcrafted Jewelry
Lucia's Gemstone Jewelry, a local Artisan, In a class of her own. She creates distinctive professionally Hand-Crafted Jewelry; with Authentic Pearls & Genuine Quality Gemstones. A Timeless Collection of Quality & Affordability; Custom made by Lucia, Robert & Angela. Team Lucia creates exceptional pieces in our Studio from start to finish. We're committed to serving our clients as we Guarantee All of our work. 20 years in Business at the Texas Renaissance Festival.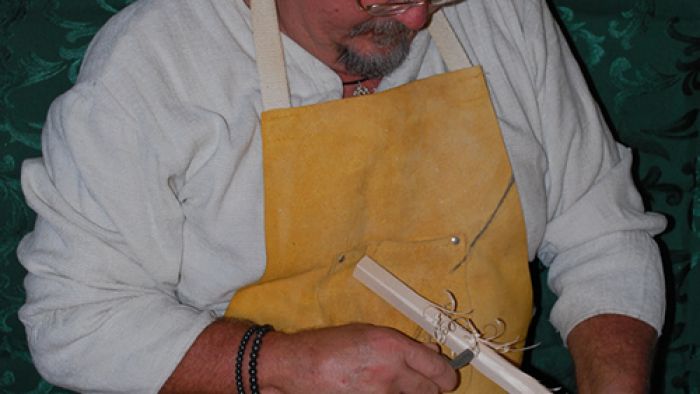 311
Visions in Wood
Wee People Doors, Art cut on a scroll saw, Old fashioned toys, Hair picks, combs and barrettes, wooden puzzles, jewelry, trinket and ring boxes, wizard wands and more!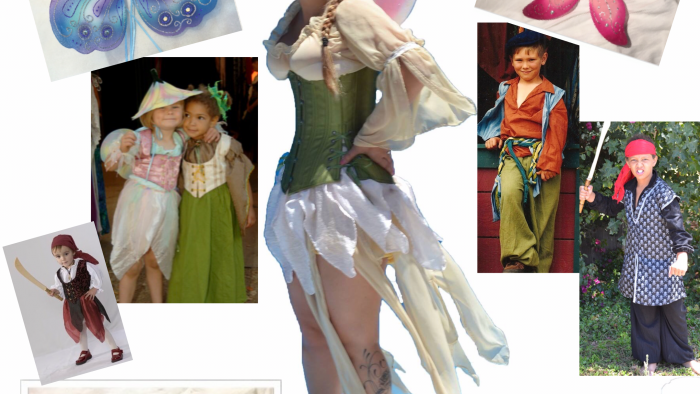 313
Titiana Garden of Delights
At Titania's Garden of Delight we feature beautiful Handmade Fairy wings, accessories and Collectibles as well as a full variety of handmade Hearts Delight Children's Clothing. As you stroll our fairy wonderland feel free to also shop for the Holidays on our beautifully decorated Christmas trees.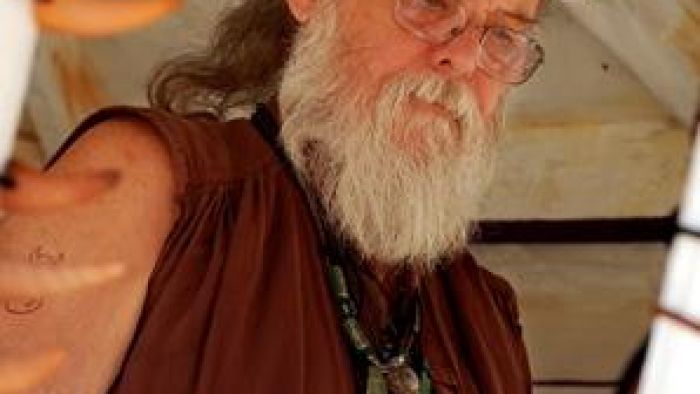 314
The Original Satyr Horns
The Original Satyr Horns is your home for all your horn needs, whether casual costumes for kids or complex custom horns for your favorite cosplay character, or anything in between, we have you covered. ISince 1982, very pair of horns is hand sculpted and hand made, using hardy, durable polymer clay. While we are available year round (message us on the facebook page linked here outside of the Texas Renaissance Festival season) the best opportunity for you to find your horns is to shop the several hundred pairs we have on display in Shoppe 314, The Original Satyr Horns, during the TRF season. See you there!!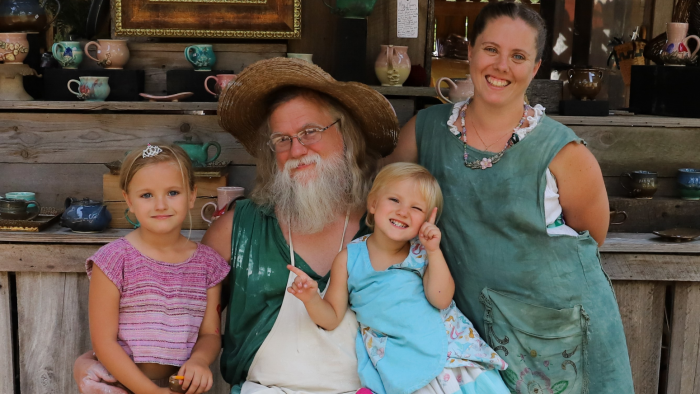 314B
Gnome and Fairy Pottery
Gnome and Fairy Pottery, is a husband and wife team; that make handcrafted pottery for the kitchen and house. We have some wonderful sculpture items as well as a special line of work that is hand carved and painted.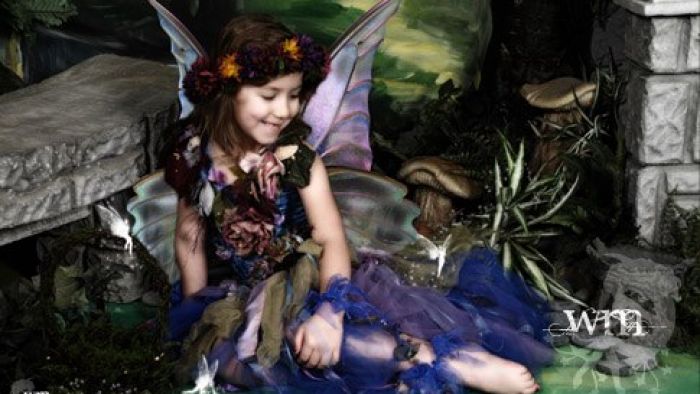 322
Whimsy's Muse Photography
Award winning photography. Artistry and imagination collide for the most unique portrait experience. Do YOU Believe?
Walk-ins welcome or for an appointment please call 832-721-9495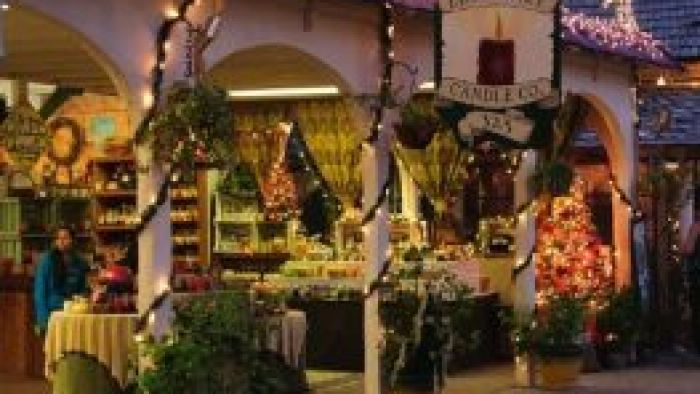 323
Designs in Wax: The Legendary Candle Co.
Scented container, pillar, votive candles, hand-carved candles, hand-carved wedding & unity candle sets and candle carving demonstrations.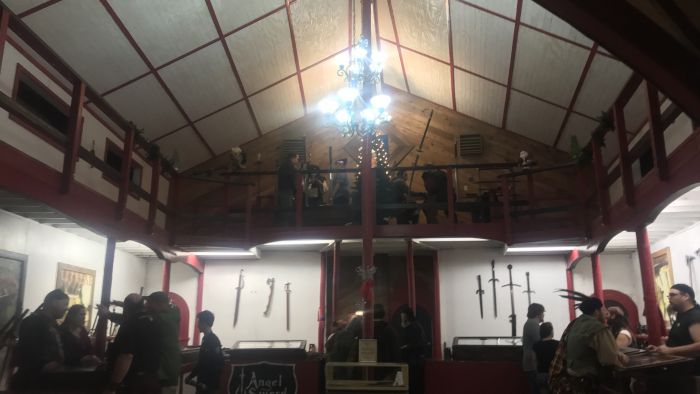 324A
Angel Sword LLC
The artisans of Angel Sword craft the toughest, high-hardness swords and knives in the world. Each weapon is a hand-crafted, one-of-a-kind piece of art forged for extreme performance and durability. Avatar series blades feature their patented Techno-Wootz™ Damascus steel providing the best performance characteristics to the most demanding clientele. Angel Sword series blades, each a unique work of art, are heirloom-quality weapons to be bequeathed for generations. Bright Knight and Balkyrie series blades are sculpted by stock removal from high carbon steel, hardened and tempered to an armor piercing toughness that is flexible enough to withstand combat, and finished by hand for perfect weight, balance, and edge. Cavalier series weapons are cast using a modernized bronze then hardened to be able to pierce mild steel. All weapons, regardless of series, undergo patented Therma-Cycle™ processing and come with a lifetime guarantee against breakage.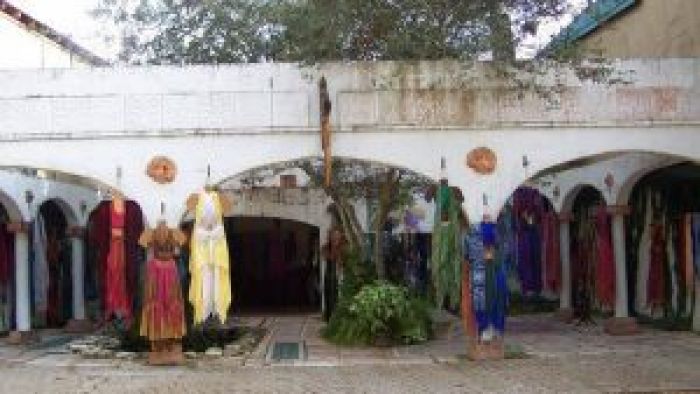 325
Jiva Silk Originals
Silk scarves and unique gypsy costumes based on Indian and Moroccan infused designs.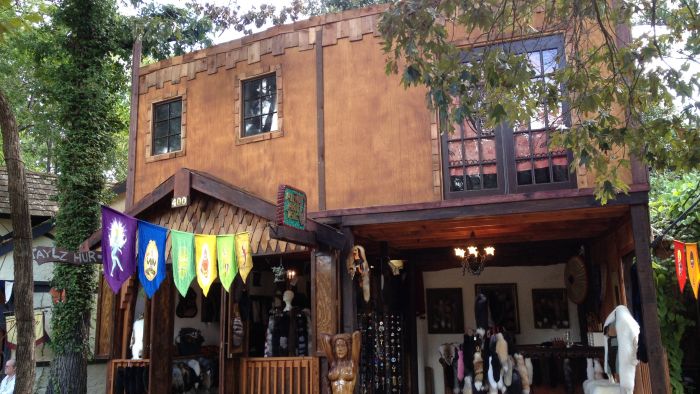 400
All About Tails
Providing the finest durable tails in the land. Our artisans also create one-of-a-kind leather and fur costuming specifically designed to your needs. We also create dream weaves and spirit shields inspired by native american designs.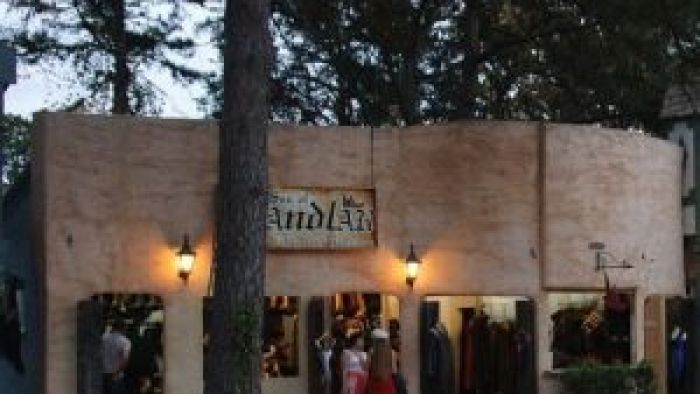 402, 420
Son of Sandlar
Son of Sandlar crafts the finest and most durable in hand-made leather footwear and outerwear in all the realms. Our leather boots and clothing utilize the highest grade of premium materials and are hand-crafted by master artisans with the greatest attention to detail. We pride ourselves on the qualities of our wares and are renowned by our patrons for our renaissance fashion and costume design.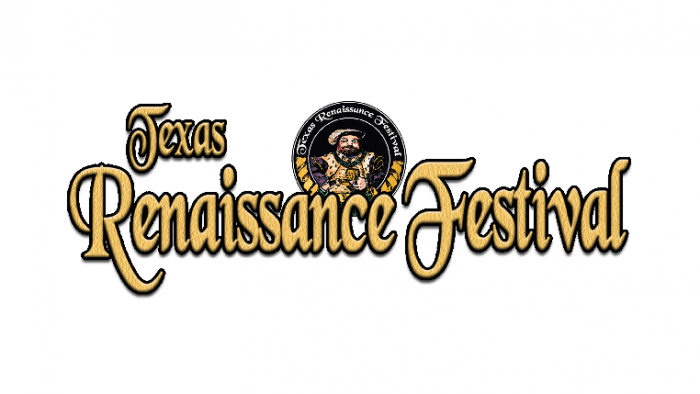 403
Imperial Mongolian Embassy & Trade Mission
The Imperial Mongolian Embassy and Trade Mission is a weapons shop founded in 1979. We not only sell a large array of swords, daggers, and other weapons, including Damascus steel, we also help to educate our customers on the history of weapons both in the medieval period and the Mongolian eras. We hope you'll take the time to visit our shoppe.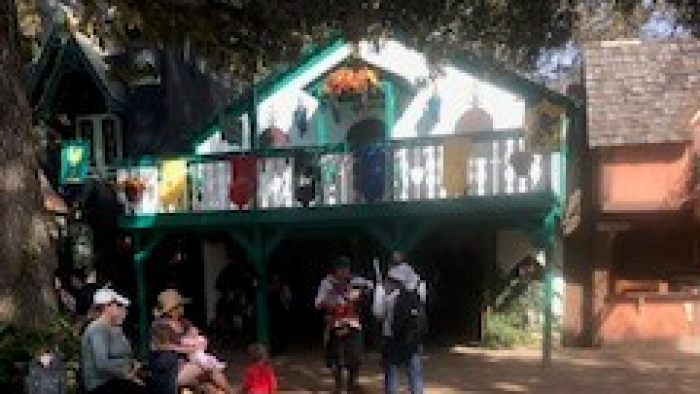 417
Camelot Arms
Wooden Weapons for all Ages , Wooden Swords and Shields, Everything for your Young Wariors Hacking, Bashing And Slashing Needs ....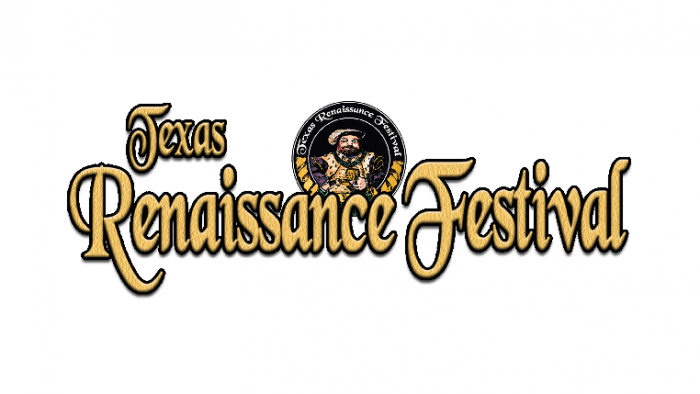 421
Lord McLaughlin's
Original design Men's & Women's Renaissance Clothing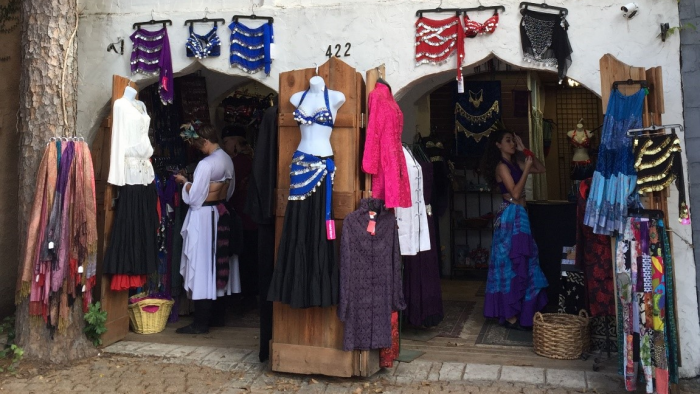 422
Jasmin's Belly Dance Garb and Accessories
Lots of Belly Dance goodies and accessories of all kinds in our favorite color……… SHINY! Hip scarves, flutes, bracelets, anklets, belts, sandals, dancing swords, head dresses, necklaces, rings … many fun items to choose from and good prices. Several belly-dance styles: Cabaret, Egyptian, Fusion, Gypsy, Tribal. Come and get it before it disappears, we would love to dress you up in our belly dance garb!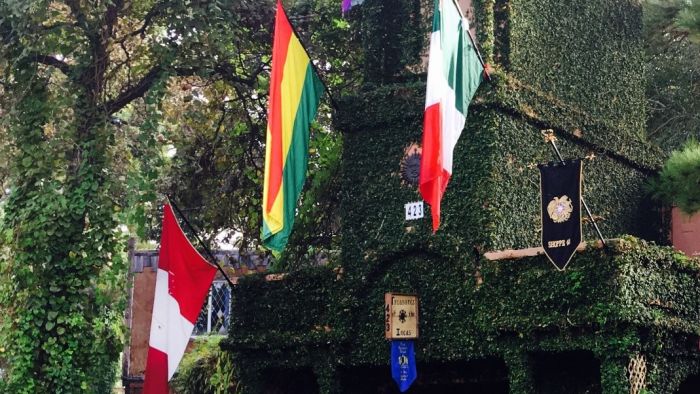 423
Treasures of the Incas
Handcrafted tapestries, musical instruments, wood and metal weaponry, Alpaca wool hats, gloves, scarves, pants and other unique handcrafted items!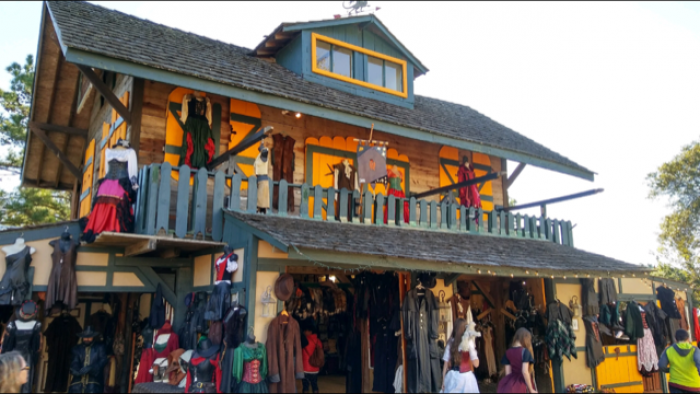 500
New Pterodactyl Leather
Headwear: hats, caps, costume hats, headbands Trim for hats: Hatbands,conchos, plumes, fox tails, scarves, goggles, leather roses, etc Outerwear: coats, capes, jackets, ponchos etc Ladies apparel and costuming Men's apparel and costuming Children's apparel and costuming Footwear Accessories: purses, bags, pouches, belts, gloves, muffs, etc Headbands, cuffs, collars Masks Mugs Paddles Pants, breeches,leather kilts, tights with leather codpiece, chaps, half chaps, spats Leather coffers and furnishings Leather armor, greaves, bracers, frogs, baldrics Scabbards, quivers, shields Dog collars, leashes, equine accessories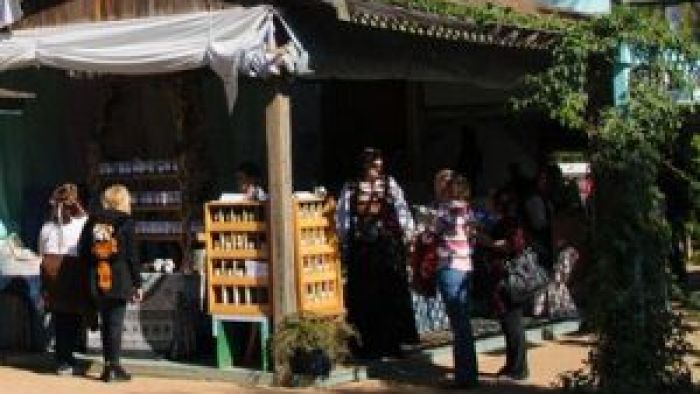 501
The Wellness Garden
Massage oils, herbs, herbal & aromatherapy products, herbal teas, dream pillows, scented candles, ear candles, candling kits, honey & agave sticks, candied ginger and more!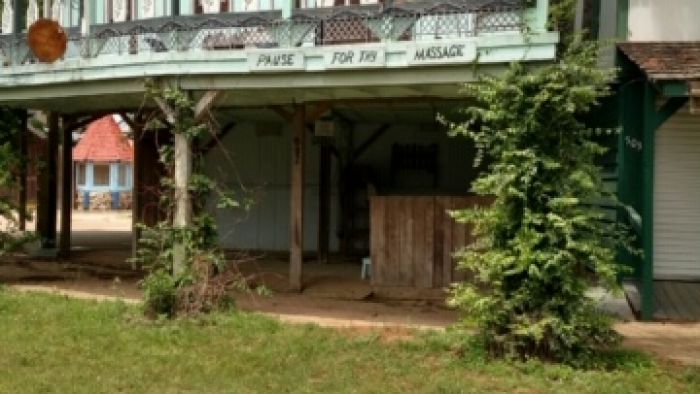 502 and F54
Penny's Magic Garden
Penny's Magic Garden has the magic of massage to relieve your aches and pains, and enhance your experience. Have the wonderful scents of live, dried, and essential oils of herbs in organic teas, bath salts, and honeysticks for health and enjoyment.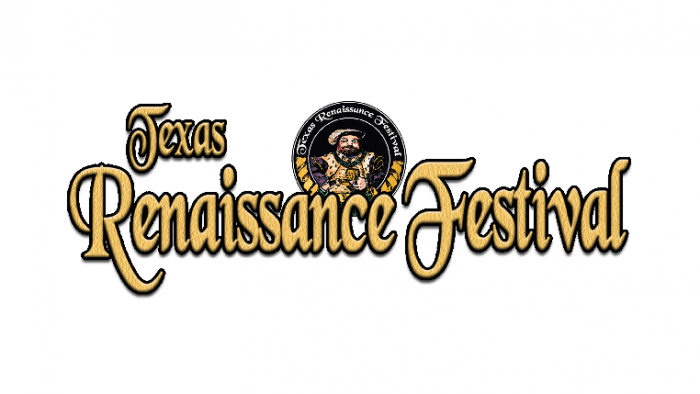 503
Lady McArthur's Fiery Fare
Visit Lady McArthur's Fiery Fare where you will be able to sample many tasty morsels of Fiery Fare. We can guide you anywhere from Sissy Sauce (no heat at all) to Phoenix Fire which could be way too hot! Come sample and see.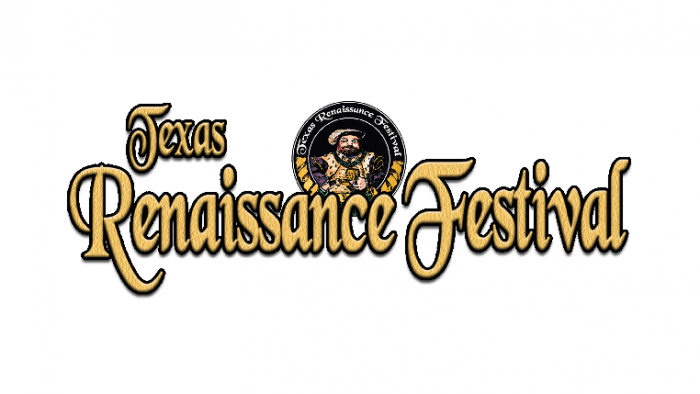 504
Green Man Games & Books
Games, toys and books!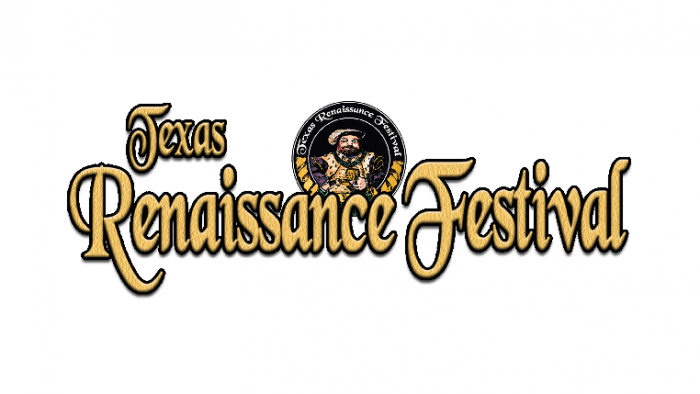 506
Azure Armoury
Armour has been used througout recorded history to protect soldiers, knights, war animals, and war machinery from the ravages of battle. Dez Armstrong presents live demonstrations of this time-honored martial craft at the Royal Armoury. A long time apprentice of world renowned Rob Valentine, Dez now presents his own unique approach to creation of distinctive weapons and personal armor.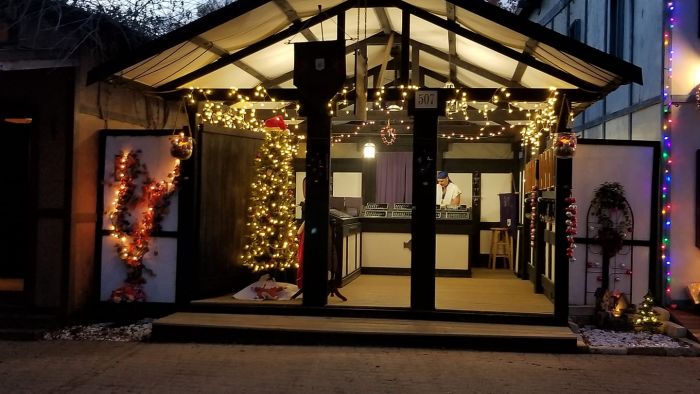 507
Metal Pleasures
Stainless steel jewelry, titanium jewelry, tungsten jewelry, rings, pendants, bracelets, chains, earrings and matching couple sets.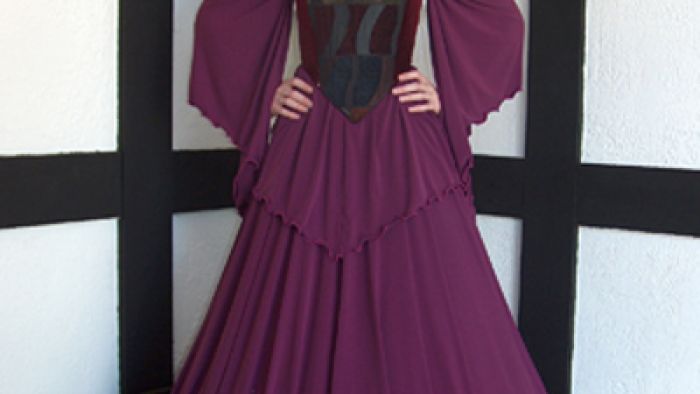 508
Dragon's Den Costumes
Costumes and accessories for the entire family. Hats and headpieces, feather accents, air brush art, painting art/painted capes. Our items are designed and hand-made by owners.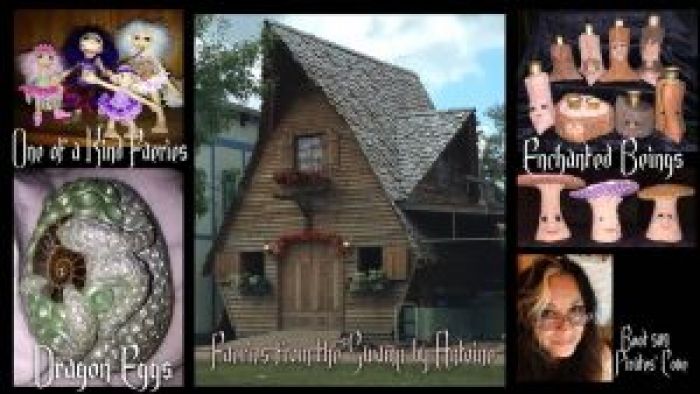 509
Faeries from the Swamp by Antoine
Hand Sculpted Faeries and Enchanted Beings: Years ago, I picked up some polymer clay and began to make figurines. Having been an artist all my life it was inevitable that I would start sculpting. It wasn't until early 2002, however, that I tried polymer clay. My very first completed faerie was a bald, fat, naked man with a comb-over, who resembled an uncle of mine. And that is how it all began. Every single piece I create is a one of a kind work of art. I couldn't duplicate a piece if I tried. Facial features are hand painted with fine acrylics. I use natural and synthetic embellishments. Most have wings, but some do not. Orphaned Dragon Eggs created with natural Gemstones and Healing Crystals are my latest creation; and all of my work comes with certificates of authenticity, signed by me. I also create Portrait Sculptures from your photographs! It wasn't until 2007 that I began my journey into the Renaissance Festival world. And not until 2008 did I venture out to that magical place we know and love, called the Texas Renaissance Festival. I love my faire, I love my patrons… come visit me in Pirates' Cove in my amazing faerie house across from the Funnel Cakes Booth! Even if you walk out with nothing in your hands, it is always a pleasure to meet new people and learn about their experiences. Early mornings and later afternoons give more time to chatting — but stop by any time! Booth 509! You never know what you'll find when you take a stroll through the Swamp.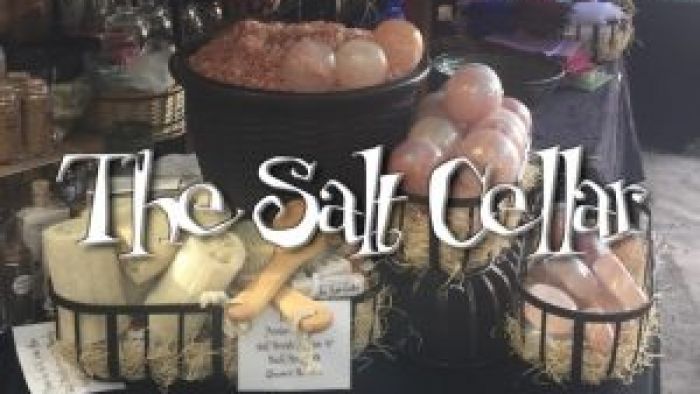 510
The Salt Cellar & Royal Boot Shine
Custom Created – Himalayan Salt Based – Herbal Bath Remedies, for Both the Tub & Shower!! Gourmet All Natural Himalayan Cooking Salt – Open Fire Smoked or Spicy Hot Peppered! New This Season! Create-Your-Own Herbal Blend Gourmet Tea – Choose From a Myriad of Herbs and Base Teas for Limitless Possibilities! And The Royal Shoe Shine – Showcasing our Homemade Boot Rub Leather Care Products Booth 510 in the Pirates' Cove (Across from the Gutenberg Press, Funnel Cakes and the Privies)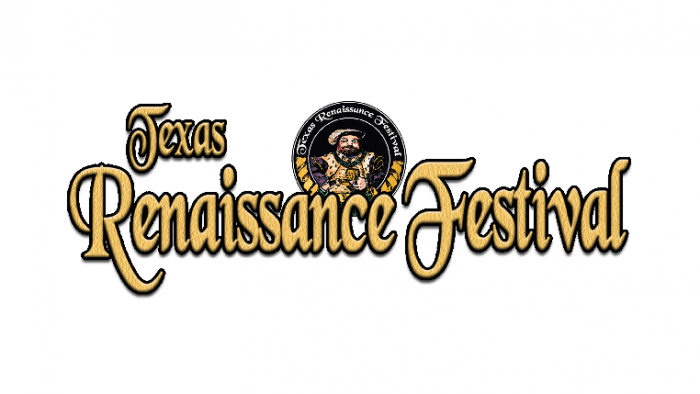 511
Odd Fellows Leather
Handcrated leather coats, corsets, vests, doublets, capes and bodices; belts, pouches, frogs, leather armour, bracers, hats, leather mugs, drinking horns, leather wraps for bottles and flasks; key fobs, coasters, journals, necklaces, leather roses, and hair adornments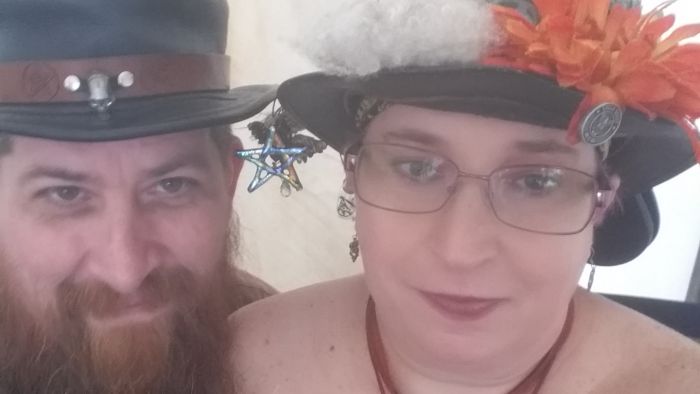 512
Wooden Journals & More
We are a family run business. Everything in our shop is handmade by us, our children and their spouses. We create unique Wooden Journals, Tankards, and various home decor. We are best known for our Stagger Sticks, "The cup that holds you up!"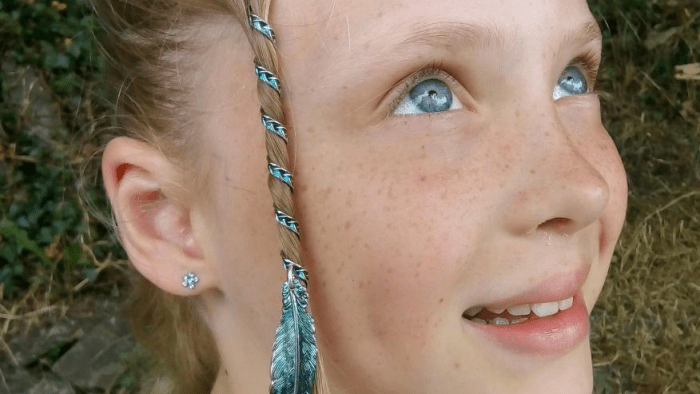 513
Singletree
Handcrafted metal products such as flasks, pins, bangles, chokers and patented hairspirals; Handcrafted pirate, peasant and cavalier hats only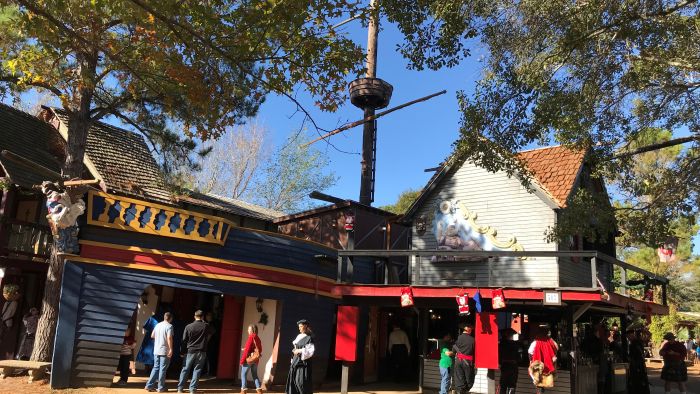 517
The Pirates Treasure
The Pirates Treasure is a premier weapons retailer. We offer a selection of swords, knives, daggers, pole arms, axes, whips, leather accessories and carriers. There is a selection of modern to historical weapons in a wide price range. The Pirates Treasure also features the daily Pirate Auction and giveaway at the Docks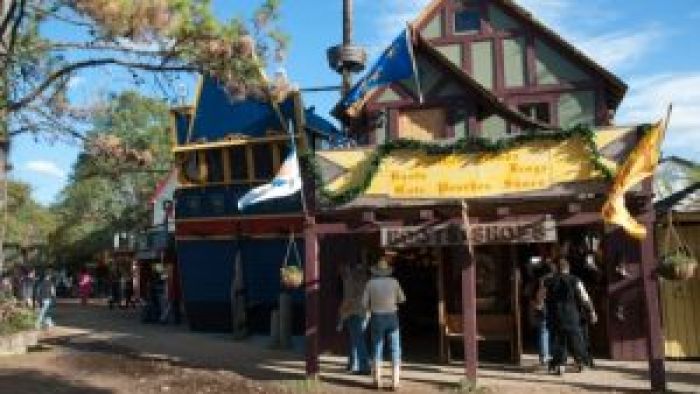 514, 520
Renboots
Boots, shoes, hats, gloves, pouches, baldric, leather clothing, misc. leather products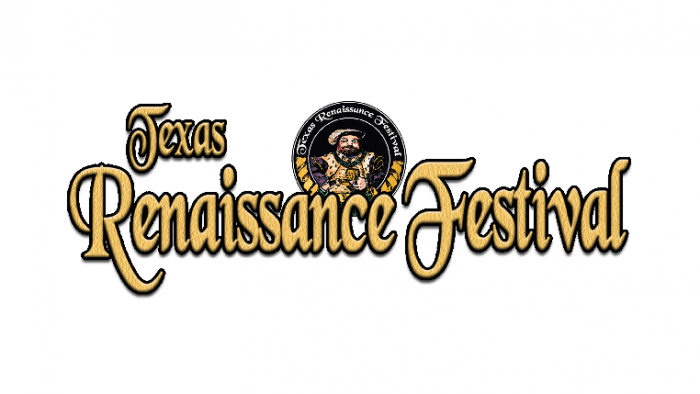 521
Scot Shoppe
Tartan & casual kilts, shirts, Celtic footwear, belts, sporrans and Celtic accessories.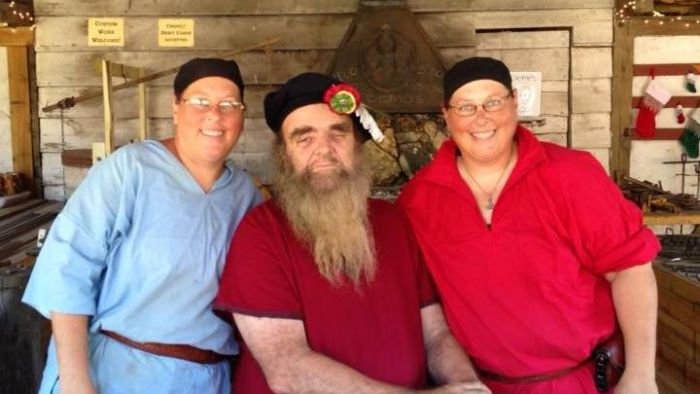 523A
Ravensmith
We create hand forged items from key chains & campfire sets to arbors and railings using old world methods including a 240+ year old bellows, 18th century forge, traditional tools and anvil. We welcome custom work and love a challenge. If you can imagine it, we can make it! Come listen to Sledge & Hammer sing and play the anvil and live demonstrations 4 times a day.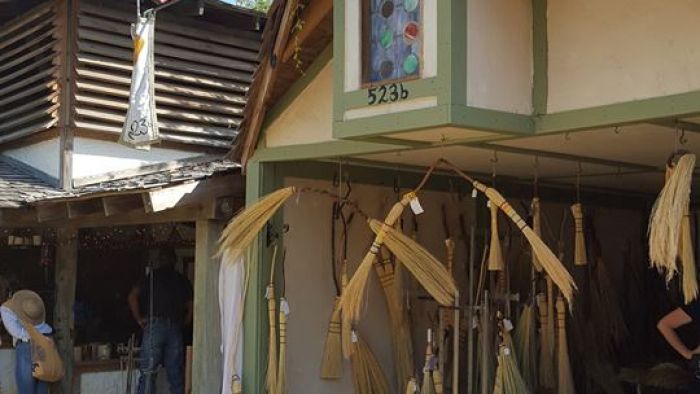 523B
Swept Away Brooms
You will be "Swept Away" by the one-of-a-kind brooms created by Sharon Jackson! Sharon creates beautiful yet functional brooms from broomcorn with handles of sweet gum, elm, hickory, or even willow and wisteria. Custom design your own broom for hearth and home and sweeping is no longer a chore. Come and watch continual demonstrations in broom making at the Broom Maker's Shoppe.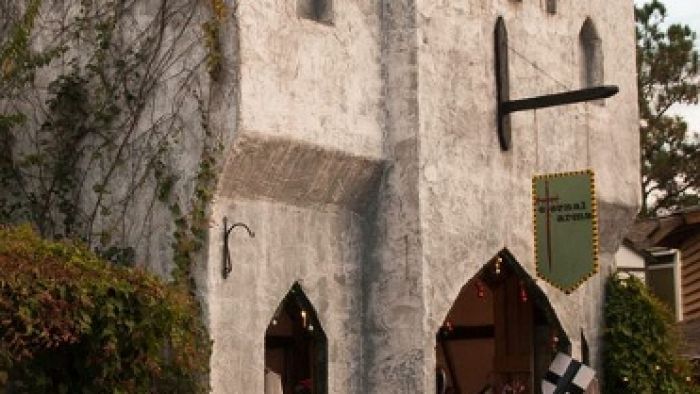 524
Storm Leather Werks
Steel, leather and wooden armor; custom build to order armor orders; paint to order shields; weaponry. Full contact Live action sword sparring in medieval armor with wooden and rebated swords . Featuring the Historic Medieval Battle Group-The Knights of Ragnarok! Shows are in front of booth #524 K.O.R Armory/storm leather works: 12:30…2:30…4:30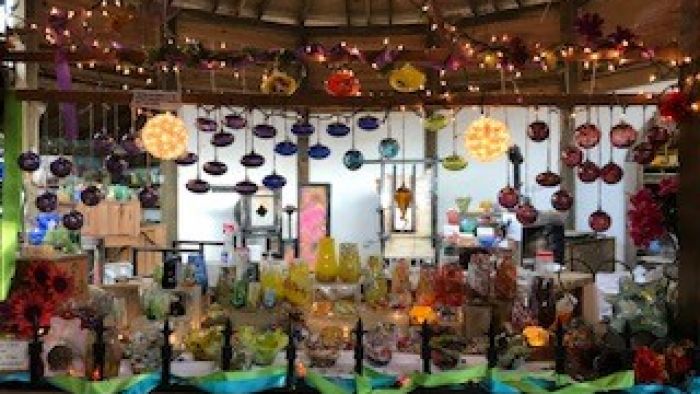 525-526
Jodi Bove Hot Glass
Jodi Bove Hot Glass at the glassblowing pavilion: Performing the art of glassblowing while discussing the techniques used and history of the art.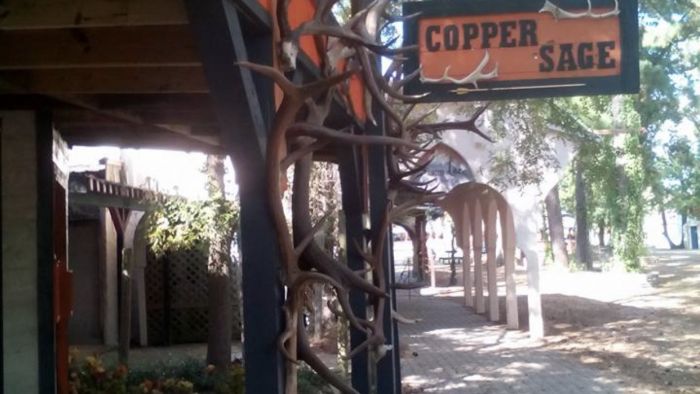 247, 612G
Copper Sage Bows
You can be confident you're getting the best of the best at Coppersage Bows, the oldest bow shop in the lands! Coppersage Bows features a store front full of handcrafted bows of all kinds from your basic bows to cross-bows and even long bows. Coppersage Bows even has bows and weaponry for the young squires including kids cross-bows, longbows, shields and sling shots. Coppersage Bows also features a lavish assortment of furs, hides, skulls, bones, and feathers from a variety of admirable creatures! So please my lords, my ladies, stop on in at Coppersage Bows the black and orange structure located just outside the action packed jousting arena! You can't miss our antlers!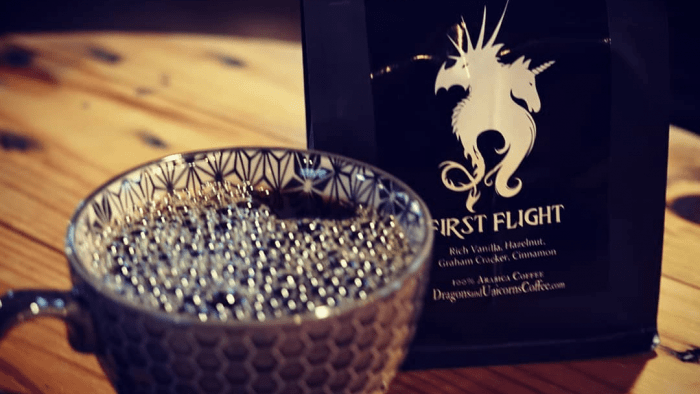 613SP
Dragons and Unicorns
For Centuries Coffee has been a nectar of the gods. It has empowered the conquering of empires, Nourished the strength of titans, brought peace, and started wars. It might as well be currency. Why then do you continue to do such a disservice to your very existence by consuming such mundane garbage. It's time to ignite your soul. Better Coffee, Bottom line. Better Flavors, Bolder body, Never Burnt like that Corporate Mermaid Crap not to mention names. We here at Dragons and Unicorns strive to deliver Legendary Coffee of Mythical flavor profiles. Each batch of this Unique Craft coffee is roasted by the smoldering breath of Dragons and flavored to order with mythical Unicorn Magic. For some, Coffee tames the Dragon within. For others, it Ignites the flame of existence, and for yet others it delivers sanity to an otherwise desolate day. Our unique approach is to remove the monotony from such a crucial and life-saving nectar.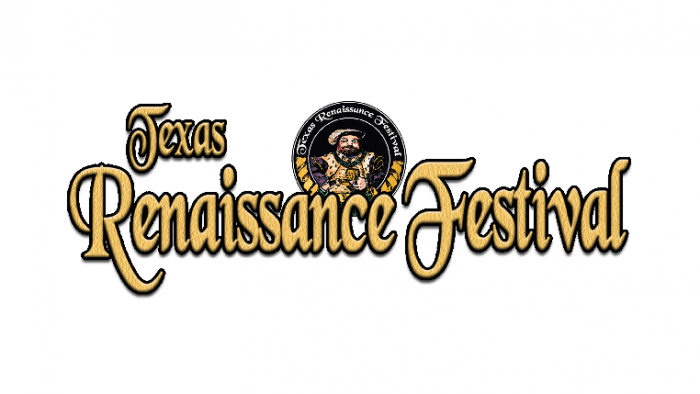 614SP
Annie's Leather Fineries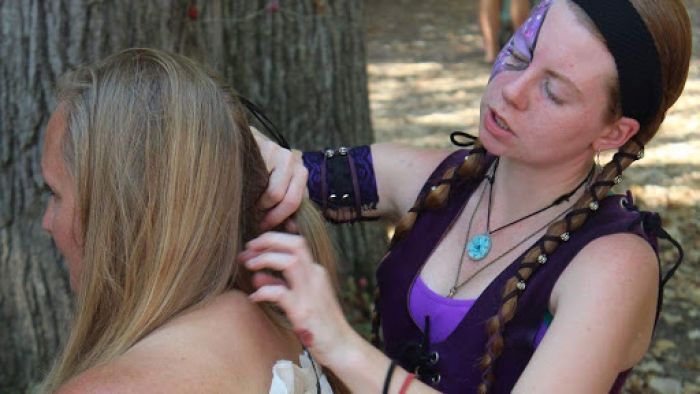 617GR
K & B Enterprises
Re-usable leather hair wraps, 4 different sizes and 9 different colors. Free Demos all day.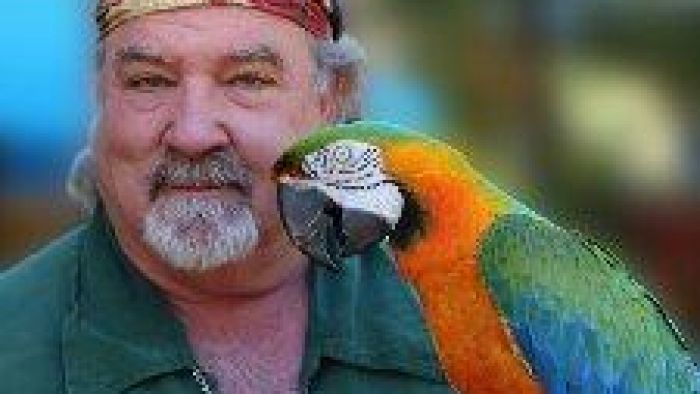 622SP
Magickal Wynges and Thynges
Consultations with the finest Readers in all the land. Tarot, Palmistry, Runes and more, We have served the King and his subjects for Decades! Our Gypsy Vardo (gypsy wagon) is located behind the Dove Meadow Stage.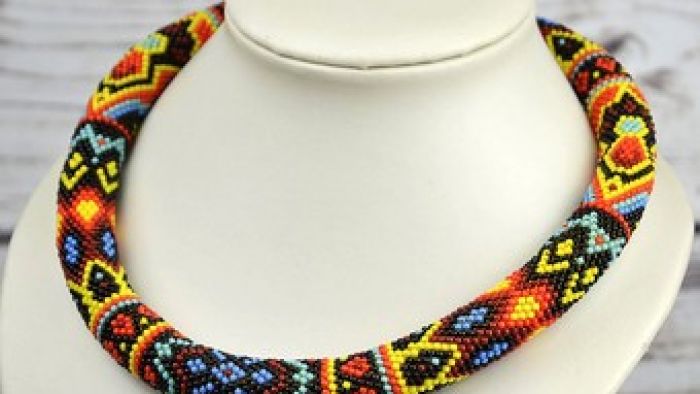 625C
Nafi Handmade
Handmade & crafted Djmbe large & small, Fulami hat, handmade baskets, sand painting, home décor, precious oils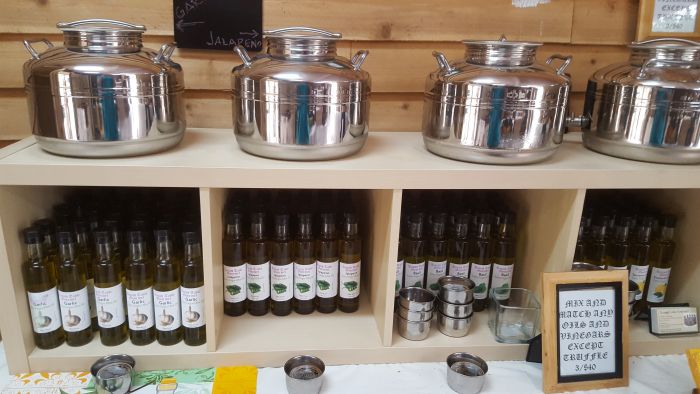 625D
Round Table Gourmet
The finest quality Italian infused olive oils and balsamic vinegars. Soup-dip-cheesecake-drink mixes (most are gluten free) Seasonings, and chef created hot sauces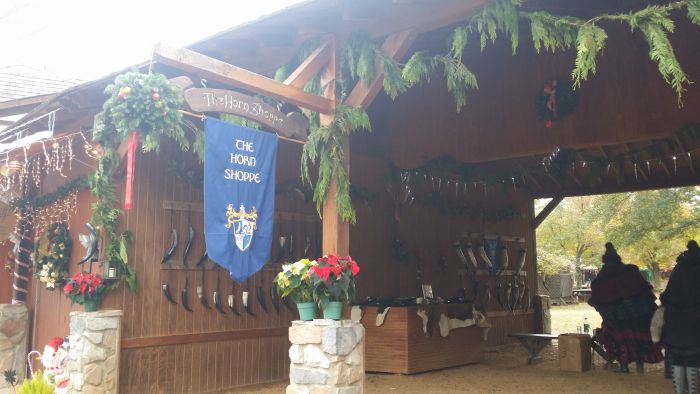 625E
The Horn Shoppe
Near Globe Stage Maker of Drinking , Blowing, and Combination Horns. We make Mugs & Tankards and other items, all from cow horn. We honor Military, First Responders & Teachers with a 10% discount.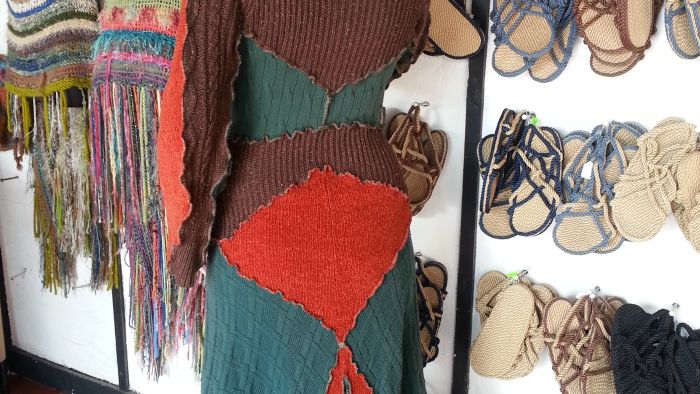 625F
Twisted Accessories
Our sandals are handmade of all fiber, fused Poly Cord. They are LIGHWEIGHT; MACHINE WASHABLE; and good for BOATING (ribbed bottom, won't slip when wet); BEACHES; POOLS. They are attractive both for men and women. Can be worn anywhere. My customers say, when the first time they try them on, "It's like walking barefoot"! or "You don't feel them on your feet"! Please stop by the see for yourself. We'd love to meet you and share with you our creative sandals.
All of our products are all natural and almost everything is gluten free.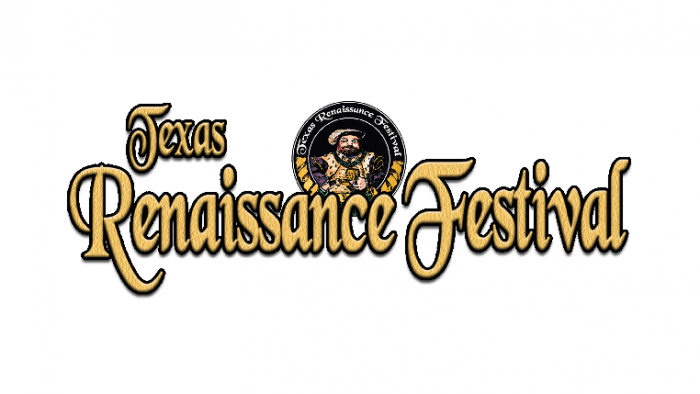 625G
Lady Artisan
Hand crafted sculpture in pewter and bronze. Body coolers and warmers for both Ladies and Lords. Functional metal arts such as flasks, candle holders, and mugs. Original hand cast jewelry. The artist Lady Artisan is usually in the shop working on her art. Stop by to say hello!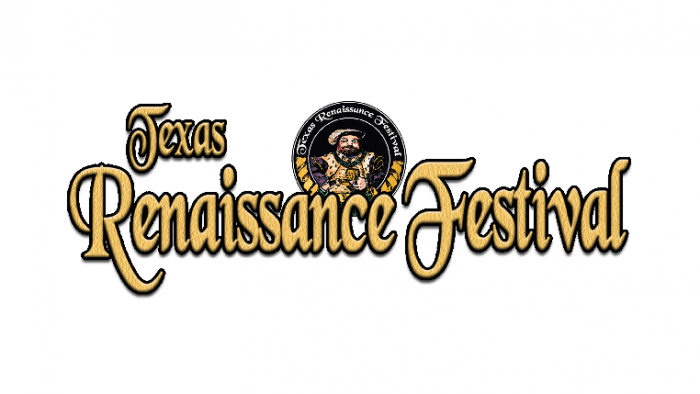 625J
Candlelight Rocks
Fine hand crafted oil lamps made from natural stone.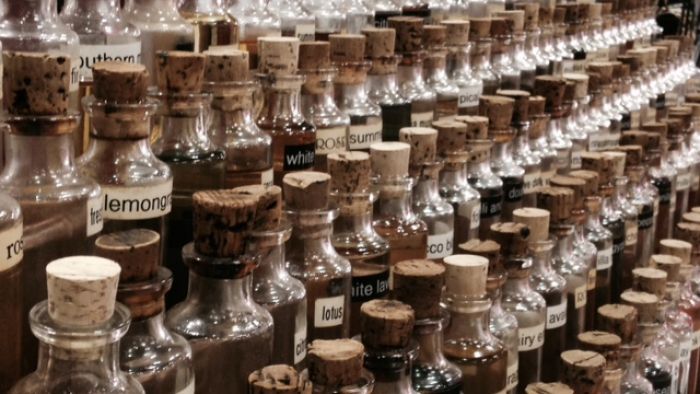 628WG
Majikah Perfumery
Majikah Perfumery produces over 500 original recipe essential oil perfumes. We specialize in hard-to-find scents and duplications of scents no longer available. Our scents are available in bottles for personal use, or our decorative diffuser bottles which can be used for jewelry, to hang in a window, a car, or anywhere you would like. It is our mission to make any scent, real or imagined. We are proud to help the patrons of the festival create a scent and a memory all their own.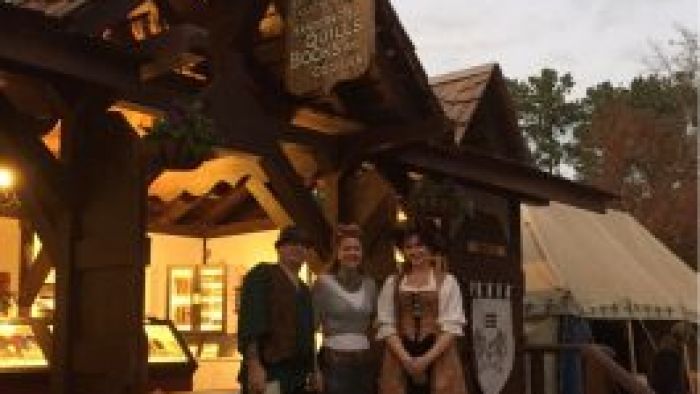 636A, Falconer
Visker & Scrivener
Visker & Scrivener is a creator and purveyor of fine writing quills, inks, scrolls, leather-bound journals, and other oddities inspired by times past. We research, develop, hand-craft, and provide tools for artists, writers, calligraphers, and those aspiring to be.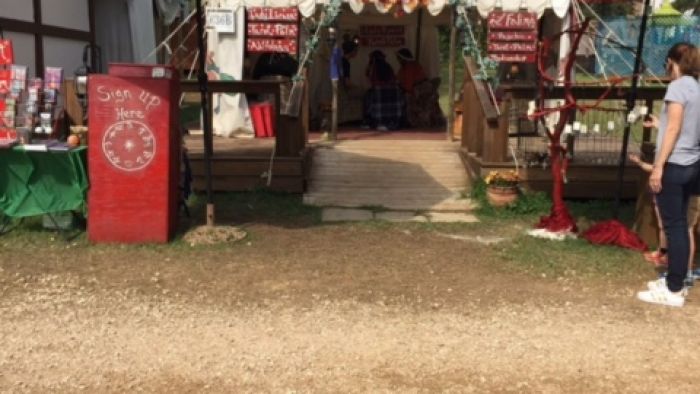 636B, Falconer
Celestial Thyme
The professional and caring psychics at Celestial Thyme are ready to be of service to you. We offer accurate and insightful counsel that will help you make informed choices in the coming year. We also have a fine selection of celestial jewelry and divination tools. We look forward to your visit in the 2017 season.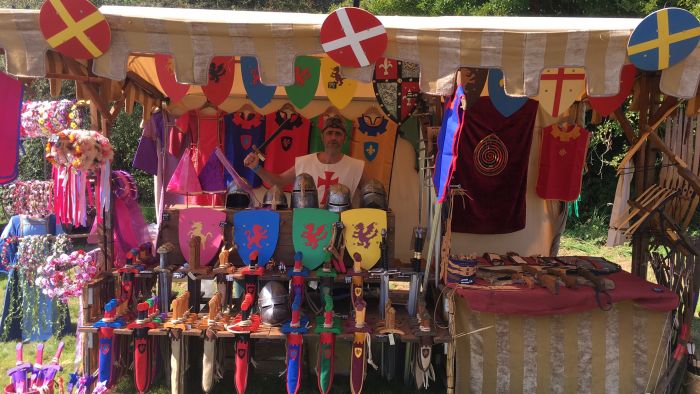 636BB, Falconer
Kalid Medieval
Medieval toys for boys and girls. From early ages to teenagers. Top quality and very large collection handmade in Barcelona.

636C, Falconer
Raven's Glass
Lampwork glass items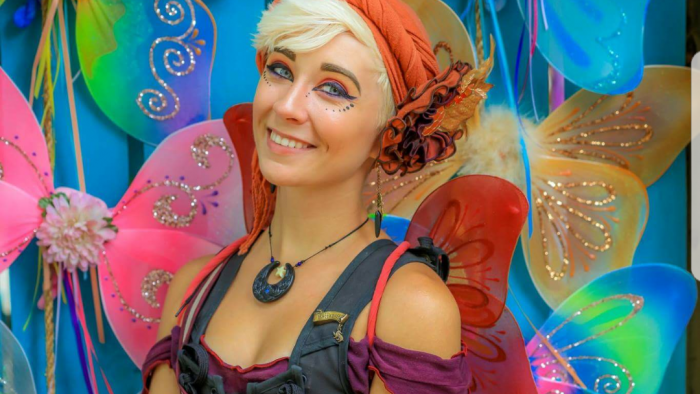 637S, 681FG
Pixie Point Fairy
Offering the FINEST, Handmade (in the USA) Fairy and Dragon wings for Boys, Girls and Pets of all ages. We also offer accessories for your Pixie and fairy needs!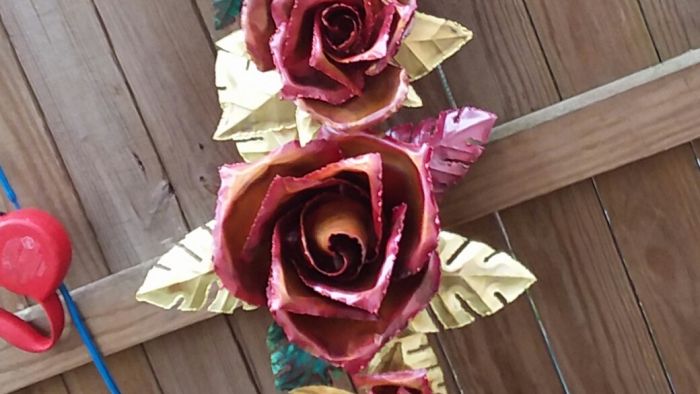 639S, Roving
Blazn Brazn Galleries
Handcrafted copper & brass sculptures. Flowers are fragrant & colors are achieved with a torch.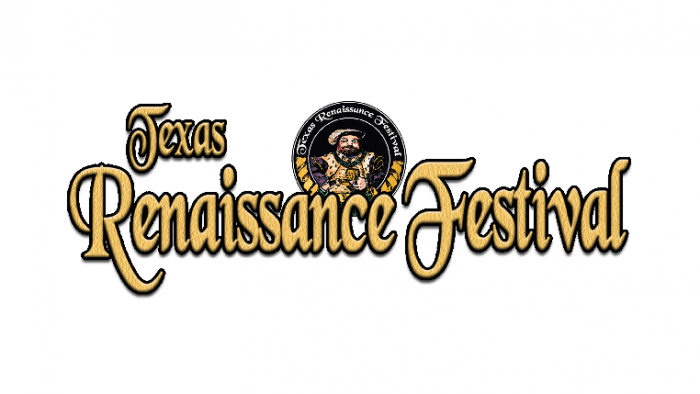 641S
Sand Storm
Bottled sand sculptures, make-your-own candles, butterflies on a stick, marbles by the bag, fairy dust and more.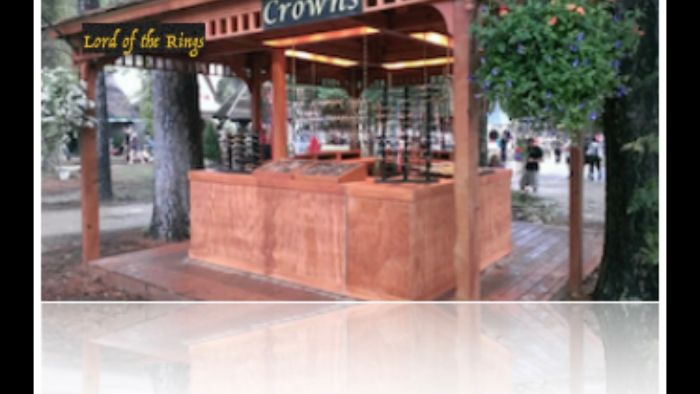 644F
Lord of the Rings
Unique ear and head adornments, rings, anklets, necklaces and whimsical accessories.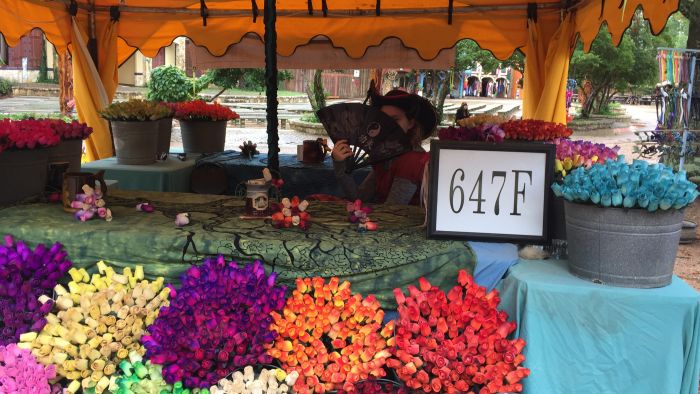 647F
Wood Roses
Beautiful viberant roses made from wood that come in a large variety of colors that will brighten up everybody's day.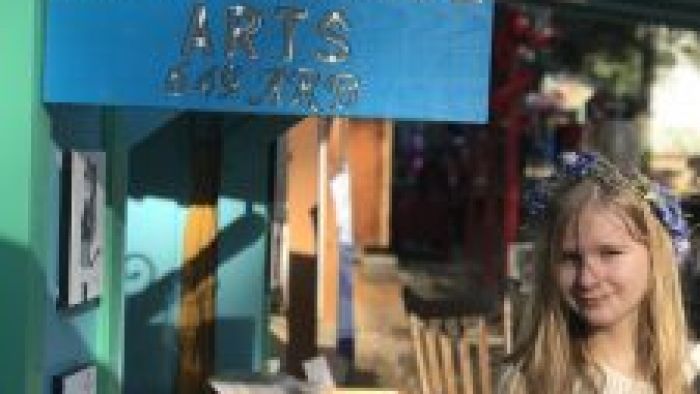 649ARB
Mega mouse Arts
Fantasy and imaginative art prints, puzzles, coloring books, and originals from Megan Staba, a self-taught young artist from Texas. Working in graphite and colored pencil, as well as utilizing modern magical devices, she cannot wait to show you her bright artwork!
649RB
His Majesty's Horns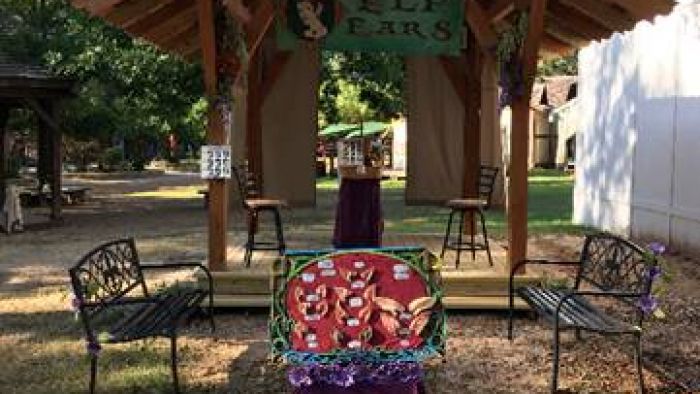 650RB
Elf Ears
Embrace your inner elf ! Let us transform you with professional grade elf ears custom fit and applied with makeup to match. It's a quick elf salon experience for children and adults alike. The ears are reusable and easy to reapply. Made in the USA.
650BRB, Arena
Fairy Haven
Handmade magical adornments to fill your fairy needs!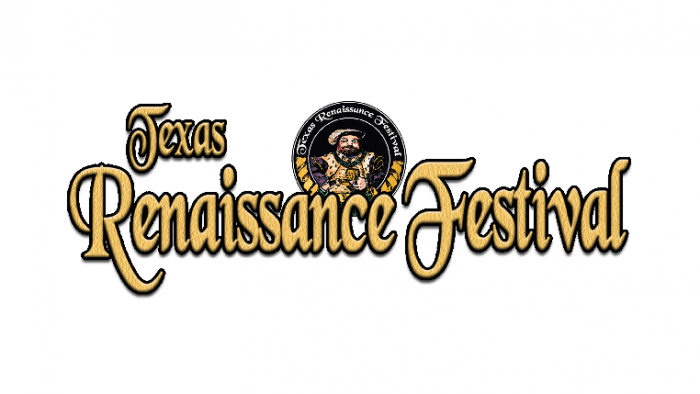 650CRB
Dragon's Den
Handmade items: embroidered banners, pillows, wall hangings and some quilts; Imports: dragons, faeries, etc statues, wind chimes, stones
651RB
Bazarre Traders
Parasols, Umbrellas and Fans

652A, 683M
Fantasy Hair Weavings
Hair Braidings
660A
Austin Fine Arts
Earcuffs, cloak clasps, dragons, frogs, unique gemstone jewelry and more!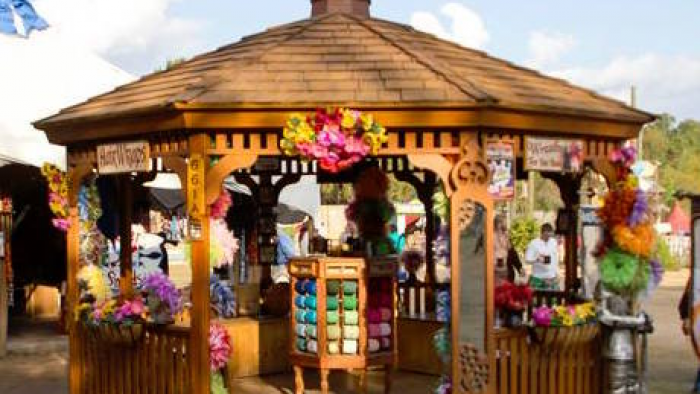 661A
Twyla's Tyes
Hand-crafted custom hair accessories! Individually unique hairwraps and whimsical ribbon wreaths waiting to add some extra flair to your wardrobe. Hairwraps are created with cotton string and beads and charms can be added as desired. Ribbon wreaths are made using organza ribbon and are fully adjustable.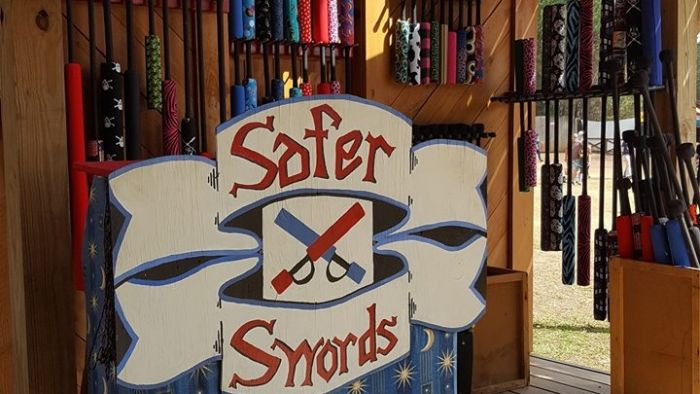 662A
Saferswords
Have a FREE swordfight with your friends and family!!! Saferswords are cloth covered, foam padded swords available in all sizes, for all ages!!! From children 6 months of age, to full grown adults. Orders can be made online and shipped to you.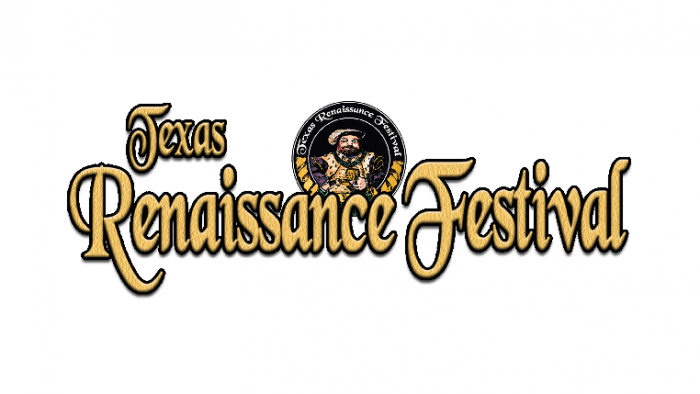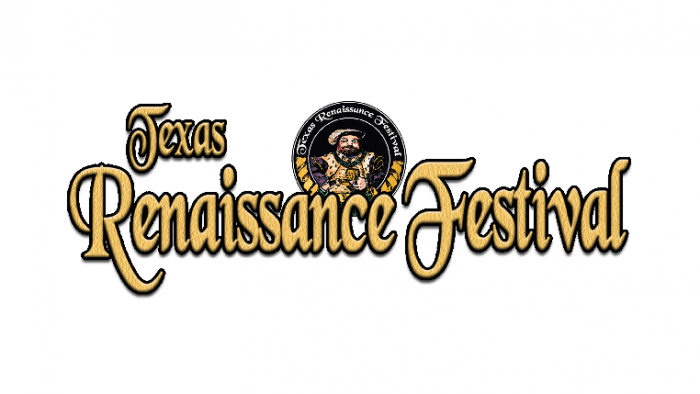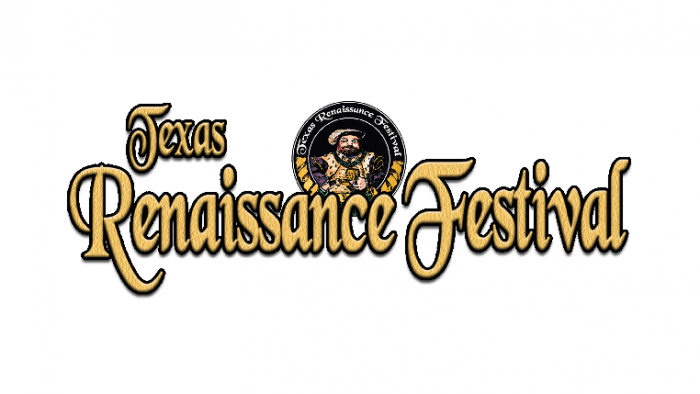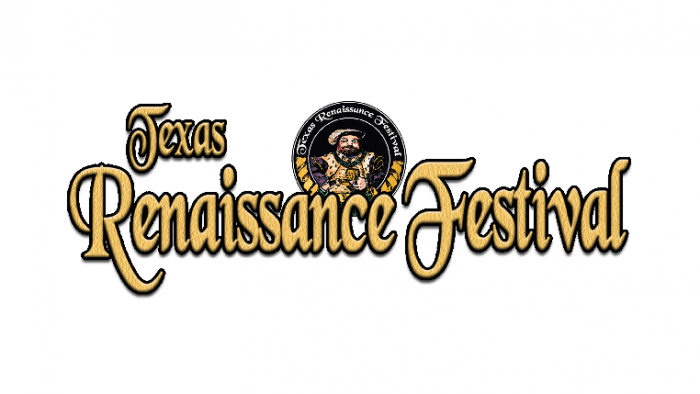 679WW
Wildsteel Kingscraft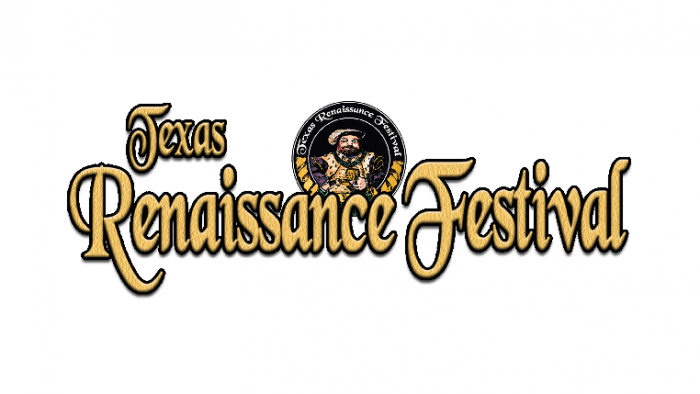 682M
Nested Boxes and Walking Sticks
683M
The Royal Braiders
Hair Braiding, Hair Feathers & Fairy Tinsel
25, 645F
Fairy Secrets Lotion Candles
100% natural moisturizing soy lotion candles.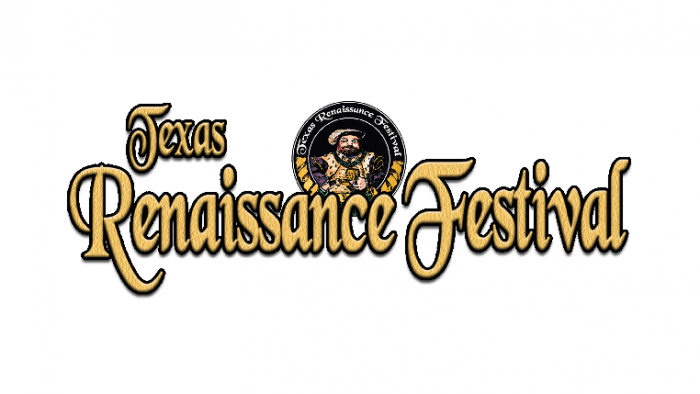 689SP
The Dragon's Lair/Treasure Trove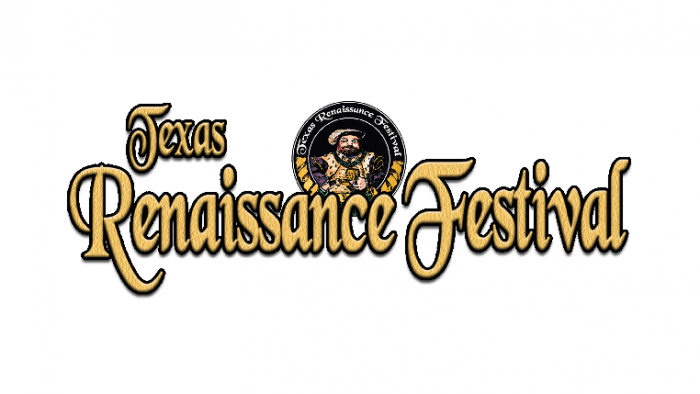 Throughout the Village
Enchanted Manor Winery
Official producers of the TRF Mead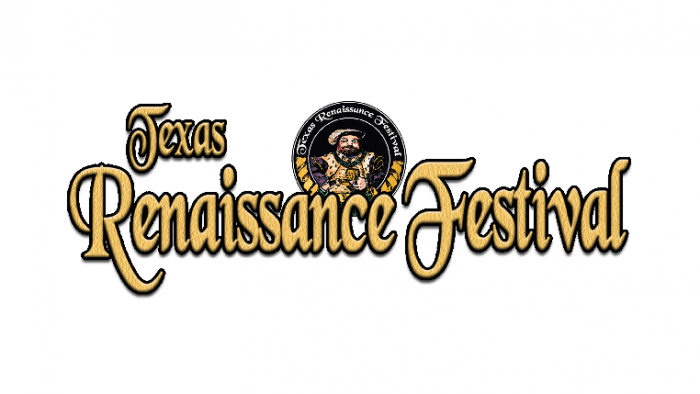 Roving
Wish Bottle Necklaces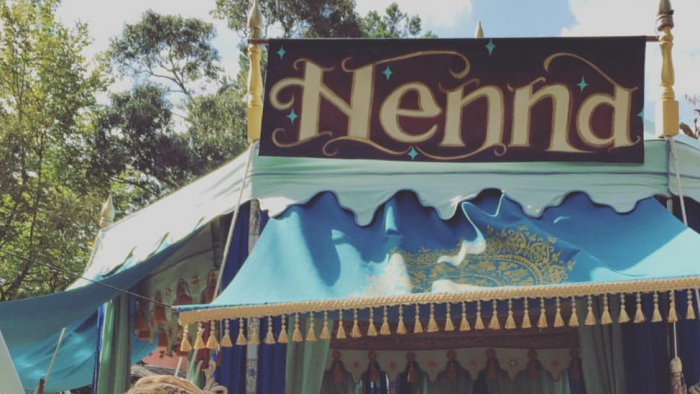 Arena, Dove Meadow, Enchanted Forest, Globe Stage
Henna Tattoos
Henna body art is a collective of highly experienced professional full-time henna artists. Specializing in everything from contemporary two traditional designs. We pride ourselves on giving each person a wonderful experience and use only the finest all natural ingredients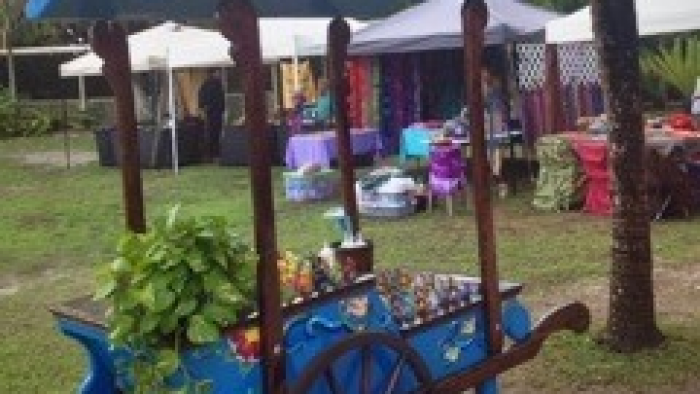 Joust Gate, German Gate, Globe Gate
Pathfinder's Birds
Our whistles are slip cast out of ceramic and hand painted, fill the bird with water and you can make the beautiful sounds of most North America chirping birds...

Roaming Throughout the Village
Jeffries Rose and Pickle
In addition to roaming rose sellers throughout the entire New Market Village with their delicate flowers, find the brightly colored pickle carts for a tastey treat!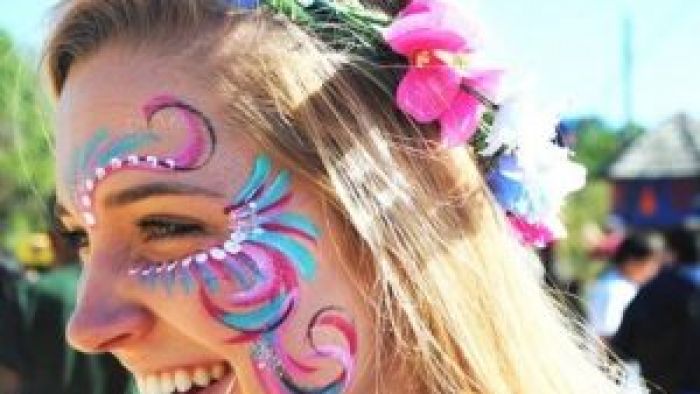 Front Gate, Globe Stage, Dove Meadow, Arena, Enchanted Forest, Odeon, Falconer Stage
Face Painting
Talented Artists are located throughout New Market Village. Find your favorite! Front Gate: Debbie Bullock David Copeland Eve Myles Leia Copeland Globe Stage: Janet Burton Susan Griffin JoAnn Luco Dove Meadow: Marna Dannenbaum Jonathon Gilbreath Arena: Deborah Smith Enchanted Forest: Tiffany Crosby Odeon: Minga Almquist Falconer Stage: Mykos Gilbreath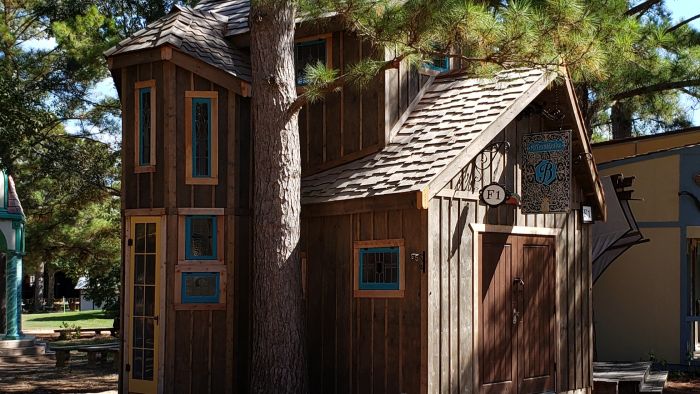 F1
Bits and Bobs
Handcrafted assemblage pieces that are an eclectic mix of found vintage/antique items mixed with soldered glass techniques, leather and copper work.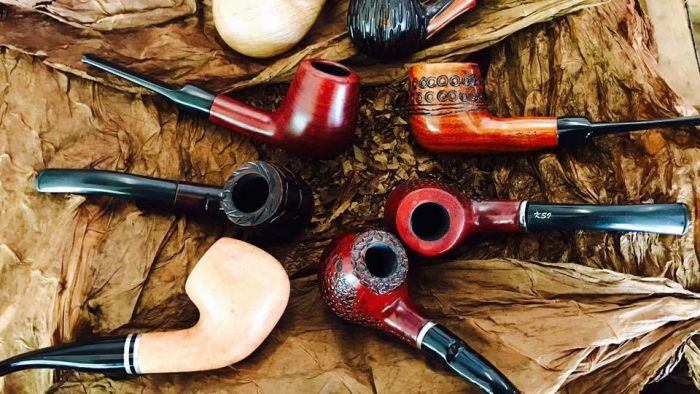 F4
Margolis Fine Tobacco
For the finest pipe tobacco and wood pipes around come to Margolis Fine Tobacco! All of our tobacco is organic and blended daily for your aromatic pleasure.
Apple Moonshine, flavored with fresh apples and real cinnamon sticks, with a true apple pie aroma.Caveman Cherry Spice is flavored with natural cherry extract and spiced rum, very aromatic and light smoking experience. Incredibly refreshing. Orange Vanilla is made with real zested orange peel, natural vanilla extract and a blend of wonderful tobacco leaf. Also available are Caveman Longbottom Pipeweed, Bone Bourbon, Smoked Whiskey, Pumpkin Spice, Holiday Blend, Chocolate, Vanilla, Kahlua, Irish Blend, Creme Brulee, Lemon Meringue Pie, Root Beer, Banana Split, Cognac, Mojito, and Amaretto.
Our friendly staff will help you through the whole process from picking out a pipe to selecting the precise tobacco for your taste!
F5
Nytes Emporium
One of a kind, uniquely handcrafted accessories for subcultures & cosplay such as dreads, headdresses, crowns, fascinators, horns, elf ears, arm warmers, collars, harnesses, wings, and various other fabric and leather accessories, Lifetime warranties on craftsmanship offer assurance your wearable art can be cherished for years to come. Discounts available for military, public servants, TRF ambassadors, pass holders, participants, and TRFF members. Custom commissions and 6-month layaway available. If you can think it, we can make it!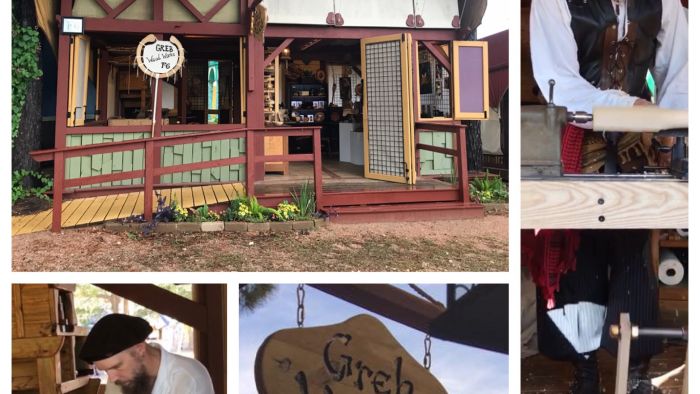 F6
Greb Wood Works
When in the Kingdom, please do grace Greb Wood Works with your presence, and gaze upon the wares of artisan in residence, Lord Brian Greb. All means of treasure can be found in this quaint shoppe tucked among the gardens, including both decorative and purposeful use items. The displays abound with platters, bowls, cups, pens, wooden creatures, mushrooms, and a myriad of other sculptural works. Visitors to the shop can also find themselves treated to live demonstrations throughout the day! Be sure to catch Lord Greb in action as he creates magic before thine eyes on a DaVinci inspired, human-powered treadle lathe!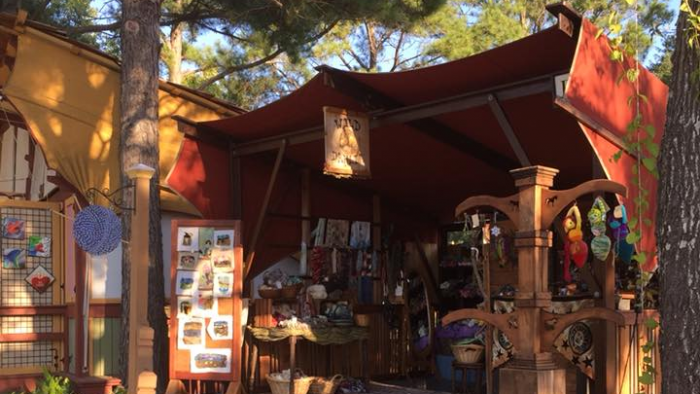 F8
Wild Dahlia
Demonstrations throughout the day (needle felting, knitting, yarn spinning). Your one stop shoppe for fiber, knitted wearables, hand dyed and hand spun yarn, supplies, notions, fiber sculptures, and more! Plant and specialty fiber available, as well as goodies in all colors. There is something for everyone! Husband and wife team- there might even be some hand carved hair sticks, runes, or other odds and ends tucked away waiting for you!
F11
Creations
Handmade daggers, swords, polearms, poleaxes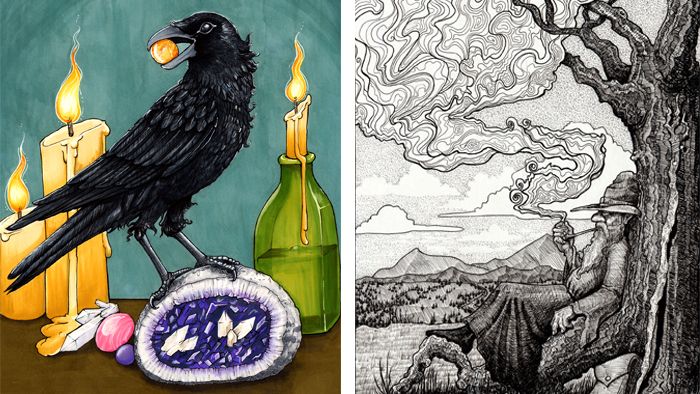 F12
Battlemaiden Studio
Explore a world of fantasy, horror, and magic through the paintings and drawings of artists David and Valorie Armour. David is a wizard with ink, rendering swirling landscapes and dark creatures. Valorie does her magic with watercolor, bringing fantastic beasts and fae to life. Artworks are featured on accessories for the home and to adorn thyself, every piece lovingly handcrafted by the artists themselves. Come and see live art demonstrations throughout the day.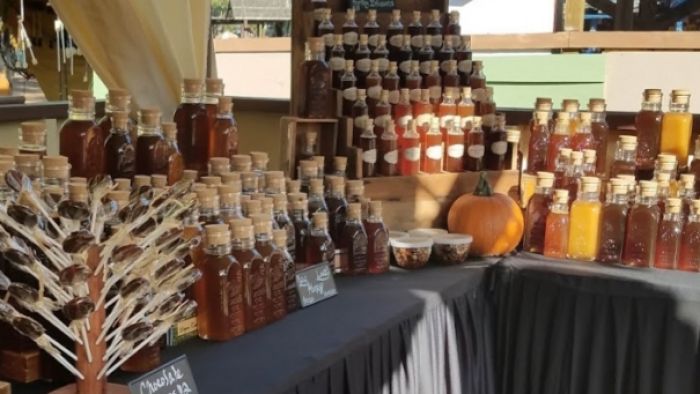 F13
Queen Bee
Honey derived lozenges, lollipops; raw honey, filtered honey; salve, lip balms, face and body scrubs, facial masks, Honey foot soak, and bath liquid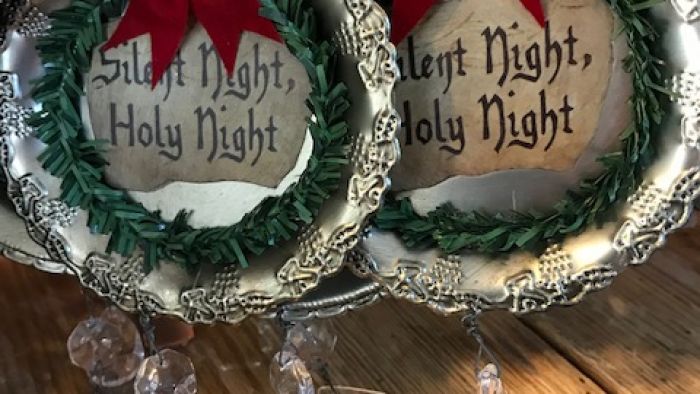 F14/15
The Holiday Shoppe
Come celebrate the most anticipated season of the year at The Holiday Shoppe! We have Holiday ornaments for all faire lovers! Each ornament is hand made and can be personalized for all the Clans and pirates out there! Our renaissance elves have been very busy this year. Make sure you stop by and see all that we have to offer!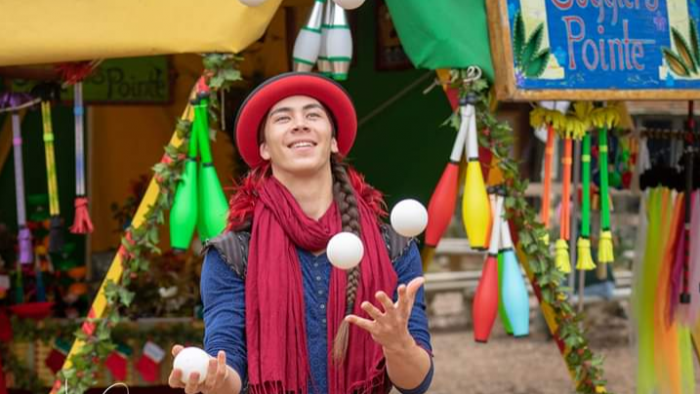 F20
Juggler's Pointe
Learn a new skill or show off what you've got... a unique experience at TRF! Free to play all day with demonstrations and instructions by friendly flow artists. Quality juggling/flow props for sale."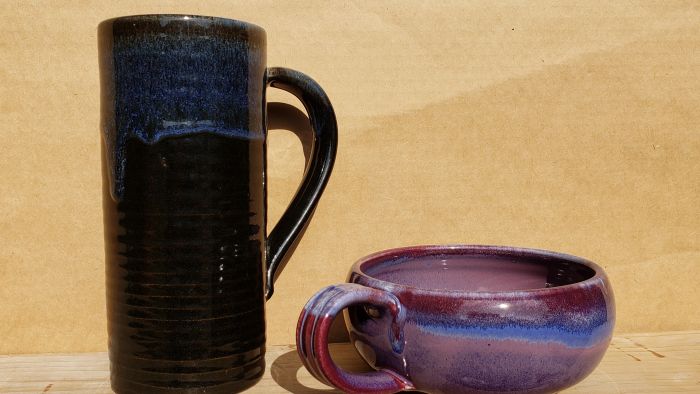 F33
Flint Stoneware
Since 1974 David and Darcy Pluth have been making quality pottery on the potter's wheel. Please stop by and see for yourself.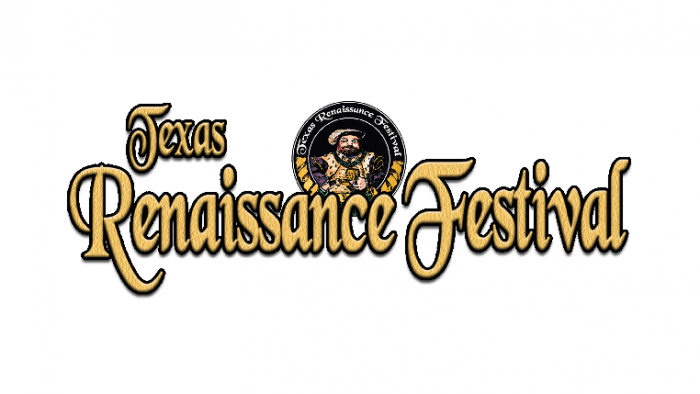 F48
Fancy Feet Toe Rings
Custom fitted toe rings that go all the way around I also custom make you a chain or a ankle bracelet I have the Rope sandals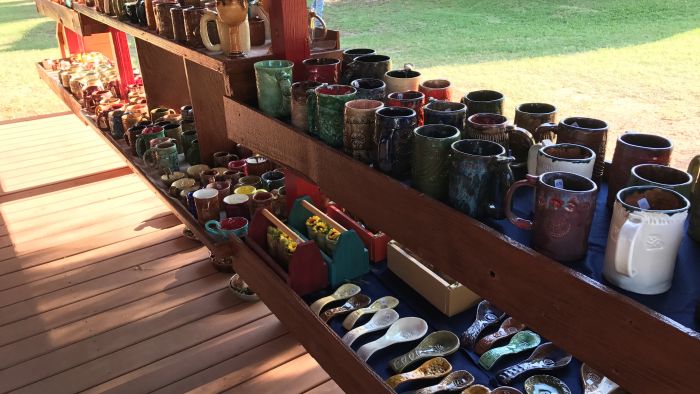 F58
Stain & Stone Pottery
Stain and Stone Pottery, Shop F-58, is located next to the Bascillica Wedding Chapel. We make handmade dishes, cups, mugs and much more.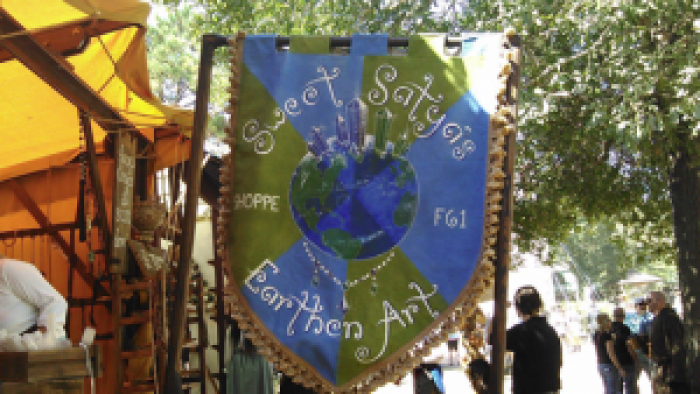 F61
SweetSatya's Earthen Art
Dost thou require a charm for some malady, or a most fine bauble to adorn thy Sandal Bride to be? Then seek no further, whether it be enchantments, sacred objects or jewels fit for the Queen herself then SweetSatya's Earthen Art shoppe is abode to every need. Precious stones and gems abound for artisans and craftsmen to hew to their garments, weaponry and other wares. The perfect frontispiece for your scepter or divining rod doth await. Specializing in weddings and ceremonious rites of passage.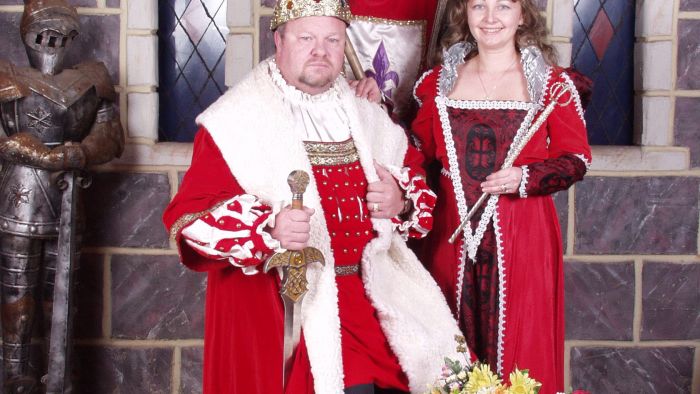 204
Dragon's Lair Old Tyme Photos
Step back in time for a treasured photo and family keepsake. Photos of individuals or groups are available in an array of richly decorated historical backdrops (pirate ship, throne room, fairy wonderland, and more!). Dress in period attire with beautiful handcrafted costumes and props, or bring your own! Printed portraits, metallic prints, digital photos, frames, and themed mats for the perfect family keepsake are done while you wait.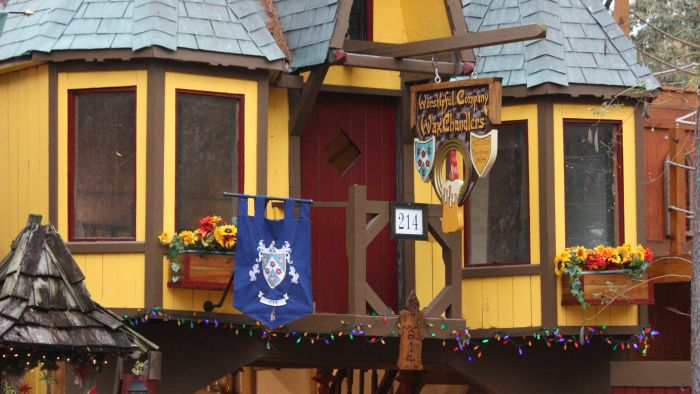 214
NatureCraft's - Worshipful Company of Wax Chandlers
Worshipful Company of Wax Chandlers - A shop by NatureCraft Products Inc. A family owned company out of Southern Ohio, NatureCraft creates all of their products by hand from pure, unadulterated, beeswax. Beeswax candles with handmade wicks, beeswax soaps, the original beeswax lotion bar, beeswax lip butters flavored with natural & organic fruit flavors, beeswax moisture creams & jellies, and many other beeswax balms & salves for your body, mustache, leather care, wood polish, and more. Browse their many artisan crafts on their web site at
www.naturecraft.net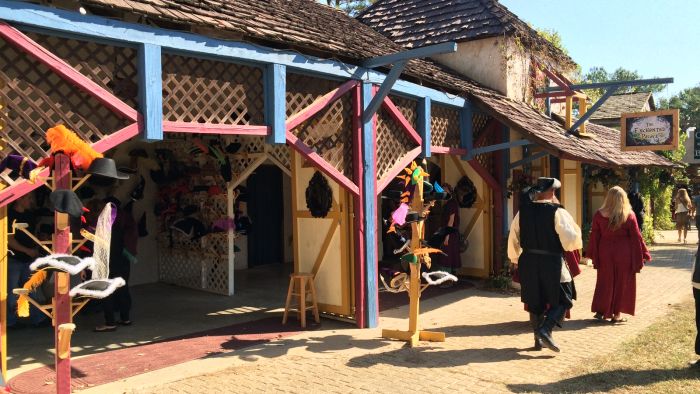 159
The Enchanted Palace
Visit The Enchanted Palace today and become a part of the realm like never before! Choose from a wide variety of enchanting adornments & accessories like handcrafted headpieces, hats, tails, unique metal masks, & more that will bring your costume to the next level!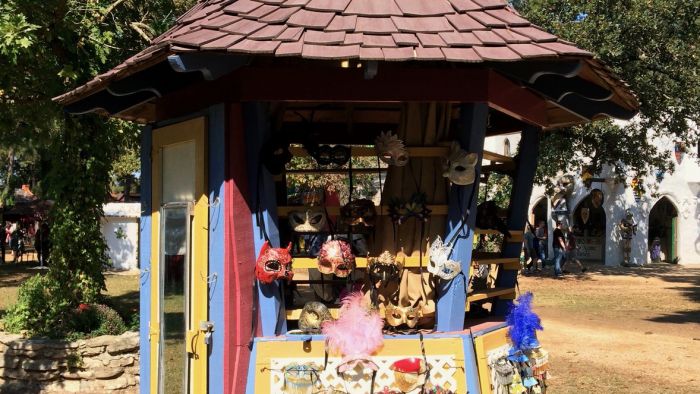 618GR, 669A
The Mask Shop
Visit The Mask Shop today for a large variety of beautifully crafted masks! We have styles and colors to suit every personality!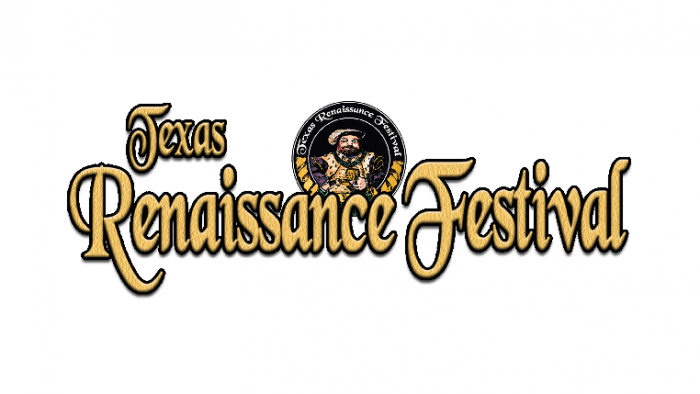 680WW
Ananda Trader
Tools for prosperity, divination and luck. Ever type of incense, resin, stick, rope and pure incense. All the accessories you need to help keep you in balance. Minerals, runes, pendulums and oils. Our practitioners in the field will help you find what you are looking for.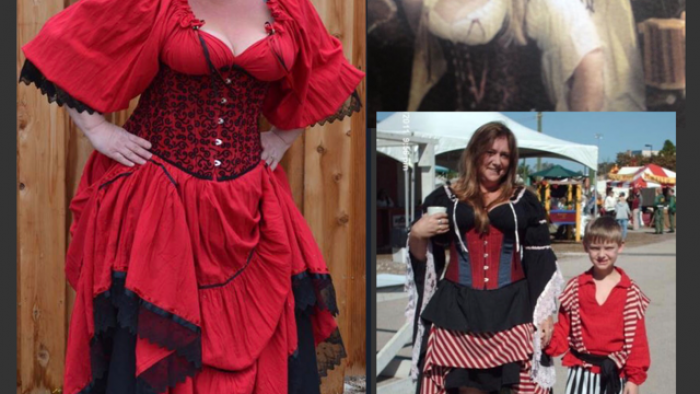 244
Pirate's Delight
Pirates Delight Features a variety of Hearts Delight hand crafted clothing as well as pirate clothing, accessories and treasures from all across the seven seas. Hearts Delight Clothing is all handmade in Ventura, Ca using American made fabrics and materials. We also hand dye our garments into a vast variety of colors. Come visit us to turn your pirate fantasies into a reality.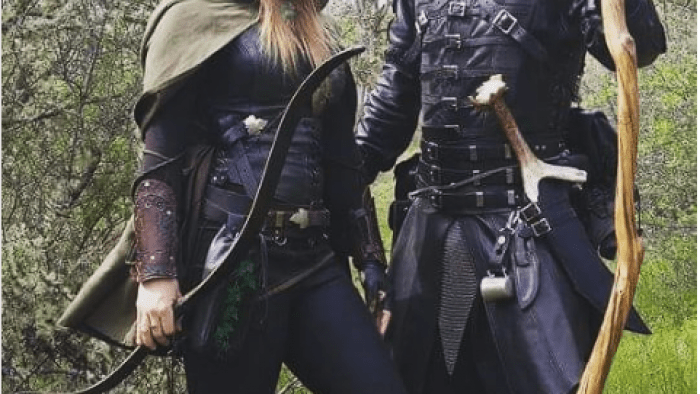 326
Ravenswood Leather
For over 30 years, Ravenswood Leather has worked to provide the highest quality leather goods for our customers. We are renowned for our customer service and offer a large variety of bespoke leather clothing, allowing our customers to get custom tailored garments without the "custom" price tag. Along with our leather clothing, we also offer a variety of leather accessories including belts, baldrics, pouches, frogs, hats, and archery equipment. Nearly everything we offer is available for customization.
All of our leather products are handmade in the USA in southern Oregon, where our small crew works year round taking great pride in producing the finest in quality leather products. We hope that our joy in our work and pride in our quality spills over to you, our friends and customers.

Contact Phone: 541-830-3577