THINGS TO DO
THEMED WEEKENDS
8-Weekends in 2023
October 7 to November 26, plus Thanksgiving Friday
9am - 8pm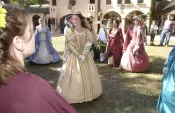 The Queen's Birthday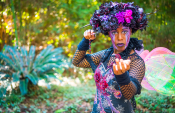 1001 Dreams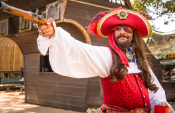 Pirate Adventure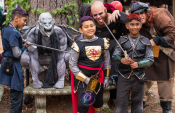 All Hallows Eve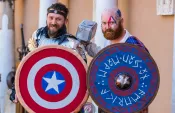 Heroes and Villains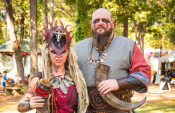 Barbarian Invasion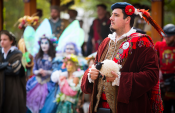 Highland Fling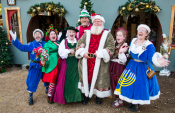 Celtic Christmas
Themed Weekends
The Queen's Birthday
All Hail Her Majesty, The Queen! Opening Weekend, come celebrate the Queen's birthday with special pricing throughout the village, plus unique Queen's birthday foods, beverages and entertainment.



1001 Dreams
Fairies, elves and other fanciful creatures bring enchantment to the lanes of New Market Village. Show off your magical finery in the fantasy costume contest or test your endurance in the fiery dragon-wing eating contest.

October 14 (Saturday) - 15 (Sunday)
Pirate Adventure
Avast, Ye Hearties! Heave to and come ashore for the most piratical party on the seven seas. Show off your best buccaneer frock in the Best Dressed Pirate contest and try your luck at the Fish-N-Chips eating contest.
October 21 (Saturday) - 22 (Sunday)
All Hallows Eve
Ghoulies and ghosties arrive for some scary good when the Kingdom welcomes the Transylvanian court. Enter our Halloween costume contest or the Kettle Korn eating contest for a chance to win some "spook-tacular" prizes.

October 28 (Saturday), October 29 (Sunday)
Heroes and Villains
The mightiest heroes and heroines clash with the darkest of villains and vixens from history and legend. Show off your alter ego in the Heroes and Villains costume contest. If your superpower is eating, accept the challenge of winning the gyro eating contest.
November 4 (Saturday) - 5 (Sunday)
Barbarian Invasion
Join the Great Horde and feast, drink, and plunder your way through the village during this barbaric rumpus. Are you the worst dressed barbarian around? Prove it on our costume contest or show off your worst table manners in the turkey leg eating contest.

November 11 (Saturday) - 12 (Sunday)
Highland Fling
Lads and lassies- the pipes are calling you to a celebration of the joys of Scotland. Witness the thrill of the Highland games, show of your Scotish finery in the Bonnie Knees contest, and see if you have the misneach(courage) to participate in the haggis eating contest.
November 18 (Saturday) - 19 (Sunday)
Celtic Christmas
Father Christmas, Mother Christmas, and all the Christmas elves welcome children of all ages to our final three-day celebration of the coming Yule-tide season. The Kingdom is transformed into a Christmas wonderland and holiday music fills the lanes. Find the perfect gifts for everyone on your list in our over 400 shoppes. There's also a holiday costume contest and the pumpkin pie eating contest to add to your Christmas cheer.
November 24 (Friday) 25 (Saturday) 26 (Sunday)