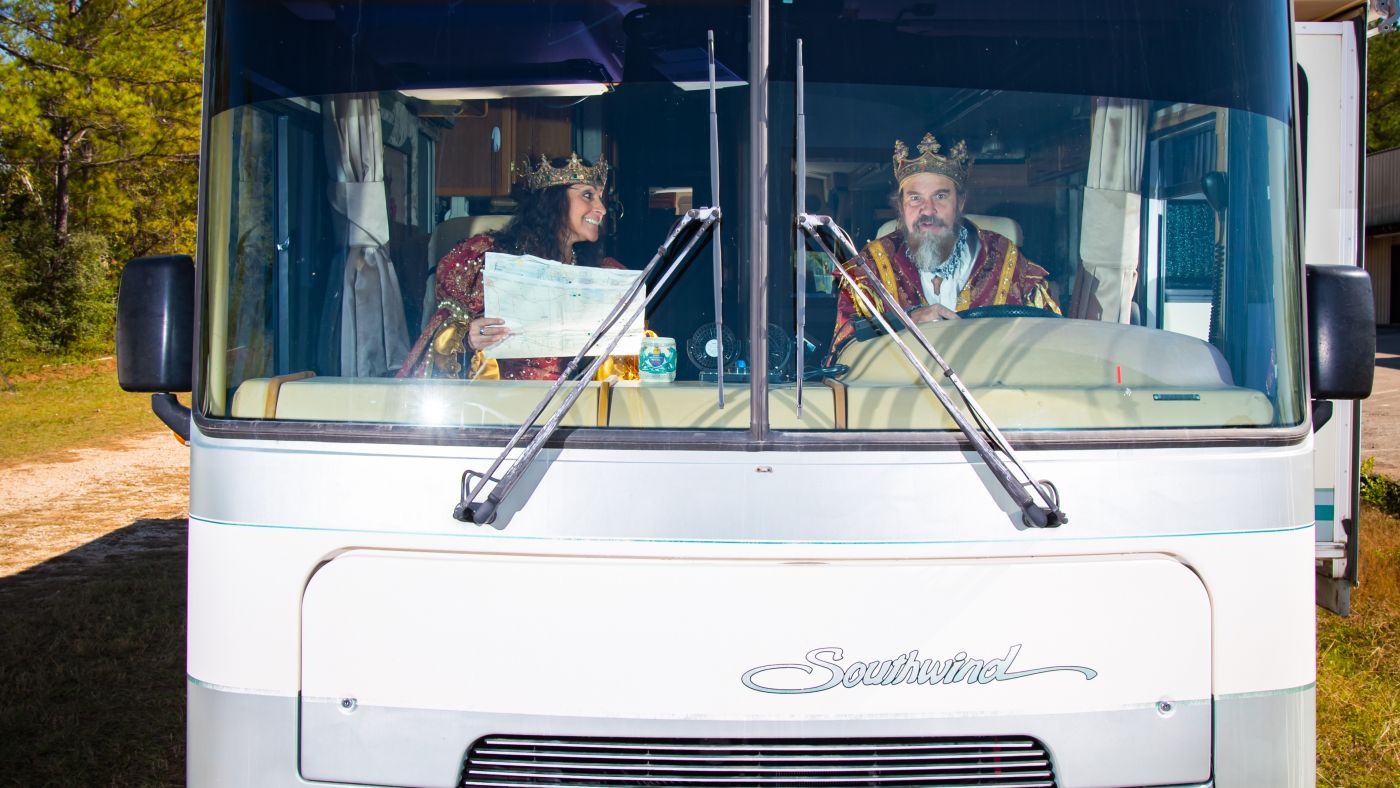 CAMPING
The Fields of New Market Campground
The King and Queen welcome you to the Fields of New Market. Our 200 acre facility if a picturesque meadow that offers first class accommodations for campers of all types, from tent to RV and trailer enthusiasts. Gather your family, friends, clan or club and join us for a one-of-a-kind camping experience!
CAMPING INQUIRIES: 936-419-6366

12282 CR 302, Todd Mission, Texas 77363
2020 Camping Admission Prices
Each Vehicle:
$35 Any Vehicle Camping Pass
*A valid Texas Renaissance Festival ticket is required for each camper

Amenities
General Camping
Space for RVs, Tents and Campers
24-Hour Security

Permanent and Portable Restrooms
Showers
Easily Accessible Trash Containers
Potable Water
RV Dump Stations
Ash and Coal Dumpsters
2 Convenient Stores
Food Trucks
Family Friendly
Quiet Camping for Families
Family bonfire from 6:00 pm-8:00 pm with Saturday evening activities
Walking Distance to Festival
Shuttle Service Available
Nightlife
Bonfires
Live Music
Nightly Performances
TRF After Dark (Admission is a separate price from camping and festival admission.)
Cabin and Glamping Tent Rentals
Campground Hours During Festival
Thursday - 12 p.m. - 8 p.m.
Friday - 8 a.m. - 10 p.m.
Saturday - 9 a.m. - 1 p.m.
Sunday - 9 a.m. - 2 p.m.
Monday - 8 a.m. - 5 p.m.

Campground Office Phone Hours
Monday - Friday, 8 a.m. - 5 p.m.

CAMPING RESERVATIONS: 936-218-0972

Email: reservations@texrenfest.com

*TWO night minimum for every lodging option available through the Fields of New Market Campground.
**$50 per night up-charge to add Thursday or Sunday night. This applies to all options available through the reservation system.
Description
Standard RV Pad Site
Premium RV Pad Site
Price
Standard RV Pad Site: $50/night
Premium RV Pad Site $70/night
Description
Bell Tent/Cots
Bell Tent w/Twin Beds
Bell Tent w/Queen Bed
Bell Tent w/Queen and 2 Twin Beds
Price
Bell Tent/Cots: $155/night
Bell Tent w/Twin Beds: $175/night
Bell Tent w/Queen Bed: $175/night
Bell Tent w/Queen and 2 Twin Beds:$185/night
Description
King George Inn
Prancing Pony
The Swan
Bard's Retreat
Three Crowns
Tudor Rose
Red Lion
Knight's Landing
Queen's Quarters
Price
King George Inn - $260/night
Prancing Pony: $260/night
The Swan: $220/night
Bard's Retreat: $220/night
Three Crowns: $225/night
Tudor Rose: $225/night
Red Lion: $225/night
Knight's Landing: $235/night
Queen's Quarters: $245/night
· Reservations do not include entry into the festival, shower tokens, and After Dark tickets.

· RV and Glamping tents will not include electricity or running water (Generators are allowed).

- Cabins that come with cots do not include linens.
Locations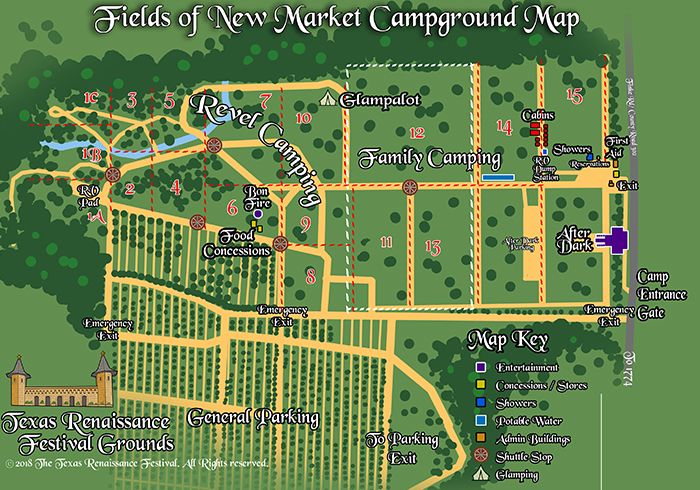 TRF Clan Camping
Want to learn more about Clan Camping? Click the link below!
TRF Clan Camping
Map and Directions
The Silk Road
By Royal Decree, the King and Queen invite the good subjects of the Kingdom of the Six Crownes to join them in feasting and frivolity by day, and fellowship and fun at night. Residents of the shires of Bryan, College Station, Austin, Temple, Killeen, and Waco are invited to follow the Silk Road to the Fields of New Market at the Texas Renaissance Festival.

Location
12282 CR 302, Todd Mission, Texas 77363
Driving Directions
The Fields of New Market is located on the west side of the Texas Renaissance Festival grounds.
Look for the sign marked Festival Campground/Ballroom at the corner of FM 1774 and CR 302.
Turn west onto CR 302 and travel approximately 1 mile and the campground entrance will be on the left.
For reservations call: 936-218-0972
Hours: Monday - Friday, 8 a.m. - 5 p.m. through September
Campground Map