Volume 1, Issue 3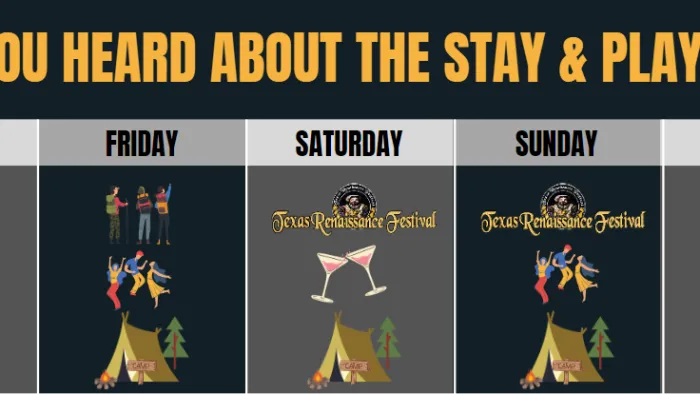 Stay & Play Pass
---
What Is It?
A new TRF offering for campers is our "Stay and Play" package, which invites all ye campers to arrive at noon on Thursday and remain in our realm until noon on Monday. The package cost shall include a ticket to the festival for the fullness of the weekend and passage into the campground.
What is included?
(1) Festival Admission Ticket for Saturday
(1) Festival Admission Ticket for Sunday
(1) Weekend Camping Pass (Thursday to Monday)
(1) Free Daily Shower (Thursday to Monday)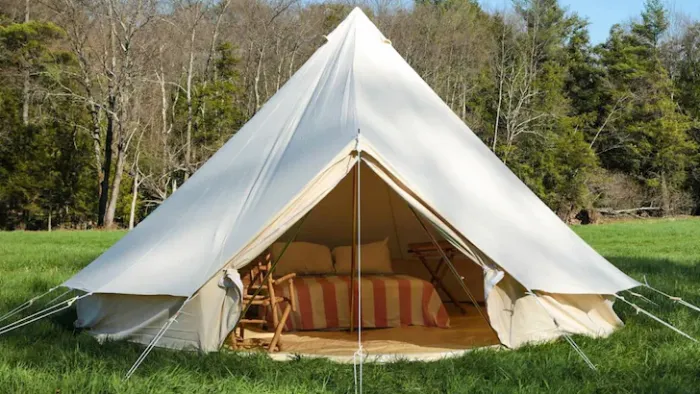 What is Glamping?
---
Have You Ever Camped in Luxury?
Glamping is a luxury type of camping that includes facilities and accommodation considered far more comfortable than traditional camping. It allows you to enjoy the freedom and closeness to nature that camping affords, without the uncomfortable aspects
If that sounds nice, try staying in one of our Glamping tents! Each reservation includes two camping passes (two nights), so a perfect way for friends and families wanting to enjoy a relaxing weekend without the hassle of camp site set-up! Camp in the comfort of our 23' diameter, 11.5' high glamping tents with several configuration options - 2 queens, or 1 queen + 2 twins, or 4-twins. Each option includes a table and chairs, but no electricity - it is still camping after all. The Royal Bathhouse will also provide each Glamper one 8-minute shower per day.
Don't forget about our special offers for campers.
Stay and Play Pass - admission and camping weekend bundle. Learn More.
80% Off Camping Rentals on Nights #3 and #4 - If your camping rental (cabins, RVs, Glamping tents) is booked for more than 2 nights, additional nights will be discounted 80%. You will see this discount applied during the shopping cart process.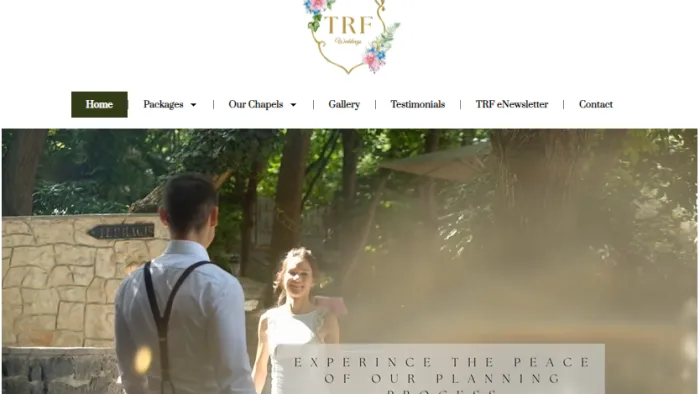 The New TRF Weddings Website

---
TRF Weddings Now Has a New, Dedicated Website
TRF would like to invite you to view our new Weddings Website. We want you to step into a world of Renaissance magic. Let us help you create a royal wedding of your dreams in our charming 16th-century English village. With four stunning wedding venues and a multitude of wedding packages to choose from, your Renaissance wedding will create memories that will last a lifetime. Click on the button below to visit our new Wedding Website to learn more.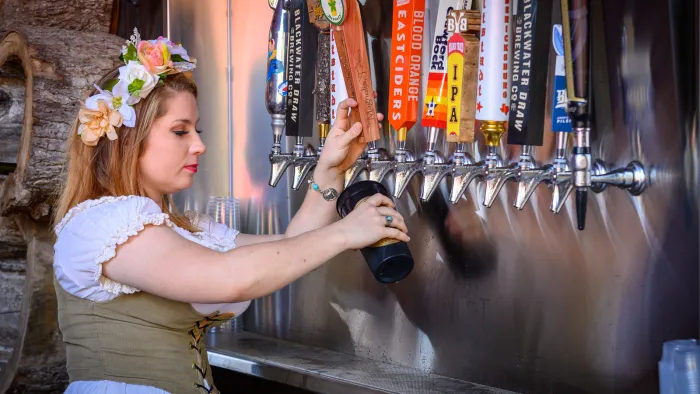 Become a Vendor
---
Bring Out Your Wares - Become a Vendor!
Our land is abuzz with anticipation for the arrival of new vendors, who shall craft wondrous and imaginative creations to grace our court. If there be a creator or artist wanting to sell their wares, The Texas Renaissance Festival encourages thee to submit an application.
On September 9th, 2023 from ten until noon, TRF shall host a job fair in person and online! Join the ranks of our favored artisans and purveyors of our fare, and together let us ensure a triumphant season for all! Keep vigilant and watch for the forthcoming link on our website and on the Texas Renaissance Festival social media platforms.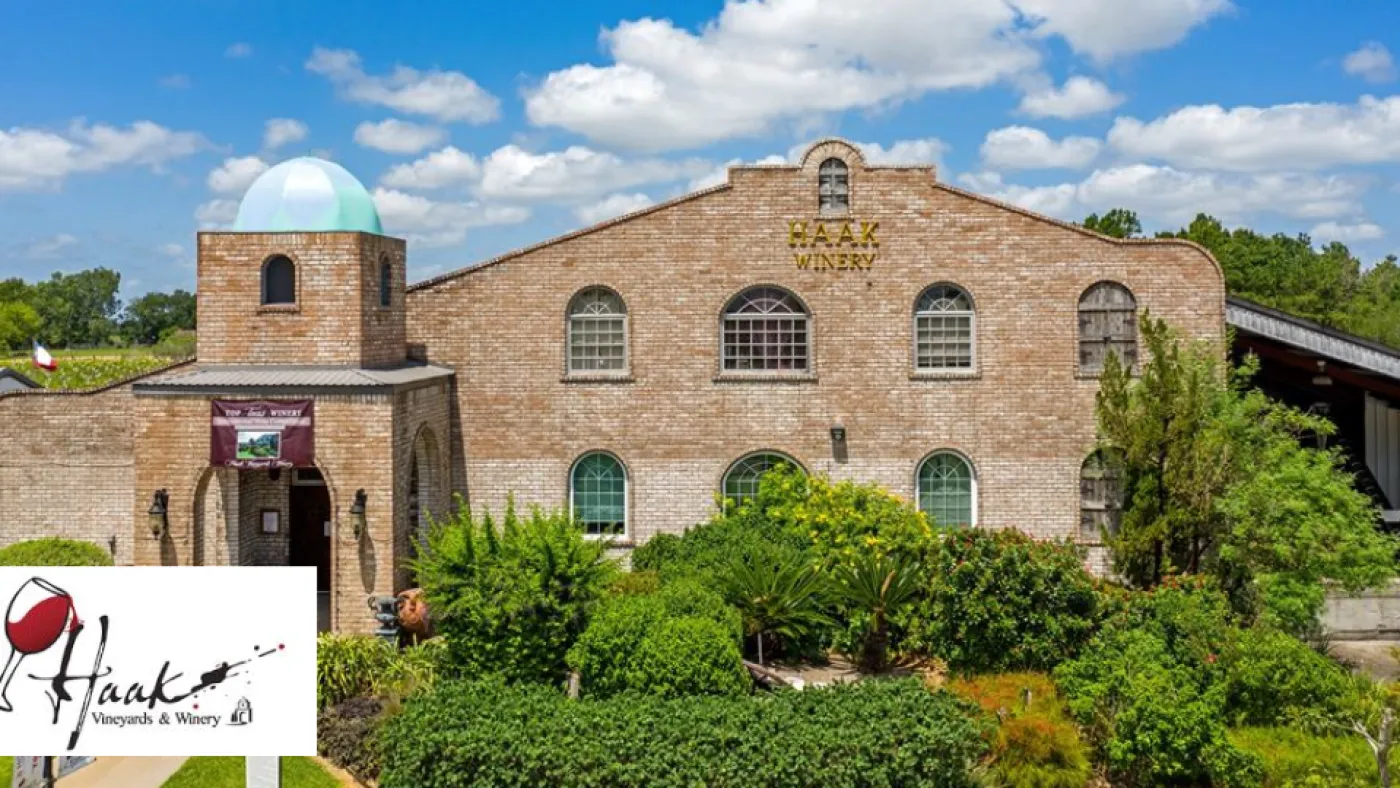 Sponsor Spotlight
---
Haak Wines: The Official Preferred Wine Supplier of TRF
It all began in 1969 on the 10th wedding anniversary of Raymond and Gladys Haak. Gladys's gifts to Raymond that year were two Concord grapevines. What began as a hobby with those two vines soon turned into a great passion for both novice winemakers. With the Concords and other grape varieties, Raymond tested which would survive the harsh climate conditions along the Gulf Coast of Texas.

A few years later, Raymond read about a hybrid grape variety that was said to be resistant to Pierce's Disease and grew well in dry, hot environments. It was called Blanc du Bois.

Haak became one of the first wineries in the country to cultivate Blanc du Bois, and Raymond's foresight has proven positive as the winery has produced numerous award-winning wines from the Blanc du Bois grapes. Two lonely grape vines in 1969 have turned into 3 acres filled with 1,800 vines. And in 2000, Haak Wines began commercial selling their wonderful wines so that the whole public could enjoy a tasty beverage.

Haak Winery is located in Galveston. Tours and tastings by reservation only. Go check them out.