It's not a pub crawl… it's a pub crusade!
Pub Crawl
THE QUEST FOR THE HOLY FAIL
The bawdiest tour guides in New Market are on a quest to find the filthiest, most reprehensible, and yet inexplicably hilarious joke, song, or limerick ever devised by the human brain, and they want you to join them.
In this two-hour tour through the seedy underbelly of what passes of wit in the alehouses of the Renaissance, the Holy Heralds of Hops will ply you with dirty jokes, lewd songs, drinking games, general debauchery, and of course beer - all the better to lubricate your tongues. Your commemorative tasting glass is yours to keep, and at the end of the crusade, the participant who provides the most inappropriate source of laughter for the rest of us will receive a special prize of (dis)honor to mark their contribution to the Holy Heralds of Hops' epic Quest of the Holy Fail.
Everyone participating in The Crawl is required to purchase a ticket, regardless of whether they choose to drink or not. This Quest is a full entertainment experience of which the drink is only one part. We appreciate your understanding and respect for our highly skilled performers!
Pub Crawl ticket alone does not include admission into the Texas Renaissance Festival. In order to attend the Pub Crawl, you must purchase an Admission Ticket to TRF PRIOR TO ARRIVAL. You will not be able to gain access to the Pub Crawl without following these guidelines.
Warning: This event is for adults, 21 years of age or older. Adult Humor is employed regularly.
Buy Tickets Here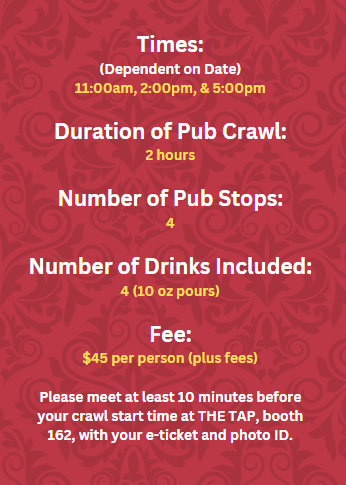 IMPORTANT ITEMS OF NOTE
You must be 21 or older with valid ID to participate in the Pub Crawl. If we cannot verify your age, you will not be allowed to participate. TABC rules apply. If you would like to purchase tickets for the Pub Crawl on the day of your desired Crawl, please go in person to the DragonSlayer Shop (Booth 163) and purchase tickets there. If tickets are available, they will be happy to help you with your purchase and confirmation.
NO EXCEPTIONS.
The Festival is rain or shine, and so is the Pub Crawl. As a rule, once purchased there are no refunds for tickets, except under very specific circumstances.