Things To Do
WHAT'S NEW THIS YEAR
Stay & Play
What Is Included
(1) Festival Admission Ticket for Saturday
(1) Festival Admission Ticket for Sunday
(1) Weekend Camping Pass (Thursday to Monday)
More Information
The Dragon Forge Experience

A HOT New Experience Awaits You
Forge Your Own Metal Adventure from the Mouths of Fire Breathing Dragons
Welcome to the realm of dragons! This is not your average blacksmith demonstration; join us for an adventure in which YOU wield the hammer to forge your own piece. We bring you beyond the barrier of observer and into the forge itself. Here, you become the hero of your very own blacksmithing adventure. Your unique memento begins to glow in the breath of our fire breathing forges and is at the command of your hammer blows with the guidance of our professional smiths. An interactive, hands-on, blend of history and fantasy that is fiery forging fun for the whole family ages 6 and up. No skills needed.
Are you brave enough to stand the heat of the Dragon Forge Experience? Walk-ins welcome with availability or saveth some time and bookth online.
Bookth Online Now
New Entertainment

We are pleased to welcome them to the Kingdom, as they join over 50 world renowned performers, musicians and dancers that grace our stages and fill the lanes of the Texas Renaissance Festival.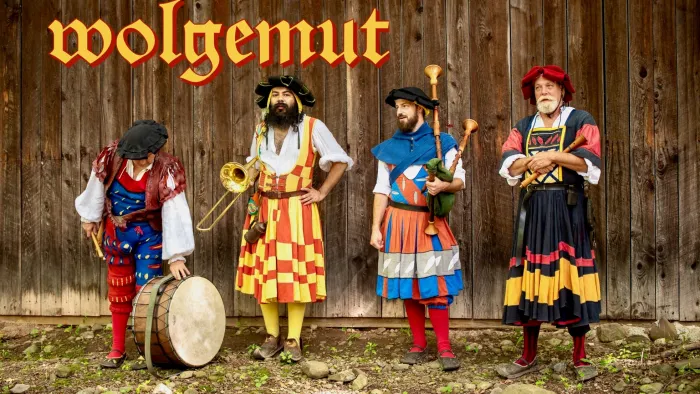 Wolgemut
Wolgemut. Sounds like "Volga" (as in the river) and "moot" (as in point), Wolgemut is an ancient Germanic word which simply means "to be in a good mood" and is both the name as well as the mission of this high-energy early music troupe. The band, under the leadership of artistic director Michael Gartner, delivers a joyful, raucous show that makes early music fresh and exciting. Founded in 1997 in Berlin, Germany, Wolgemut has appeared at music and historical festivals throughout Europe and the United States.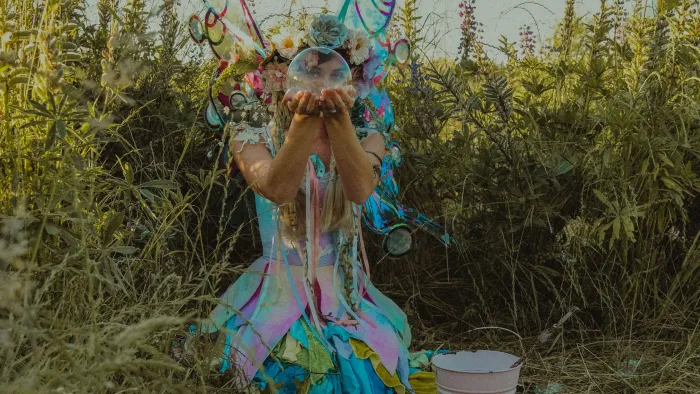 Opal the Fairy
My name is Opal Wispopal Thistle Koi, but to save seconds, You may call Me Opal The Fairy. I have yet to learn how to speak human, however what I lack in speech, I make up for in whimsy. Through expression, movement, and my secret power of bubbles I spread joy for children of all ages!
Fakespeare
Hilarious fastpitch #Fakespeare shows, including Half Hour Hamlet and 30-Minute Macbeth. You've never seen Shakespeare like this!

New Featured Shops
We are excited to welcome several new shops and vendors to the Texas Renaissance Festival family this season!
Enchanted Hats
Fantasy headwear and accessories including, jewel tiaras, flower headdresses, crowns, princess cones, wigs, hair falls, hair extensions, and children's costuming and accessories.
Location:
Booth: 127
Lockers & Concierge
Lockers
Sir LocksAlot will keep your belongings safe at The Keep. New Market Village's locker and storage rental facility is located just inside the village entrance. Every locker has a USB charger. But, if you forgot your phone charging cable? No problem, you can purchase one at a great price!
Won't fit in a locker? Hooks are available in the back for oversize items!
Don't Want to Carry Stuff Around All Day?
Try our latest service - Concierge! Don't carry stuff around all day. Buy it, call us, we pick it up and transport it to Shoppe #1. You pick it up on the way out. We've got you covered. Only one concierge per family; no piggybacking! Call 913-706-5471 for a pick-up!
More Information
New Shops
We are excited to welcome several new shops and vendors to the Texas Renaissance Festival family this season!
Mystique Tiaras

Crystal and platinum tiaras and crowns.

Location: Florence Market
Booth: F29
Whimsical Wears
Handcrafted paper flower crowns, silk crowns, ivy flower crowns, silk crowns, dried flower crowns, antlers, feather headbands, fancy, and unicorn crowns.

Location: Enchanted Forest
Booth: 628
Castle of Kindness
Spell bath bombs, self-love soap, honeysuckle and jasmine soap, facial soap, sweet dreams night oil, rose water toning mist, shampoo bar, conditioner bar, lip balms, perfume roll-ons, sunscreen, body oil candles, and sugar scrubs.

Location: Florence Market
Booth: F20
Uplifting Jewelry
Handcrafted ear vines, ear climbers, ear cuffs, silver opal rings, silver opal studs, and silver opal bracelets.

Location: Mockingbird Lane
Booth: 324B
Fairies & Fangs
Fairy, wolf, bat, dragon, and cat themed figurines, statues, wings, wands, wearables, garden decorations, jewelry, stained glass, wall hangings, tapestries, pictures, and home décor items.

Location:
Booth: 304
Gilded Parasol
Paper parasols, canvas parasols, lace parasols, rayon parasols, children's parasols, and hand fans.

Location: Enchanted Forest
Booth: 81
Dragon Cat Leather
Original handcrafted leather goods including holsters, journal covers, masks, pouches, bags, scrolls, bracers, wallets, purses, totes, bracelets, belts, earrings, hair wraps and leather accessories.

Location:
Booth: 625F
Rugged History Beard Co.
Men's grooming products including beard oils, balms, butters, beard wash, beard conditioner, soaps, body wash, and lotions.

Location: Florence Market
Booth: F16
What's In A Name Rings
Custom stamped, stainless-steel rings and necklaces made on the spot.

Location: Florence Market
Booth: F21