Marlena Solomon, TRF Marketing Communications Manager
Early this season I was trying to think of a way to bring people who did not feel comfortable coming to the festival to the festival virtually, or those who were on the fence about coming to the festival. The answer was morning walkabouts that took place soon after cannon fired each morning. I picked that time of the day because historically, once there are more than 3,000 people at the festival, cellular service can become unreliable especially if your carrier starts with an A and ends with a T. Hopefully the issue will finally be resolved next year with a tower installed!
At first, I started with just me and my cell phone in hand, walking and talking about what had changed at the festival for the season. It was not terrible, but it was not great either. I was filming vertically, and I knew that the experience could be a lot better!
Charlena
After a couple of lone episodes, I decided the walkabouts would be more fun with friends. I enlisted the help of my friend and Ambassador Guide Coordinator Chip aka Rok the Wonderpuppy Ware. Chip loves the faire and his passion not only for the faire itself but the people from patrons to performers to vendors made him the perfect person to join me. It was also a lot of fun to banter back and forth with him on our journeys to promote the shops and artisans at the festival - and so "Charlena" was born! At one-point Chip was referred to as my sidekick, but I like to think of him as my Partner in Crime. Only once during the season Chip was not able to make it, so another friend Kyle Matkin (of the Sunday morning Coffee Talk on Facebook) joined in the fun.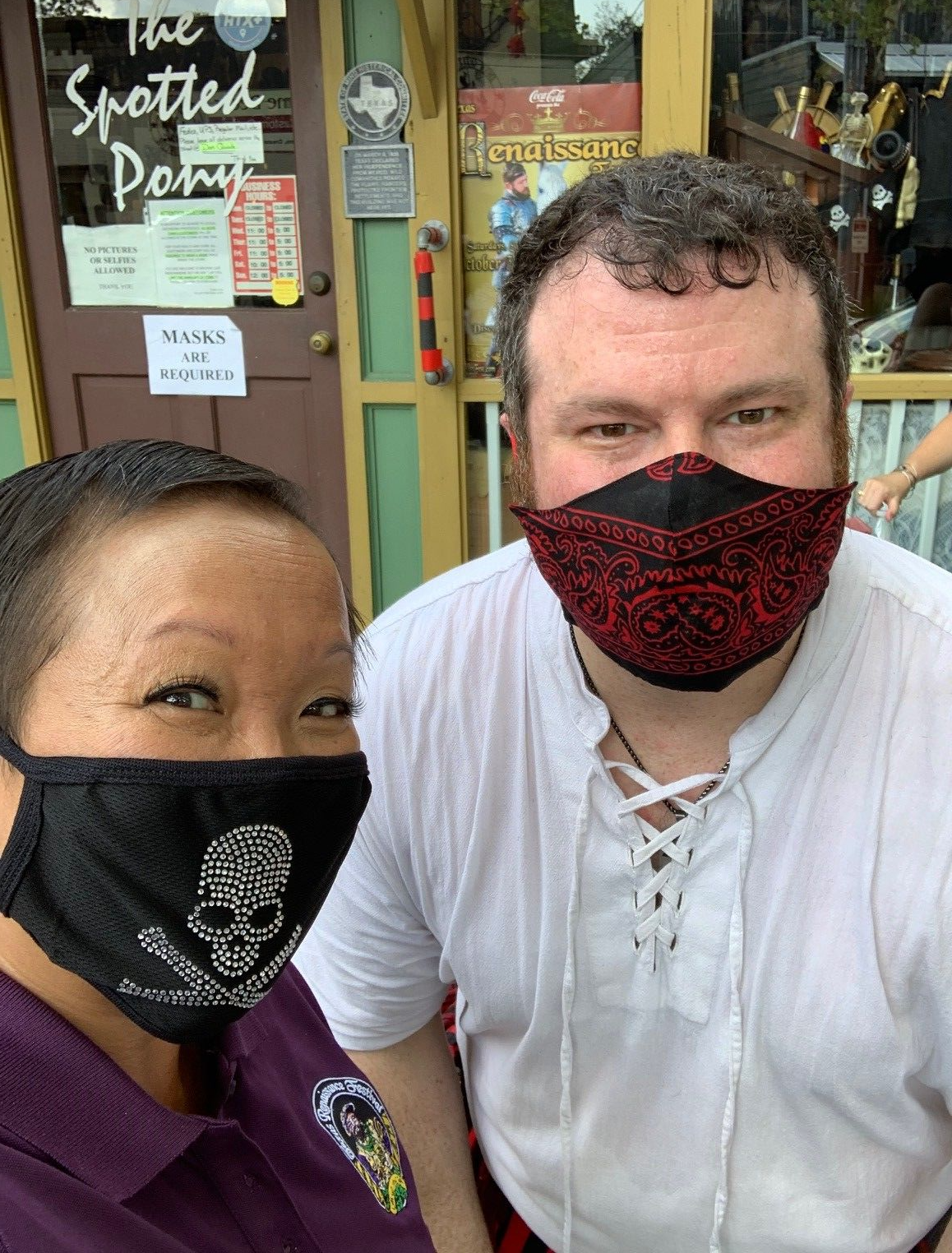 Shops, Performers and Falling - Oh My!
The next step was adding a microphone with a windscreen with a tripod that I ended up just carrying in my hand. For a couple of episodes, the windscreen could be seen in view and was affectionately dubbed "The Tribble" and "Mel". I finally figured out to flip the camera to the bottom where Mel would no longer make a cameo. We never quite got the interviewing people down 100% mostly because it was almost impossible to get people to speak loud enough with their facemask on. We're still learning! :)
While our focus during our walks were on the shops, we were lucky to catch an early morning Tartanic show as we walked down the lanes or heard the music from the Cirque le Vie show at the Odeon and the crack of the whip at the Fire Whip Show.
One moment that wasn't caught on video was me face down in the lanes thankfully just out of view from Skidmark by the Globe theater. We had finished filming for the day and I was walking back to the media center with our public relations person and a large rock jumped out at me causing me to lose my balance and fall. There wasn't even the chance to pretend I was doing a push up, or inspecting the ground for fairy dust. I picked myself up, brushed myself off and continued to the media center to clean my wound and find a large Band-Aid!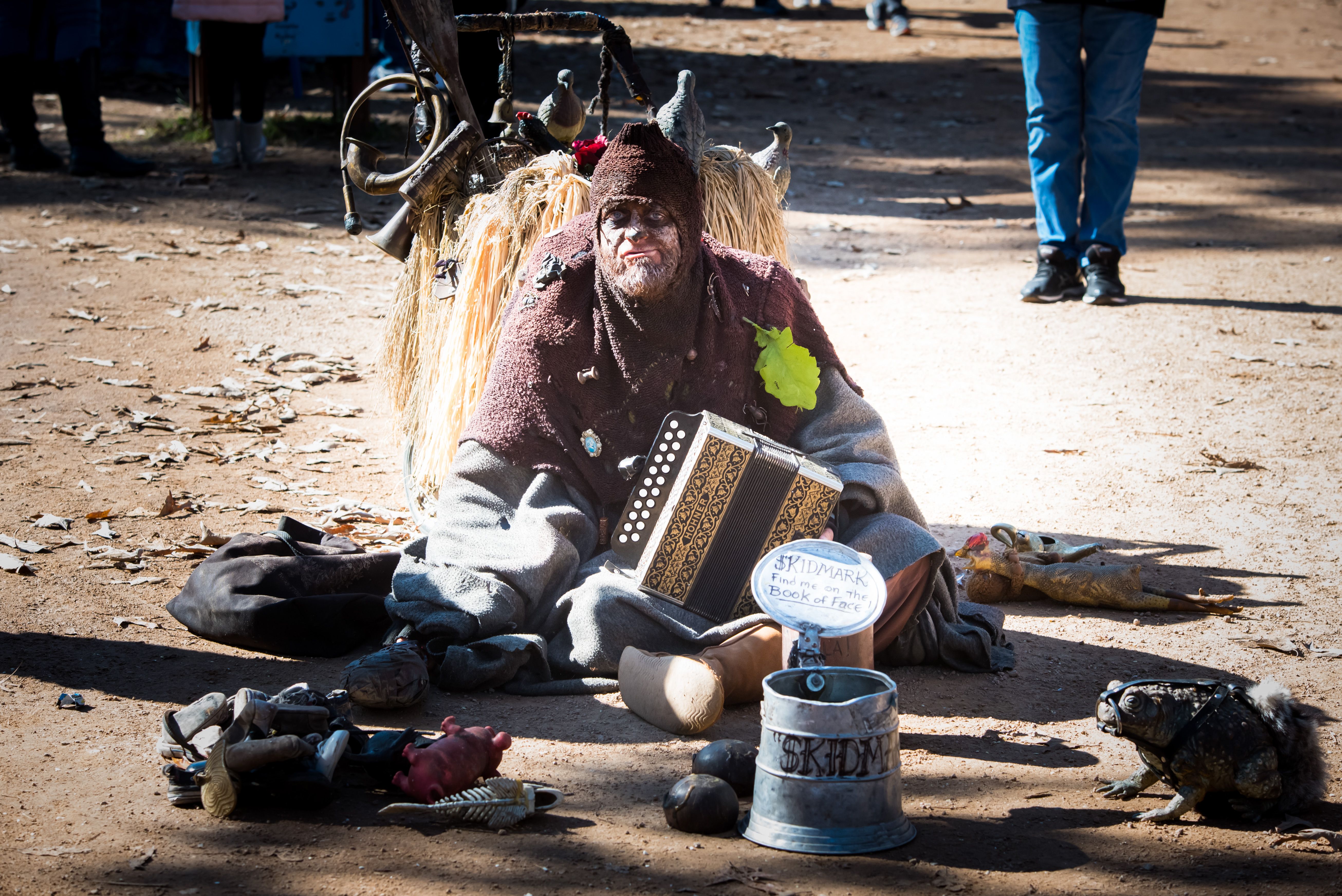 As I would walk the lanes of the festival during the day, sometimes I would hear, "Hey that's the lady from Facebook." My last weekend of festival (which was eight) I was watching our festival photographer take photos of a knight at Brigadoon Brewery when a dad walked up to me and said, "You're the lady from Instagram?" I said yes, and he explained that his daughter watches our video posts and wanted to take a photo with me. Of course, I said yes and honestly that experience made my season! What a cool moment, and it is one that will stay with me forever.
Success
What we did accomplish is to bring the festival to our viewers near and far. There was a family from Oregon who made the trip to TRF just to purchase a stagger stick at the Wooden Journals & More shop #512 that they saw highlighted on one of our walks. Many of the vendors we visited reported that they saw a spike in sales and booth traffic after we visited them on our visit to their shops. We also had people comment that even though they couldn't be at faire this year, they were grateful for the opportunity to walk around with us in the morning.
I want to thank Chip for embarking on our adventure this season with facemasks on, and filling in for me the last weekend. He braved chilly weather and rain on Friday and Sunday and then shared the final fireworks of the season and the Christmas lights on the shops. We hope to return in 2021 to continue to share in the magic of the Texas Renaissance Festival wherever you are. If you missed any of our walkabout episodes you can find them under Videos on the Texas Renaissance Festival Facebook page!